Learning Loss in Flood - Redress it right away: speakers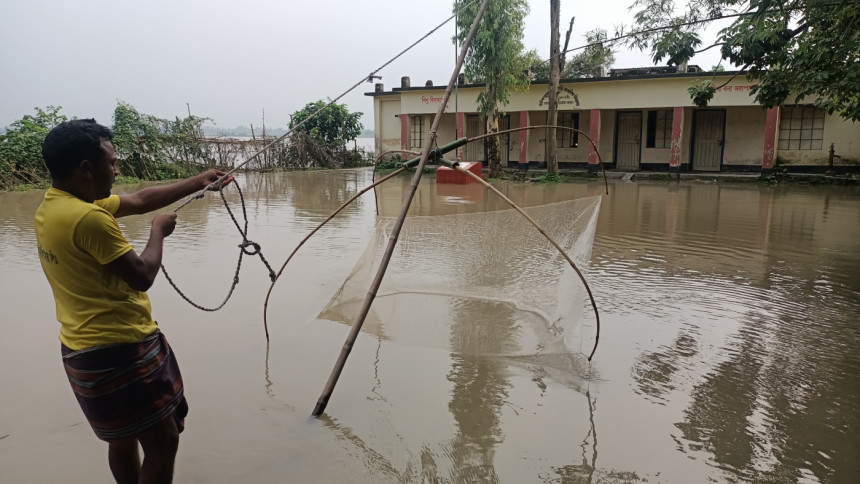 Speakers at a discussion yesterday said the government needs to measure the learning loss of students caused by the recent flood situation across the country and respond with proper mapping and adequate budget allocation for the recovery.
The discussion, titled "Education Budget: Trends and Expectations", was organised by Campaign for Popular Education (Campe) and Education Watch, in cooperation with Unicef and British High Commission in Dhaka at a city hotel.
Pointing to children's learning loss amid the pandemic, Campe Executive Director Rasheda K Chowdhury said the country is facing another disaster in recent floods in terms of learning loss.
She suggested the authorities immediately start mapping and collecting data to measure the loss and allocate the budget accordingly.
Rasheda said the out-of-pocket expenses for education are higher than the budgetary allocation in the sector, and the gap is widening gradually.
She urged for launching a "special stipend" to bring back students, who were dropped out amid the pandemic, to the classroom.
"We could have an alternative fund for students who are facing learning loss", said lawmaker Aroma Dutta.
Campe Programme Manager Mostafizur Rahman, in his presentation, said the proposed budget for education in the 2022-2023 fiscal year is 12.01 percent of the total national budget and only 1.8 percent of the country's GDP.
Unicef Bangladesh's Chief of Education Deepa Sankar said Bangladesh has achieved tremendous progress in education despite seeing a relatively low allocation.
"If the government invests more in education, the country could become the next "knowledge economy"," she added.
Addressing the event as chief guest, Deputy Minister for Education Mohibul Hassan Chowdhury said the country's education budget is sufficient.
What needs to be done is spending and implementing the budget effectively, he said.
Responding to other discussants, the deputy minister said, "We have already improved our physical infrastructures. What we need is a structural and qualitative change in education. To achieve the best outcome, we should think and discuss more on human capacity building than increasing the budget."
For that, he emphasised arranging more training programmes for teachers and ensuring that they are getting better at their job.
Responding to a question, Aminul Islam Khan, senior secretary of Primary and Mass Education Ministry, said at present, they are conducting a feasibility study supported by the World Food Programme to resume mid-day meals at schools.
Students, teachers, guardians, journalists, researchers and development activists also spoke at the programme, demanding an increase in the budget allocation for education.