HSC pass rate falls
Girls fare better than boys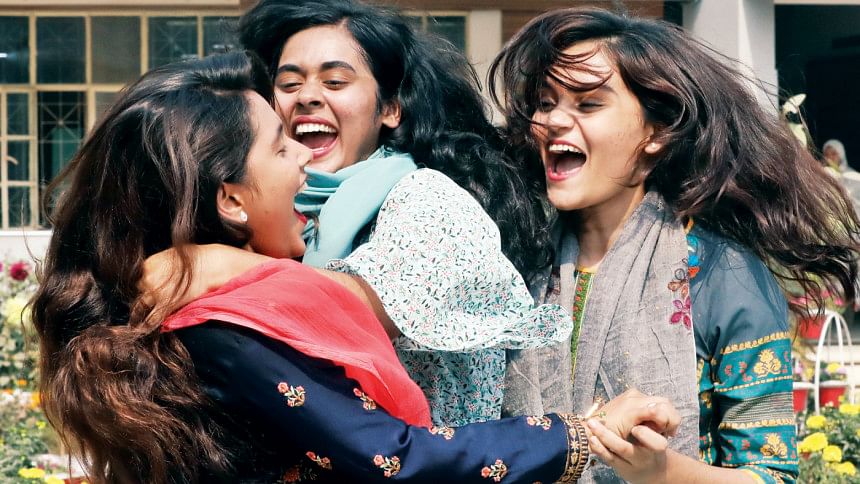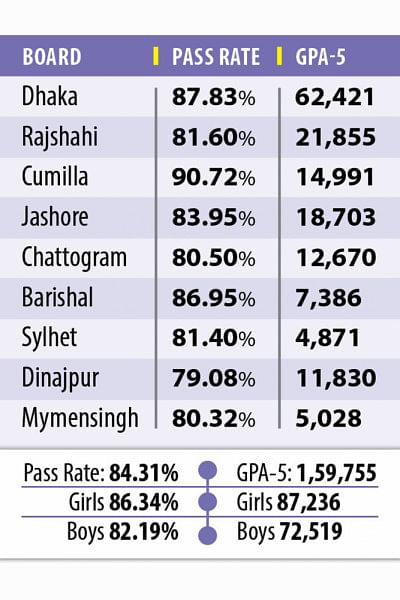 The rate of success in the HSC examinations dropped to 84.31 percent last year from a record 95.57 percent in 2021.
The dip in pass rate happened because the students had to sit for six more tests this time and they generally performed poorly in English, experts said.
Many students could not access online classes amid pandemic restrictions in 2020 and 2021 and that learning loss was reflected in the results, they added.
The 2021's record high pass rate was possible because the students took tests on an abridged syllabus on three subjects. The following year, they took 12 tests on six subjects.
The latest batch of HSC examinees got less time to prepare for the exams, according to education board officials.
The number of students achieving Grade Point Average 5 fell by 18,767.
All students passed in 1,330 institutions, down from 1,934 the previous year, while no students passed in 50 institutions, up from just 5.
Girls have outperformed boys in terms of pass rate. This has happened for 12 years in a row. Girls also did well in achieving the highest GPA for the second consecutive year.
After receiving the results at her office yesterday morning, Prime Minister Sheikh Hasina advised boys to be more attentive to their studies.
Education Minister Dipu Moni unveiled the detailed results at a press conference in the afternoon.
Last year, 9,69,338 students took the HSC exams between November 6 and December 13.
A total of 1,59,755 students got GPA 5 in 2022, down from 1,78,522 the previous year.
Prof Gazi Ahsan Kamal, chairman of Mymensingh Education Board, said, "Many students of remote areas did not have full access to online education. Because of the Covid situation, they were out of the normal education process."
He added that the success rate varies from one board to another because of the question patterns.
Cumilla scored the best with a 90.72 percent pass rate, while Dinajpur was at the bottom with 79.08 percent.
"I heard that questions for English and higher maths in Mymensingh were more difficult. That's why fewer students did well in these subjects," Kamal said.
Dinajpur Education Board Chairman Prof Kamrul Islam said the students enrolled in colleges during the pandemic in 2020 and they had to attend online classes.
"Many students in my board did not have devices to attend the online classes. This can be the reason behind the decline," Kamrul said.
Students of his boards performed poorly in English this year and that brought down the pass rate, he added.
Data from the education boards shows that 85 percent of the students passed in English in Dinajpur, 82 percent in Mymensingh, 95 in Cumilla, and 92 percent in Dhaka.
According to the Bangladesh Bureau of Educational Information and Statistics, more girls have passed the HSC exams since 2010 when the total pass rate was 71.72 percent, and for girls, it was 71.88.
COMBINED RESULTS
Counting the Alim exams and HSC vocational tests, the combined pass rate was 85.96 percent in 2022, down from 2021's 95.26 percent.
In 2022, about 93 percent of 90,266 alim examinees and 94.41 percent of 1.11 lakh vocational candidates came out successful.
A total of 9,423 madrasa students and 7,104 vocational students got GPA-5.
Ninety-seven percent of the 224 students who took the exams at eight foreign centres passed the exams.