Govt plans to vaccinate school, college students
US, UK, several others inoculating students aged 12-18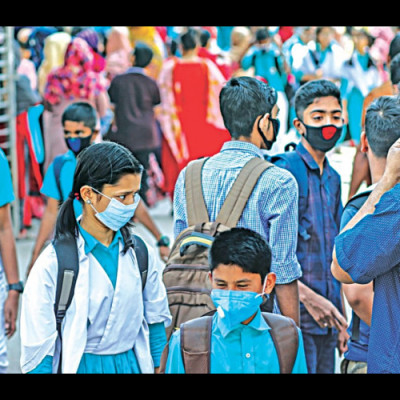 The government is considering reopening schools and colleges by inoculating the teachers and students within the shortest possible time.
"The prime minister wants to reopen the educational institutions soon... Our technical committee on Covid-19 and the vaccination committee are working on it," Health Minister Zahid Maleque told The Daily Star yesterday.
Unicef and Unesco on Sunday urged decision-makers and governments all over the world to prioritise the safe reopening of schools in order to avoid a "generational catastrophe".
Education of millions of children has been disrupted since the Covid-19 outbreak started. As of yesterday, schools are closed in 19 countries, affecting over 156 million students, said a Unicef and Unesco joint statement on Sunday.
The most affected are often the children in low-resource settings who do not have access to remote learning tools, and the youngest children who are at key developmental stages, the statement reads.
In Bangladesh, education of around four crore students has been affected by the Covid-induced closure since March 17 last year. As per the latest decision, educational institutions will remain closed until July 31.
The government started inoculating university students earlier this month to be able to eventually reopen the universities. No decision has yet been made regarding schools and colleges.
The health minister said the government was contacting the World Health Organization seeking suggestions on vaccinating school and college students as a few countries have started inoculating students aged between 12-18 years.
Prof Dr Be-Nazir Ahmed, a member of the National Immunization Technical Advisory Groups (NITAG), said, "We have also discussed how we can reopen the schools and colleges and how the students can be vaccinated."
He said the USA, the UK and several other countries have started inoculating students aged between 12 and 18 years with the Pfizer vaccine.
"Regulatory bodies like the WHO, FDA [Food and Drug Administration] or CDC [Centre for Disease Control and Prevention] are making the strategies. We are also collecting evidence and information from various sources to see the feasibility," he said.
Prof Mohammad Shahidullah, chief of the National Technical Advisory Committee (NTAC) on Covid-19, said the committee had recommended reopening the universities by inoculating the students and teachers in the soonest possible time.
About vaccinating younger students, he said, "We are waiting for WHO's suggestions."
On Sunday, Deputy Education Minister Mohibul Hassan Chowdhury said that the government made significant progress towards reopening schools as 65 percent of the secondary and about the same percentage of primary teachers have been vaccinated.