Those who set fire on rail tracks are outsiders: RU VC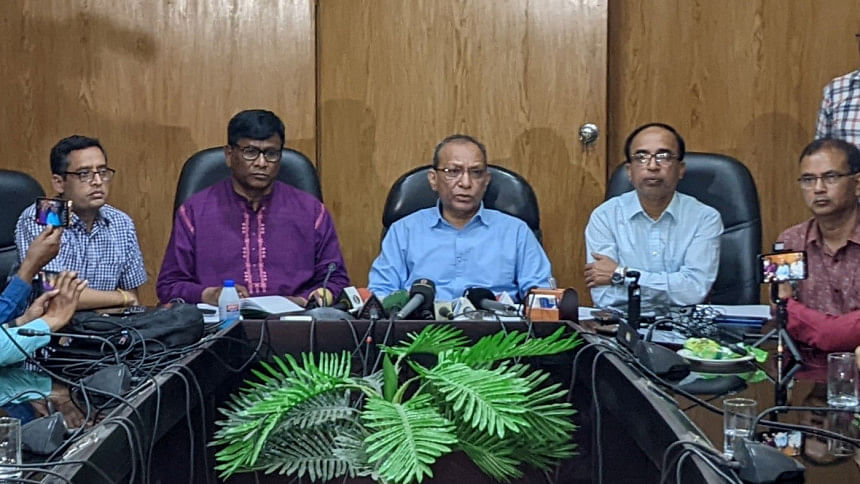 Rajshahi University Vice-Chancellor Prof Golam Sabbir Sattar said those who set fire on the rail tracks were not students of the university, but outsiders.
"We tried to convince the agitating students to stop the demonstrations and we are working to solve the issue," the VC said this at a press briefing at the university's administrative building around 1:30pm today.
"We also assured the students of fulfilling their demands. The authorities will work to restrict [presence of] the outsiders on the campus."
Students have been asked to carry university ID cards while on the campus, he said.
Prof Golam Sabbir said they are also working to ensure proper treatment of the students who were injured during the clashes.
He said the university will resume academic and administrative activities tomorrow.
"Police fired rubber bullet and hurled tear gas shells during the clash between the students and locals. University administration did not ask them to fire," he claimed.
A five-member committee has been formed to investigate the incident, he said adding, the committee was asked to submit the report within the seven working days.
A group of youths set fire to railway tracks last night following the clashes between students and locals, halting rail communication between Rajshahi and Dhaka.
Around 8:00pm, the students set fire to the rail line near the Faculty of Fine Arts of the university, Rajshahi Railway Station Super Abdul Karim said.
Over 220 people were injured after RU students fought running battles with locals and police in Binodpur area near the campus on Saturday night over trifles.