SUST students postpone demo as hall provost removed from post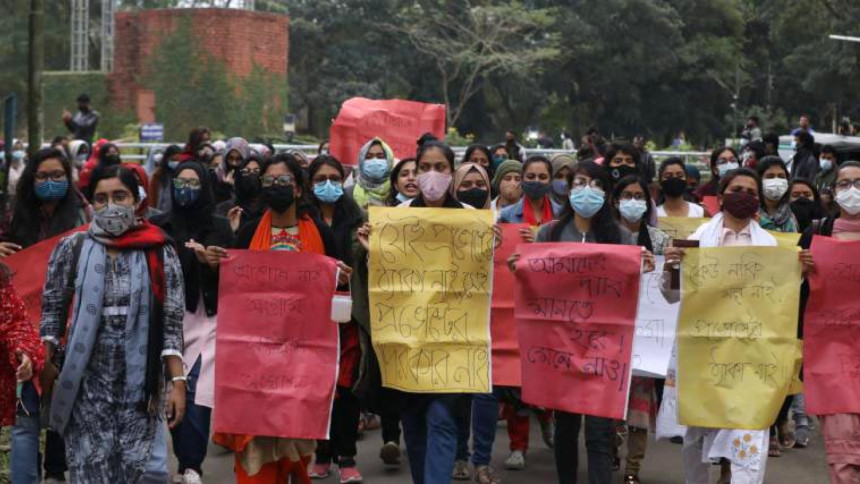 Female students of Sirajunnesa Hall of Shahjalal University of Science and Technology postponed their demonstration after the university authorities relieved Professor Zafrin Ahmed Liza as hall provost following the student protest.
"Zafrin Ahmed Liza was relieved from the post of hall provost. Now Professor Jobeda Kanak Khan was appointed as provost of the hall for the interim period," said Vice-Chancellor Prof Farid Uddin Ahmed while talking to reporters tonight.
Talking to reporters on the campus, the students said they postponed their demonstration for now but they still want the university authorities to meet their three point-demand by tomorrow evening.
They demanded a permanent solution, the students said.
The students had been protesting since last night with a three-point demand including the removal of the provost and assistant provost of the hall.
Even after a meeting with the vice-chancellor of the university this afternoon, the agitating students continued to protest in front of his office on the campus till 5pm.
Agitating students earlier said the provost of the hall, Zafrin Ahmed Liza, misbehaved with a resident of the hall over the phone when the student contacted her over some issues last night.
The students said that around 10:30 pm yesterday, they brought out a procession on the campus and demanded the provost's termination. As the VC assured the students to hold a meeting with them over the issue, the students postponed the protest till this morning.
With the demands, a group of students held a meeting with the VC and other officials this morning, which ended around 1:30 pm. But, when they came out, they continued the movement claiming that the demands were not met.
Despite several attempts, this correspondent could not reach the provost over the phone. However, the VC said that the provost is on leave due to illness.