Committee formed to probe Eden College clashes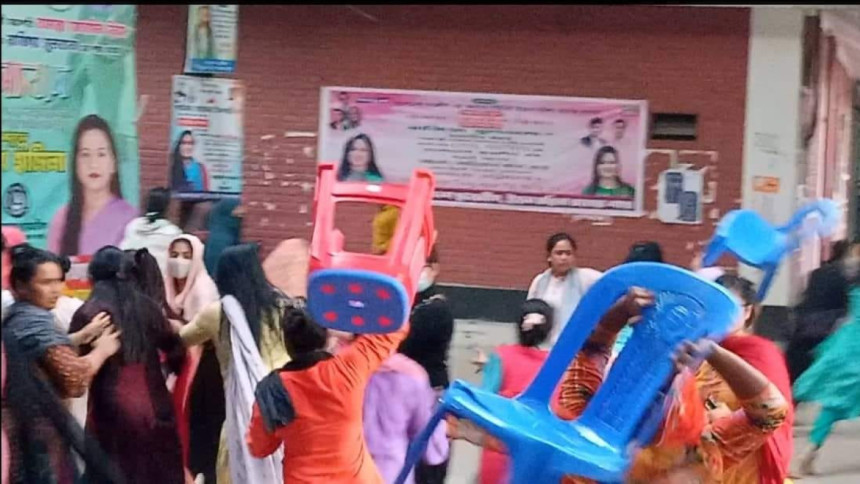 The authorities of Eden College have formed a four-member inquiry committee to investigate the recent clashes -- on the campus -- among the college unit's BCL leaders and activists.
The committee has been asked to verify the incidents and submit a report within a short time.
The committee was formed on Sunday (September 25, 2022), college principal Supriya Bhattacharya told our DU correspondent today (September 27, 2022).
Eden Mohila College unit Chhatra League president Tamanna Jasmine Riva came under attack on Sunday while addressing a press conference over allegations of seat trade and extortion.
Eyewitnesses said Tamanna Jasmine was holding a press conference along with some of her followers at the campus in the evening to reply to allegations brought against her.
At the press conference, Tamanna Jasmine said the allegations against her came from those who were unable to get their expected posts in the committee, announced in May this year, and since then they were trying to create controversy against the top leaders.
At one point, some leaders and activists of the same unit, who were chanting slogans against her and the General Secretary Razia Sultana, surrounded them and beat up the organisers of the press conference.
At least 10, including Riva, were injured in the clash that broke out. They were then taken to several hospitals of the capital.
Chhatra League yesterday (September 26, 2022) expelled 17 leaders and activists of its Eden College unit for their alleged involvement in anti-disciplinary activities.
Among the 17 are students who had brought some serious allegations against Tamanna Jasmine and Razia Sultana, general secretary of the college unit BCL.