Female shooter at YouTube headquarters identified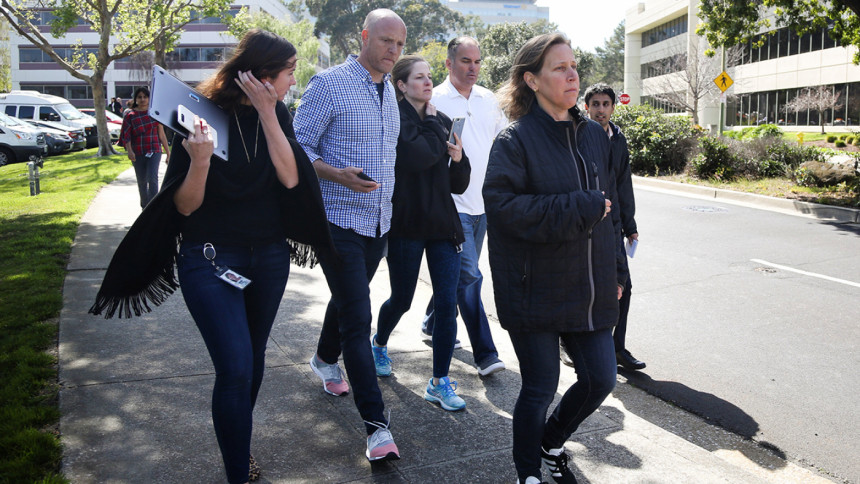 A woman who injured three people in a shooting at YouTube headquarters in Northern California has been identified as Nasim Najafi Aghdam, CNN reports.
Aghdam, 39, was a resident of San Diego, the San Bruno Police Department said in a statement.


After shooting three people at the San Bruno facility, she killed herself with a handgun, authorities said. A fourth person injured their ankle while escaping the gunfire on campus.
There were conflicting reports on whether the shooter knew the victims. Two law enforcement officials told CNN that the shooter knew at least one of the victims. But police said at this time, there's no evidence that she knew the victims or that individuals were specifically targeted.
"We know very, very little right now, and we probably won't know more until tomorrow morning," CNN reports quoting San Bruno Police Chief Ed Barberini.
Shooter yelled: 'Come get me!'
The shooting started shortly before 1:00 pm local time at the company's headquarters about 10 miles from San Francisco, according to CNN.
Witnesses described chaotic scenes as confused employees wondered what the loud bangs were.
Senior software engineer Zach Voorhies was working when the fire alarm blared.
"I went outside with my electric skateboard and I started skating down, because I thought it was a fire," he told CNN affiliate KPIX. "I heard some yelling and I saw somebody down on his back with a red spot on his stomach."
As they fled the building, he said, the shooter was in the courtyard yelling, " 'Come at me, or come get me!' "
Product manager Todd Sherman said he was at his desk when he heard what sounded like rumbling as people ran.
"First thought was earthquake," Sherman said in a series of tweets. He dashed toward the exit, where someone said there was a person with a gun.
"At that point, every new person I saw was a potential shooter," he said. "I looked down and saw blood drips on the floor and stairs."
He fled downstairs, peeking around him to ensure the shooter was not in the vicinity, before dashing out of the building.
The victims
Authorities have not identified the victims, CNN reports.
Zuckerberg San Francisco General Hospital said they were a 36-year-old man in critical condition, a 32-year-old woman in serious condition and a 27-year-old woman in fair condition.
Trauma surgeon Andre Campbell said the three patients are all conscious. When asked how they are, he said: "Shocked, like we are every time these terrible things happen."
Police response
The 911 calls started pouring in around 12:46 pm local time, CNN quoted Barberini as saying.
Police were at the scene within two minutes of the initial call, and immediately worked to secure the large office space. Responding officers arrived from several police agencies and tactical teams searched the campus and found no other suspects, police said. President Donald Trump applauded authorities for their quick response.
"Our thoughts and prayers are with everybody involved," he tweeted Tuesday. "Thank you to our phenomenal law enforcement officers and first responders that are currently on the scene."
Senator Dianne Feinstein, a leading advocate in the US Senate for tighter gun laws, also addressed the shooting.
"My stomach sinks with yet another active shooter alert," the California Democrat tweeted. "I'm praying for the safety of everyone at YouTube headquarters."
YouTube was founded in February 2005, and quickly became a major site for online videos. It was later purchased by Google.
More than 1,100 people work at the YouTube office in San Bruno. Employees there include engineers for the site and sales teams that work with advertisers and content creators.
Google CEO Sundar Pichai sent a message to employees following the shooting.
"I know a lot of you are in shock right now. Over the coming days, we will continue to provide support to help everyone in our Google family heal from this unimaginable tragedy," Pichai said.

Source: CNN