US boosts Syria anti-IS forces
Urges Gulf military self-reliance; says IS defeat won't end war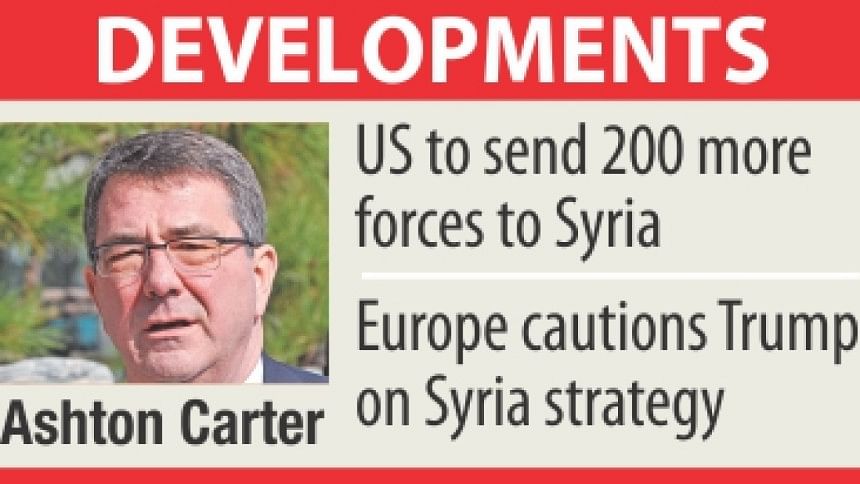 The United States will send 200 additional military personnel including special forces to the campaign against Islamic State in Syria to create a "tornado" of pressure against the group's Raqqa hub, US Defense Secretary Ash Carter said yesterday,
Carter, speaking in Bahrain to regional security chiefs, twinned the announcement with a call on Middle East allies to do more for their own defence, a sore topic with some Gulf states who resent being seen by Washington as military "free riders".
The arrival of the 200 additional forces in Syria, joining 300 special forces already there backing local allies, would bring to bear the "full weight of US forces around the theater of operations like the funnel of a giant tornado", Carter said.
Carter said that despite the eventual defeat of IS in Syria the violence there would not stop until an end was put to the civil war, and Russia's intervention to back President Bashar al-Assad had only inflamed the conflict.
In Iraq, Carter said, his main concern that the effort to stabilise the Mosul region after it was liberated, by rebuilding towns, services and communities, "will lag behind the military campaign". Gulf countries could help with that.
Mosul in Iraq and Raqqa in Syria are the pillars of Islamic State's self-declared caliphate, and recapturing them would be a pivotal defeat for the ultra-hardline Sunni jihadists.
Carter reiterated a US call for more defence cooperation among Gulf Arab states.
"Mutual interest requires mutual commitment," Carter said. "I would ask you to imagine what US military and defense leaders think when they have to listen to complaints sometimes that we should do more, when it's plain to see that all too often, the ones complaining aren't doing enough themselves."
Meanwhile, key US allies in Europe are quietly expressing concern over President-elect Donald Trump's approach to Syria, warning that his pledge to work more closely with Russia, Damascus' main backer, will do little to diminish the terrorist threat emanating from Syria.
Western diplomats, who described discussions with Trump advisers on condition of anonymity, said their message was that a US alliance with Russia, and by extension Assad, to crush groups like Islamic State will backfire.
Trump has said defeating Islamic State was a higher priority than persuading Assad to step down.
Trump has also frequently said that he wants to work with Russia to fight Islamic State, which holds territory in Iraq and Syria, and other militant groups.
How Trump will actually proceed remains unclear. He has not named a secretary of state, and some current and prospective members of the president-elect's national security team have voiced more skeptical views of Russia.