Trump stares down protesters after rally violence
Donald Trump trained his fire on the protesters disrupting his rallies, branding them "thugs" and extremists, as White House rivals warned the Republican's heated rhetoric was dangerously fanning tensions.
Democratic frontrunner Hillary Clinton issued a stern warning a day after a Trump rally in Chicago was called off amid scenes of violence, with days to go until a crucial round of nomination votes Tuesday.
"If you play with matches, you're going to start a fire you can't control. That's not leadership, that's political arson," Clinton said.
But Trump dismissed the notion his extreme statements on immigrants and Muslims had exacerbated tensions, placing the blame squarely on "organized thugs" as he returned to his theme over and over on the campaign trail Saturday.
After a demonstrator tried to rush on stage during Trump's rally in Dayton, Ohio, early Saturday, the candidate made unverified claims that the man was linked to the Islamic State group.
The organized group of people, many of them thugs, who shut down our First Amendment rights in Chicago, have totally energized America!

— Donald J. Trump (@realDonaldTrump) March 12, 2016
"So, the judge let him go. And then one of my people said, wow. They found his name, and it was probably ISIS or ISIS related. Do you believe it? Certainly, he's not in love with our country, that I can tell you, okay?" Trump said.
According to the Dayton Daily news website, the man in question is a 22-year-old anti-racism activist named Thomas Dimassimo, who was filmed last year taking part in a protest that involved students standing on American flags, holding signs saying, "Not my flag."
In support of his claim, Trump tweeted a link to a video of the flag protest, dubbed over with Islamic chants in what appeared to be a crude hoax intended to suggest ties to extremism.
Earlier, Trump had described the Chicago skirmishes as a "planned attack" by organized agitators against his supporters -- the "nice folks."
He blamed "our communist friend," the Democratic candidate Bernie Sanders, who has urged Trump to act against violence at his rallies and said he never encouraged his backers to disrupt them.
"Where do these people come from?" Trump asked. "They're Bernie's crowd."
PALPABLE TENSION
Friday's violence flared after throngs of protesters -- many of them blacks and Latinos angered by Trump's anti-immigrant stance -- massed at the Chicago venue in a tense standoff with the candidate's own supporters, with fistfights breaking out as the meeting was called off.
Trump hosted two huge meetings Saturday in the heartland state of Ohio and one in Kansas, which passed off without major troubles, but in a climate of palpable tension with groups of protesters picketing the various venues.
In Cleveland, protesters gathered outside the cavernous exhibition center hosting Trump's rally holding signs that read "Dump Trump!," and "Donald Trump: Making America Hate Again."
Half a dozen police on horseback watched from a distance a heated verbal exchange between several black protesters and mostly white Trump supporters who yelled in their faces: "Get a job! Get a job!"
The evening rally in Kansas City was repeatedly disrupted by protests.
"Get 'em out," Trump said. "I hope they arrest these people, because they're really violating all of us, okay?" he said, vowing to press charges.
Bill Burns, a small businessman from Sheffield Lake, Ohio who came to cheer Trump in Cleveland, was clear on who was to blame for the troubles.
"All the problems are from the protesters," said the tall, bearded 41-year-old, who wore a T-shirt reading "EBOLA," with the "O" made to resemble Barack Obama's campaign logo.
"They're the ones out there, you see them standing on the American flag. What do you expect to happen? You're just adding fuel to the fire."
MAKE-OR-BREAK
Saturday's campaign stops came three days ahead of key elections expect to further winnow the Republican field, with Florida Senator Marco Rubio and Ohio Governor John Kasich both facing make-or-break tests in their home states.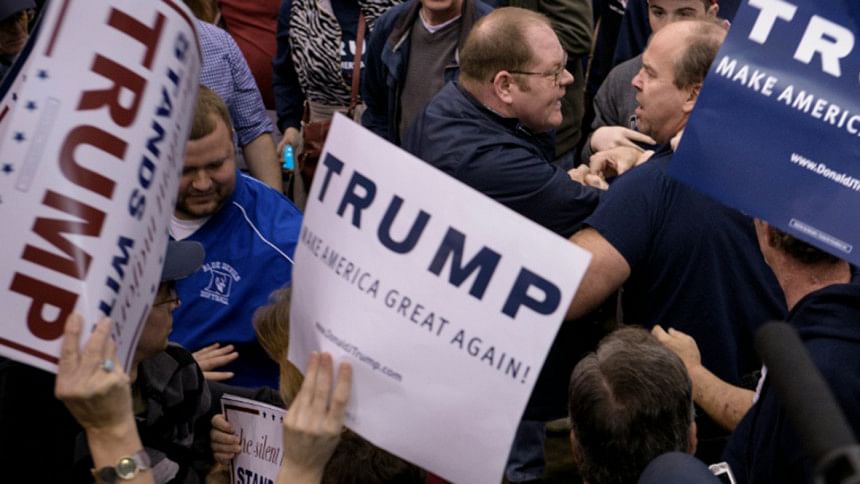 Trump's three remaining rivals for the Republican nomination --- Texas Senator Ted Cruz, Rubio, and Kasich -- seized a chance to bring the frontrunner down a notch and unanimously condemned the rally chaos.
But many in the party see Tuesday's votes as the last best chance to derail Trump's insurgent candidacy.
Cruz scored a small victory Saturday against Trump, trouncing him with 66.3 percent of the vote in the Wyoming Republican caucus, against 19.5 percent for Rubio and just 7.2 percent for Trump.
That hands Cruz nine more delegates for the Republican national convention. Cruz also picked up one delegate in Guam, though the US island territory's five other delegates remain uncommitted. Rubio won the caucuses in the US capital Washington.
But the reality TV star, who has never served in elected office, has so far won 15 of 27 early contests -- to the despair of the Republican establishment.