Pompeo secretly meets Kim
Trump says CIA chief met the North Korean leader in Pyongyang to lay groundwork for leaders' talks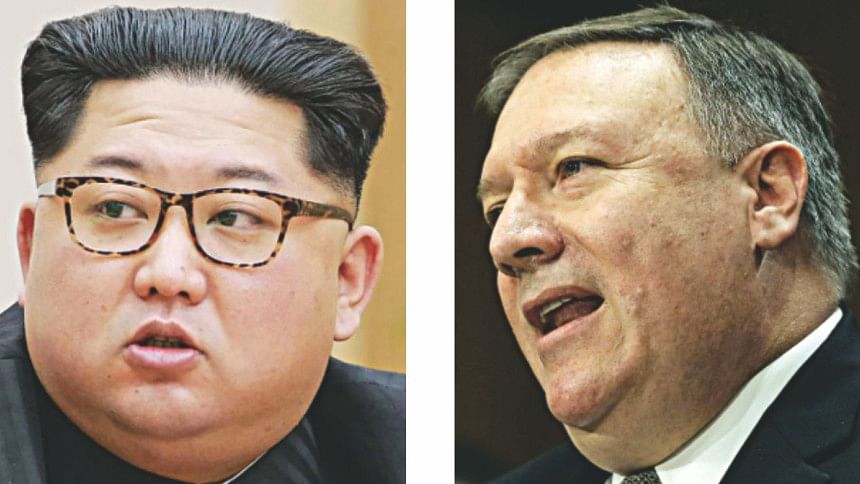 US President Donald Trump yesterday confirmed that his CIA chief has held secret talks with North Korea's leader in Pyongyang, as the South said it was exploring paths to a peace deal with the nuclear-armed North.
Seoul's push for discussions on formally declaring an end to inter-Korean hostilities was the latest in a series of diplomatic initiatives involving the divided Korean peninsula that would have been unthinkable just months ago.
The flurry of activity has raised hopes for a major breakthrough from a pair of upcoming and potentially historic summits.
The latest shock move was CIA director Mike Pompeo's face-to-face meeting with North Korea's young leader, reportedly during the first weekend in April.
The surprise visit marks the highest-level contact between the United States and North Korea since 2000.
"Mike Pompeo met with Kim Jong Un in North Korea last week. Meeting went very smoothly and a good relationship was formed. Details of Summit are being worked out now," Trump tweeted.
Trump is expected to hold a summit with Kim by June.
"Denuclearization will be a great thing for World, but also for North Korea!" he added, regarding efforts to persuade North Korea to abandon its nuclear weapons ambitions.
Kim is expected to meet South Korea's President Moon Jae-In at a landmark meeting next Friday where discussion of a peace declaration is now on the cards.
Trump earlier said that the summit could, with his "blessing", explore a peace treaty to formally end the conflict.
The 1950-53 Korean War ended in an armistice rather than a peace treaty, leaving the two sides technically at war. The Demilitarised Zone between them bristles with minefields and fortifications.
But reaching any final treaty would be fraught with complications.
While the US-led United Nations command, China and North Korea are signatories to the decades-old armistice, South Korea is not.
Both Pyongyang and Seoul claim sovereignty over the whole Korean peninsula, but a treaty could imply mutual recognition of each other.
The North would be likely to demand the withdrawal of US troops, while the South's national security adviser Chung Eui-yong yesterday said that Seoul and Washington wanted to see Pyongyang give up its nuclear ambitions.
Analysts say North Korea would only give up nukes if it secures guarantee that US or its allies won't attack the country. Considering history and previous actions, it will be a tough task for Washington to assure that.