Freddie Gray: 6 Baltimore cops to face criminal charges
Baltimore's top prosecutor says she plans to file criminal charges against six officers in the case of Freddie Gray who died in police custody.
State prosecutor Marilyn Mosby said the death of the 25-year-old black man was a homicide, and his arrest was illegal.
The charges range from second-degree murder to assault. Protesters cheered as she made the announcement.
Gray suffered fatal spinal injuries while in custody, sparking protests that turned violent.
"The findings of our comprehensive, thorough, and independent investigation coupled with the medical examiner's determination was a homicide... has led us to believe that we have probable cause to file criminal charges," Mosby told a news conference.
She said Gray died as a result of injuries suffered while he was shackled inside a Baltimore police van, but not restrained by a seat belt - as he was legally required to be.
It was unclear whether the six officers, including a lieutenant and a sergeant, are in custody. The officers were suspended after Gray's death.
The driver of the van, Caesar Goodson, 45, faces the most serious charge, second-degree murder. The other officers face charges including involuntary manslaughter, assault and misconduct.
"To the people of Baltimore and the demonstrators across America, I heard your call for 'no justice, no peace'. Your peace is sincerely needed, as I work to deliver justice on behalf of this young man." Mosby said.
Mosby said that Gray was not carrying a switchblade as reported earlier by police, but a legal pocketknife.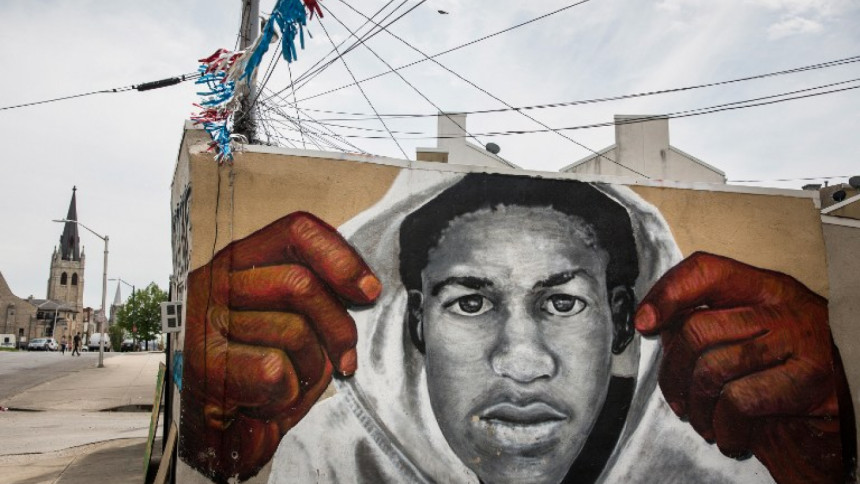 The police union defended the officers and said they acted "diligently". The union called for an independent prosecutor, something Mosby said was not needed.
On Monday after Gray's funeral riots broke out in sections of West Baltimore. About 200 people were arrested the previous night as more than 100 cars were set alight and 15 buildings destroyed.
Since Monday, the city and state officials deployed thousands of extra law enforcement officers and National Guard troops to keep the peace and enacted a citywide curfew.
Those measures have brought relative calm to Baltimore as thousands have taken part in nightly protests.
Gray's death is the latest in a string of high-profile cases where black men have died after contact with the police.
The charges
Officer Caesar Goodson: 2nd-degree depraved heart murder, involuntary manslaughter, 2nd degree negligent assault, manslaughter by vehicle by means of gross negligence, manslaughter by vehicle by means of criminal negligence, misconduct in office for failure to secure prisoner and failure to render aid
Officer William Porter: Involuntary manslaughter, assault in the 2nd degree, misconduct in office
Lieutenant Brian Rice: Involuntary manslaughter, assault in the 2nd degree, assault in the 2nd degree [second of two similar charges], misconduct in office, false imprisonment
Officer Edward Nero: Assault in the 2nd degree (intentional), assault in the 2nd degree (negligent), misconduct in office, false imprisonment
Sergeant Alicia White: Involuntary manslaughter, 2nd degree assault, misconduct in office