Clinton wins final 2016 primary as debate turns to terror fight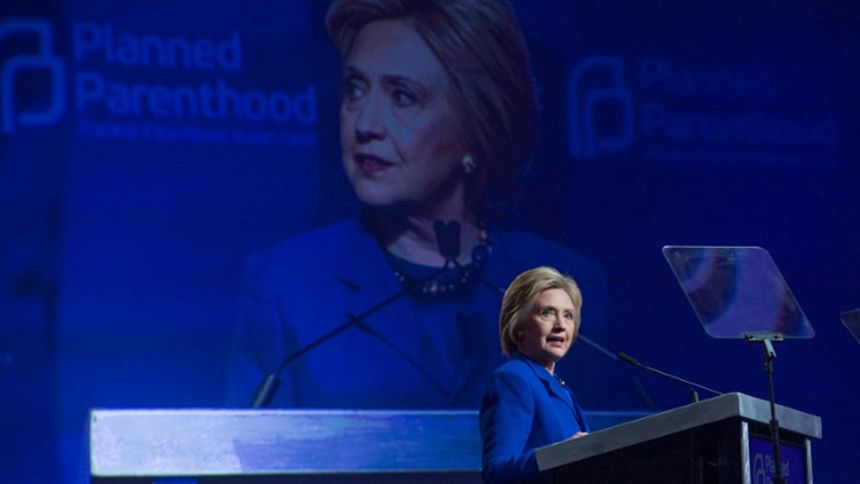 Hillary Clinton captured the mostly symbolic Democratic primary in the US capital, the final vote of the 2016 presidential primaries, as the race shifts to her showdown with Republican rival Donald Trump.
Clinton won nearly 79 percent of the vote, compared with just 21 percent for Bernie Sanders, with nearly all votes counted, according to US networks.
It marked a deflating finish for the Vermont senator, who captivated liberals and independents with his grassroots campaign that challenged Clinton more than just about everyone expected.
But as the most controversial primary season in decades drew to a close, the attention of the candidates -- and the nation -- was elsewhere: grappling with the aftermath of the Orlando shooting, the deadliest terror attack on US soil since September 11, 2001.
Instead of hailing the end of a historic primary season, Clinton and Trump were trading explosive verbal blows and laying out dramatically different approaches for fighting terrorism in the wake of the massacre at a gay nightclub in Florida.
Trump, the presumptive Republican nominee, on Monday proposed stark changes to existing immigration policy, saying that if elected he would "suspend" immigration from areas with a "proven history of terrorism."
He also suggested American Muslims were complicit in domestic attacks because they failed to "turn in the people who they know are bad."
Clinton, a former secretary of state, maintained a more statesmanlike demeanor, calling on Americans to "stand together" to defeat terrorism.
But after Trump suggested in a TV interview that Obama sympathized with terrorists, Clinton unleashed a blistering anti-Trump broadside Tuesday and called her rival's approach "dangerous" and "un-American."
"Even in a time of divided politics, this is way beyond anything that should be said by someone running for president of the United States," she told supporters in Pittsburgh.
"What Donald Trump is saying is shameful," she added. "It is yet more evidence that he is temperamentally unfit and totally unqualified to be commander in chief."
Healing party divisions
Washington's primary was an afterthought, as Clinton last week reached the magic number of delegates needed to lock up the nomination.
While she has called for uniting the party quickly in order to focus on the looming Trump battle, Sanders has refused to concede the race.
But he has steadily softened in recent days. And Sanders and Clinton met to discuss the Democratic Party platform ahead of the national convention next month in Philadelphia.
Sanders told reporters that he wanted to see "the most progressive platform ever passed" at a convention, one which "makes it crystal clear that the Democratic Party is in fact on the side of working people."
He met with President Barack Obama last week, and emerged from the White House declaring his intent to work together with Clinton to defeat Trump in November. The move could go far to quell concerns of divisions within the party.
Obama endorsed Clinton later that day.
Republicans in Washington held their party convention in March, with Senator Marco Rubio emerging as the top vote-getter.
Tuesday's vote wraps up a spectacular primary season that saw conservatives flock to a celebrity billionaire and political novice in Trump, and liberals propel a self-described democratic socialist into the national spotlight for a heavyweight bout against one of the nation's best-known political figures.
Sanders managed to tap into a deep well of anger among young voters disillusioned by the current political system and eager to see action taken to reduce income inequality, one of Sanders's main goals.
Clinton ultimately prevailed, becoming the first female presumptive presidential nominee of any major US political party.
Congresswoman and Democratic National Committee chair Debbie Wasserman Schultz congratulated both candidates for having "energized voters across the country."
"Now that our 2016 primaries are officially at their end, Democrats are ready to unify and take on both Trump and the Republican Party that he represents," Wasserman Schultz said in a statement.
"At our convention in July, we're going to nominate a qualified, capable candidate who will build on the hard-won progress of the last seven years."
Sanders is scheduled to address supporters live via webcast Thursday.