Twin car bombs kill 46 in Syria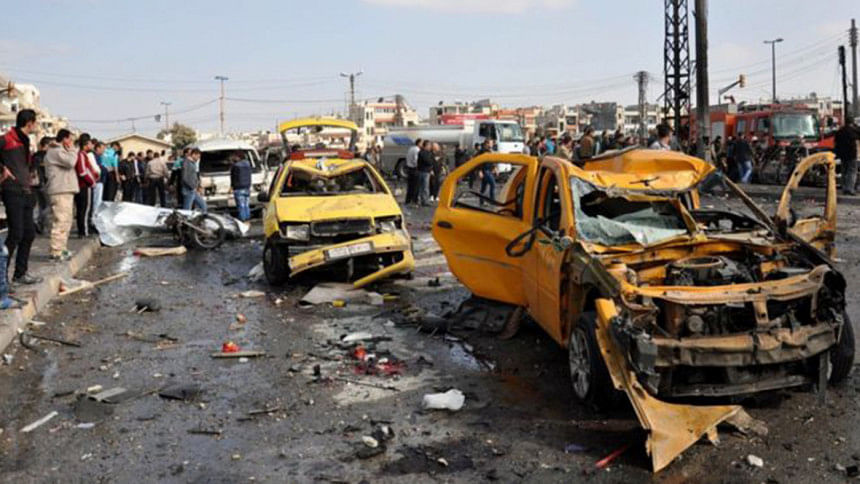 Double car bomb attacks killed at least 46 people in Syria's central city of Homs on Sunday as international efforts to bring about a ceasefire in the war-torn country floundered.
More than 100 people were injured in the twin bomb attacks in the Al-Zahraa district, according to the Britain-based Syrian Observatory for Human Rights monitor.
Syrian state television quoted Homs provincial governor Talal Barazi putting the death toll at 32.
It broadcast footage from the scene of the attack, showing the air thick with dust and smoke rising from blazes started by the blasts.
Homs city is almost completely controlled by the Syrian government, and has regularly been targeted in bomb attacks.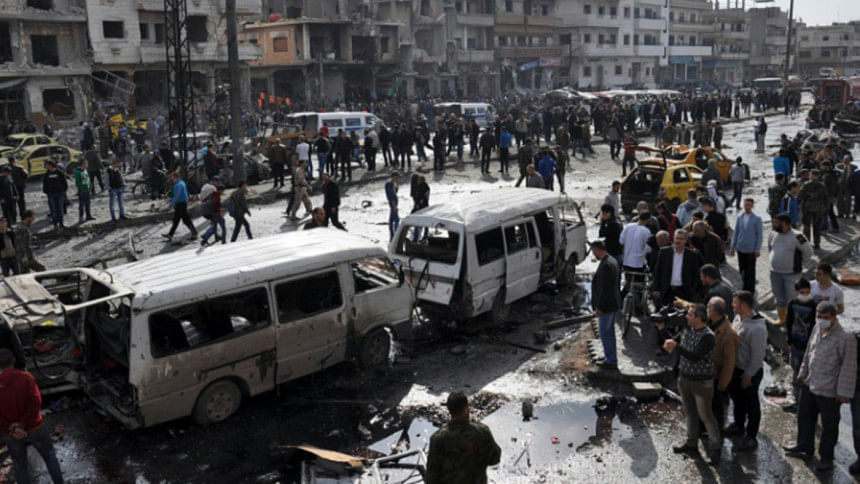 Al-Zahraa neighbourhood in particular has been hit multiple times, including a double suicide bombing last month that killed 22 people and was claimed by the Islamic State group.
The residents of Al-Zahraa are mostly Alawites, the minority sect of Syria's ruling clan, including President Bashar al-Assad.
Most of those killed have been civilians.
Among the deadliest attacks to hit Homs was in October 2014, when blasts at a school in the Akrameh district killed 48 children and four adults, prompting residents to protest lax security measures.
Demonstrations were also reported in the city after the January bombing in Al-Zahraa, with residents questioning why attackers have been able to strike so many times.
Homs city was once dubbed the "capital" of Syria's uprising, which began with anti-government protests in March 2011.
But after years of devastating fighting and government sieges, most of the city is now back in regime hands, with the exception of the Waer district, which is being gradually turned over to the government under a deal with opposition fighters.
Ceasefire efforts stumble
Video footage of Sunday's attacks showed firefighters running through debris strewn by the explosions as security forces and civilians tried to prise open the wreckage of one vehicle to retrieve a person inside.
Nearby, a charred body was carried away on a stretcher by emergency services workers past shops with their fronts ripped off and mangled cars and minibuses.
The new violence came as international efforts for a temporary ceasefire stumbled, with UN-led talks on how to implement the proposed truce postponed to an unspecified future date.
World powers last week proposed a "cessation of hostilities" and expanded humanitarian access throughout Syria in a bid to pave the way for the resumption of new peace talks.
The talks, which collapsed earlier this month in Geneva, were scheduled to resume on February 25, but the UN's envoy on Syria has already acknowledged that date is no longer "realistically" possible.
On Saturday, a key opposition umbrella group, the High Negotiations Committee, said it would agree a temporary truce only if regime backers halted fire.
HNC chief Riad Hijab said any ceasefire must be reached "with international mediation and with guarantees obliging Russia, Iran and their sectarian militias and mercenaries to stop fighting".
"There will not be a truce unless fighting stops simultaneously on the part of all the belligerents, sieges are lifted, humanitarian aid is delivered to those in need, and prisoners, particularly women and children, are released," Hijab said.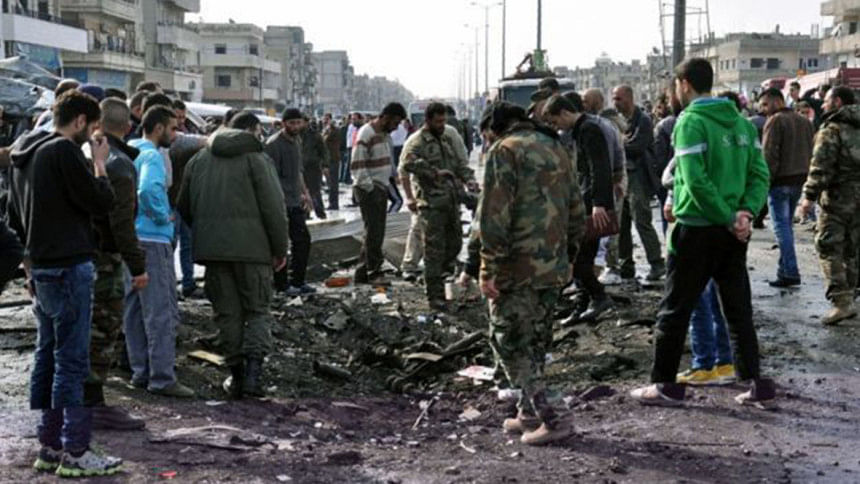 Assad meanwhile told Spain's El Pais newspaper that he was "ready" for a ceasefire, but said it should not be exploited by "terrorists."
Regime backer Moscow is a key architect of the proposed ceasefire, but has shown little sign so far it plans to rein in the air campaign it began in September in support of Assad's government.
On Saturday, it said it would continue "to provide assistance and help to the armed forces of Syria in their offensive actions against terrorists".
Tensions meanwhile have been rising between Russia and opposition-backer Turkey, which has been alarmed by both the regime's Russian-backed advances and a major operation by Kurdish-led forces in Aleppo province.
The Kurdish People's Protection Units (YPG) and their Arab partners have in recent days seized key territory from rebel forces in Aleppo, prompting Turkish anger and shelling of their positions.
Ankara considers the YPG an affiliate of the outlawed Kurdistan Workers' Party, which has waged a decades-long insurgency against the Turkish state.
It fears the Kurdish advances are intended to link up areas in north and northeast Syria to create a contiguous semi-autonomous Kurdish zone along the Syrian-Turkish border.