Trafficking: Thai army officer faces 13 charges, denied bail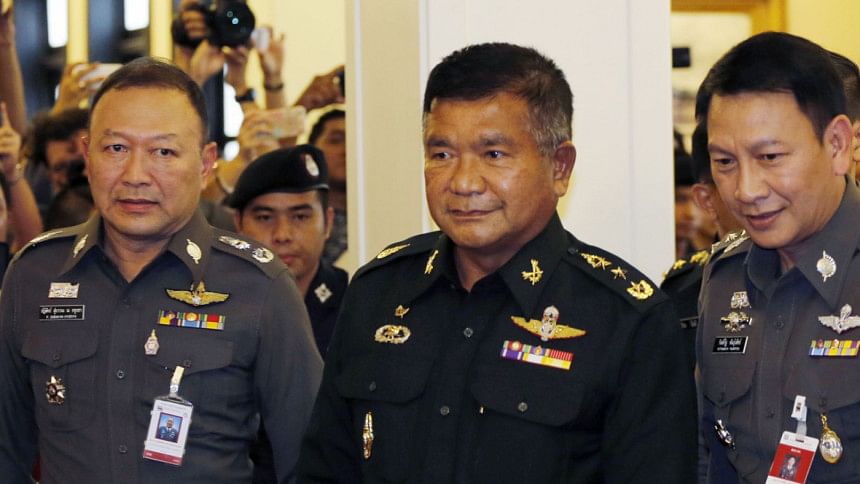 Lt-General Manas Khongpaen, a special adviser in the Thai Army, today was hit with a total of 13 charges over his alleged role as the ringleader of a major trafficking operation in southern Thailand of the Rohingya and other migrants, while a court rejected his bail plea.
Responding to the Thai government's swift actions against human-trafficking suspects, W Patrick Murphy, the US charge d'affaires in Bangkok, yesterday expressed satisfaction, writing in a tweet: "We welcome reports [that] Thai police issue[d] arrest warrants, including for [a] senior military officer allegedly related to migrant smuggling."
After more than eight hours of police interrogation in the southern province of Songkhla, Manas, the highest-ranking military officer implicated in this controversy so far, insisted he was innocent. Police have charged him with conspiring to traffick humans, including children aged 15 or younger, allowing illegal migrants to enter the country, detaining other people illegally and being involved in cross-border human-trafficking activities, among other offences.
The police interrogation was led by Maj-General Paween Pongsirin, the deputy chief of region 8 provincial police, who had opposed his bail so that the senior army officer would remain in police custody. A military staff attorney was present during interrogation.
Continues to wear his uniform
Manas, who continues to wear his military uniform, remained in the Hat Yai Police Station interrogation room instead of being moved to a temporary detention cell like other suspects. Police later transferred the Army officer to the provincial court's detention centre. A temporary release sought by the suspect's lawyer was rejected by the court.
A total of 52 suspects are in custody out of the 84 persons for whom arrest warrants have been issued.
Meanwhile, Deputy Prime Minister and Defence Minister General Prawit Wongsuwan said the Army would not protect Manas if he is found guilty. He said the government needs to tackle the human trafficking problem seriously and hoped the US would consider removing Thailand from the list of Tier 3 countries. The US last year downgraded Thailand's status to Tier 3 due to human trafficking and related issues.
"Some media outlets said I tried to protect General Manas. This is not true and I don't know him personally," he said, adding that police must continue to do its duty to solve the trafficking problem and everyone must face legal actions if they are guilty even though they are police or military officers.