Separated by borders, united through stories of online abuse
For the first time, South Asian media organisations -- The Daily Star in Bangladesh, The Week magazine in India, Dawn in Pakistan and Republica in Nepal -- are coming together to report about the killings, attacks, harassment, and intimidation of journalists in the respective countries. It is the first such collaboration by media outlets in the region.
Bangladesh: Does Digital Security Act actually protect women?
By Zyma Islam
It is impossible in all probability to find a woman who has not been sexually harassed online, but try locating one who has sought legal recourse for it under the Digital Security Act (DSA), and it is akin to finding a needle in a haystack.
Amina is one such rare example. A final year student at the University of Dhaka, she filed a case under DSA against the person who was threatening her online in 2020, but is still waiting for something, anything, to happen. She requested anonymity to avoid reprisal.
"On October 20, 2020, a male junior who was barely known to me from my department misbehaved with me on Facebook over a comment. He was not on even my friends' list. He demanded to know what my problem was, and most importantly he asked me a question which triggered me to the core: 'Does your fiance know that you do stuff like this?' He further uttered gender discriminating remarks, questioned my religious beliefs," narrated Amina.
"In spite of all his insulting, demeaning and gender derogatory remarks I continued the conversation respectfully, repeating again and again that he cannot talk to me like this. Then at one point he threatened me saying 'Do this again if you have courage, I will show you what I am capable of'."
Instead of taking the offensive behaviour lying down, she went to Shahbagh police station two days later and filed a general diary stating that a person executed an offence against her under Section 25 (a) of DSA.
Section 25 (a) of this act states that, if any person, through any website or any other digital medium, intentionally or knowingly transmits, publishes or propagates any data-information which he knows to be offensive, false or threatening in order to annoy, insult, humiliate or malign a person, then such act of the person shall be an offence.
This is the section that dozens of journalists have been sued under for what they write or publish, and this is one of the multiple 'offences' allegedly committed by cartoonist Ahmed Kishore and writer Mushtaq Ahmed, both of whom were allegedly tortured in custody.
And while journalists, cartoonists, writers and free thinkers have been arrested at the drop of a hat under the DSA for making "offensive" social media posts (either perceived or real), real offenders like sexual harassers slip through.
"I had to go to the cyber crimes department where the police officer sat me and my harasser down together, and then mocked me in front of him for wanting to proceed with this case. He said, 'People are left with no work during this corona period. Thus this is happening. Why do you want to tarnish your university's name in court? Please think again'," narrated Amina. As the officer made light of the situation, her harasser smirked.
She was directed to the lower court to file a petition, requesting for the investigation to begin, on November 15, 2020. Her petition was accepted and she was told that the investigation report will be sent to the police station within a week. "Since then, there has been no news regarding that case. It has been 113 days and I am waiting in line to know what will happen next," said Amina. Her harasser continues to attend classes at the same university.
Sexual harassment of women online is of epidemic proportions, and women have had little recourse except to accept it as the price for speaking up, for exerting their presence, for existing on social media.
As activists would say, at no time is the abuse more apparent than when women hit the streets to seek justice for gender-based violence -- an equally overpowering wave of online trolls grab their keyboards.
At the beginning of the year, the horrific rape and murder of an English-medium student left people reeling.
When the deceased's teenage classmates -- mere school-children -- left their books and desks to hold up banners on Dhanmondi road number 27 in Dhaka and demand justice, a barrage of men jumped on their photos, videos and posts.
"Is this not the ***** who had gone to group study? She had voluntarily been raped so why is she asking for justice?" wrote a man beneath a Facebook photo of a young girl holding up a placard saying "My body, my choice". A few hundred people rushed in to support the sentiment.
"Yes it is your body, your choice, but only in your room. If you come to protest in a public place, then you will be caned," said another man. Seventy-four people left supportive 'reactions' on his comment to show their solidarity to a man who had just threatened to publicly cane a girl-child.
On YouTube too, the comments sections of the videos of the protest are littered with threats of rape; too numerous to document, too violent to ignore.
An equally vicious online attack occurred when protesters were demanding justice for the woman gang-raped in Noakhali, last year in October. As women marched and occupied the streets, day -- and night -- the harassers yanked it up a notch.
"In just a while they will start selling their bodies," said one commenter beneath a livestream of women occupying the street in front of the National Parliament in Dhaka on October 14, 2020. "You will show your chests and walk about and we won't rape? Learn how to dress first," said another.
"The online public space is an extension or another version of the physical public space. Being online for women means the same thing -- violence or fear of violence," said Umama Zillur, founder of Kotha, an organisation that has been pushing back against gender-based violence on social media, by initiating and engaging in dialogue.
"Sharing personal photos and other information online and encouraging violence has also been another tool used against women activists. We need a democratic environment and social climate, where there is freedom of expression and accountability for those in power if we are going to try and create a safe space for women online. The DSA hasn't meant safety or justice for women," she added.
Data from the Cyber Crimes Tribunal shows that 1,228 cases were filed under DSA since the inception of the law in October 2018. Judging by the number of cases filed and the barrage of harassers active on social media, it can be gleaned that women are in fact not using this law to protect themselves.
"If there are a hundred cases, about 35 per cent would be filed by women," said the special public prosecutor of the Cyber Crimes Tribunal Nazrul Islam Shamim, pointing out that women seeking justice are in fact a relative minority. The tribunal could not provide any specific analysis on exactly how many of these cases were by women trying to protect themselves from online abusers, and how many have succeeded.
Singer-actor-development worker, Rafiath Rashid Mithila is a frequent target of vicious online attacks, and as far as she is concerned, the DSA has not been of any use.
Ever since her divorce from another well-known musician, sexual harassment has made up a majority of the publicity she receives on social media.
"How many cases can I file? At the rate I get harassed I would need the cyber crimes department to handle my social media accounts. I only sought legal help when someone I know was hacked and certain private photos were leaked all over social media. But other than that, I have not filed any case," said Mithila.
"Once I actually outlined in a Facebook post the punishments afforded by the law, hoping to convey the seriousness of the crime, but the harassers trolled that post too," she remembered. "The law is there, but implementation is not. If there were a few exemplary cases of justice, the others would get scared. They do this because they know they can get away with it."
These days, Mithila is bracing herself for a new challenge -- how to protect her seven-year-old daughter, who she fears will soon face the abuse that her mother does, simply by extension.
"My daughter knows how her mother gets attacked. She is being taught about cyber harassment from this age, and how to deal with it. It is hard. As humans we get upset when one person says something negative about us, and now there are thousands saying all this," stated Mithila.
The writer is a reporter at The Daily Star, Bangladesh.
---
India: Fear in the air
By Puja Awasthi
Neha Dixit, an independent, award-winning journalist, was alone when she heard someone try to enter her first-floor home in Delhi on January 25, 2021. She assumed that it was her filmmaker husband at the door, but still called out 'Kaun hai?' (Who is it?) a few times before opening the door. A whiff of air confirmed that someone had been there, even though she did not see anyone or hear any footsteps.
Dixit says she had been receiving threatening phone calls since September 2020. The first of these calls, which came when she was buying vegetables, made it clear that the threat was related to her work. "Badi journalist bani phirti ho" (So you think you are a big journalist), said the anonymous caller in Hindi. Subsequent callers, she says, pointedly mentioned where she was at that very moment. Once as she stepped out of a friend's home, the caller said, "Aa gayi dost ke yahan party karke. Ab tera rape karke sadak pe chhorh denge" (You are out at a party with friends; you will be raped and left on the road). No matter how many phone numbers she blocked, the calls routed through the internet did not stop, she says.
This is not the first time that Dixit, a journalist for 14 years, has said that she is being targeted. In 2016, two cases were filed against her after she wrote a story alleging that a social service organisation had "trafficked" children from Assam and sent them to Gujarat and Punjab. She says she is still fighting these cases in Guwahati, Assam. In 2018, when reporting on fake 'encounter' killings in Mewat (Rajasthan), she was chased by local people.
Dixit says her defence mechanism is 'not to think about it' as undue thought will leave her unable to work. After the break-in attempt at her home, though, she filed a police report.
While journalists have never been immune to defamation cases, Dixit says, "This political regime is unlike any other. No government has crushed free press so relentlessly. This has given people the impunity to physically attack journalists." In the 2016 case against her, Dixit has been charged with "inciting communal hatred". If proved, it will get her five years in prison and a fine.
Journalistic organisations do little to offer notional or real support. Dixit says that one of their greatest failings is that they do not even insist that freelance journalists be given identification cards. This leaves such scribes open to all kinds of mistreatment. Reactions that pour in when independent journalists such as Mandeep Punia, who was arrested from the site of the farmers protest at Singhu (Haryana), are just those: knee-jerk reactions with no thought given to solutions.
According to the independent, not-for-profit Committee to Protect Journalists, between 1992 and 2021 as many as 52 journalists were killed in India. This is just the number of cases in which the motive was confirmed. Getting Away with Murder, a study sponsored by the Thakur Foundation on attacks on journalists in India during 2014-19, reported 198 serious attacks and 48 killings (with 21 having definite links to the journalists' work).
In March 2017 journalist Poonam Agarwal of Delhi was accused of breach of the Official Secrets Act (OSA), as well as abetment to suicide, after she wrote a report on the sahayak (buddy) system prevalent in the Indian army. The system, which had been devised as a pairing technique, so that no soldier was alone during war or peace, had degenerated into one where the junior was reduced to performing such menial tasks as polishing the senior's shoes or laying his undergarments out to dry. Agarwal had stumbled upon the story through a social media post made by one such sahayak and then travelled to Deolali (Nashik, Maharashtra) to interview other sahayaks within the cantonment residential areas.
When the web portal that employed Agarwal featured the story, it blurred the faces of the men, but their voices remained unchanged. One of the sahayaks who had spoken to Agarwal went missing and his dead body was found some days later. This was explained as a suicide that had happened because the soldier had been "misquoted" in the story.
Agarwal, who has been a journalist for 16 years, says that the terrifying aspect of persecuting journalists with such impunity is that it pushes the envelope on what is acceptable behaviour. "The damage done will be irreparable. Any subsequent government will further the same agenda. Governments have never been very friendly with the media but neither have they been this brazen. The dents that this government has made will not be erased soon." The FIR against her was quashed only in April 2019, after multiple runs to the Mumbai High Court.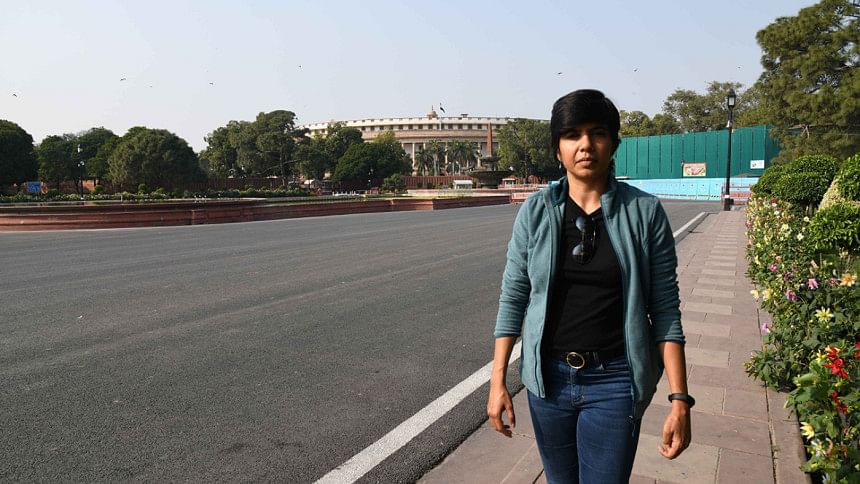 Agarwal, unlike Dixit, had the backing of her publication. Yet she kept away from field reporting and shifted to a friend's house till she was granted bail.
While there might be no difference in the quantum of threats and violence directed at male and female journalists, a 2017 United Nations report titled, The Safety of Journalists and the Issue of Impunity noted: "Women who cover topics such as politics, law, economics, sport, women's rights, gender and feminism are particularly likely to become targets of online violence."
Social media enables easy abuse. But when regimes give their tacit approval to these acts, it is easier for such perversions to move to the real world. In the virtual world, though, women journalists face cruder threats, often with graphic descriptions of body parts and detailed illustrations of the crimes that can be committed against them.
There is no telling which kind of threat is more damaging, mentally and emotionally. Just as there is no telling who will use the impunity to threaten with greater force.
Agarwal and Dixit were protected by their relatively better access to legal counsel. For journalists from smaller areas and/or conflict zones the challenges are knottier.
Pushpa Rokde has been a journalist since 2004 and is based in Jagdalpur (Bastar, Chhattisgarh). During the Covid-19 pandemic, she took up work as a supervisor in a road construction company to supplement her dwindling income as a journalist. (Her income was calculated as a percentage of the commission on advertisements, and it saw a drastic fall during the Covid lockdown.) Rokde and her husband were tasked with supervising the construction of an eight-kilometre-long road that would join three remote villages to the main road. For this, she has faced the ire of the Maoists in the area. The first salvo was in the form of a poster which was stuck on a tree close to the under-construction road. Among other threats it read, "Be it journalists or anyone, this should be read and understood that the work of the road should be stopped."
Late in January, she received a handwritten note which accused her of being a police informer. "When the public comes for demonstration and hartals, you call the police at once as per our information," read the letter.
Rokde says that her journalism has been compromised by the general threat of Maoist violence that all media persons in her area face. The police are of little help. "The police have checked on us once or twice. We are essentially on our own," she says. "However, what bothers me greatly is what I have been accused of. I only want to know when I have betrayed the people who my journalism is supposed to serve. In fact, I am one of the very few journalists (male or female) in the area who regularly raise people's issues and take on the government."
There are many layers of complexity to the issue of journalistic freedom. For women, these layers are far more intricate because of the mere fact of their gender. And thus, the threats, abuse and violence are that much more worrisome.
The writer is senior special correspondent of The Week magazine, India.
---
Pakistan: In the crossfire
By Sumaira Jajja
"Sometimes I think they just wanted to scare me, but then I think maybe they wanted me dead," says Bisma*, a journalist well known for her progressive views. It was one evening in February 2019 when several shots were fired right outside her house. She has never spoken about the incident to anyone except her immediate family, her boss and the head of the media company she works for — all of whom believe it was due to her reporting.
It had been a year since Bisma had done a particular story and started getting threatening calls telling her to "watch out", the tone in each subsequent call turning more aggressive. "I never thought they would show up at my doorstep," she says. Fearing further repercussions, she kept quiet, and has since then drastically cut down her social media presence. "The message was pretty clear."
Such 'messages' have become increasingly common, and even more deadly. Over the years, Pakistan has earned a reputation of being a hard country for journalists. At least 61 reporters — all men — have been killed in the line of duty since 1992, according to the Committee to Protect Journalists. It ranked 145th out of 180 countries in Reporters Without Borders' World Press Freedom Index 2020. While attacks on media men make it into the news and are discussed in appropriate forums, the nature of such attacks on women journalists, amplified by the ingrained misogyny of a patriarchal social structure, is very different.
A survey on online violence against women journalists by the International Centre for Journalists and Unesco notes that "online violence targeting women journalists manifests itself in a variety of ways, but it has a number of common characteristics. It is networked, it radiates and it is intimate: In detail and delivery, the threats are personal. They arrive on mobile phone screens first thing in the morning and last thing at night, and they are often highly sexualised."
Elsewhere, the report states: "There are three converging online threats currently confronting women journalists – misogynistic harassment and abuse, orchestrated disinformation campaigns that exploit misogynistic narratives and digital privacy and security threats that increase physical risks associated with online violence."
Most women journalists Dawn reached out to say reporting is the easiest part. Far more difficult is the continuous battle to create and hold onto spaces within male-dominated newsrooms and public places while fighting misinformation, deeply personal attacks and misogyny — both offline and online — which is overwhelming some of the most courageous and dedicated women journalists in Pakistan.
On Aug 12 last year, a group of women journalists issued a statement against government-affiliated social media accounts and supporters. "Vicious attacks through social media are being directed at women journalists and commentators in Pakistan, making it incredibly difficult for us to carry out our professional duties," the statement said, adding: "In what is certainly a well-defined and coordinated campaign, personal details of women journalists and analysts have been made public. To further discredit, frighten and intimidate us, we are referred to as peddlers of 'fake news', 'enemy of the people' and accused of taking bribes (often termed as 'paid' journalists or lifafas)."
The statement led to another round of virulent online abuse and harassment that was enough to make most women journalists — many of whom had not signed the petition fearing a backlash — worry that these threats could translate into real attacks.
On Sep 9, nearly 150 women journalists signed a public petition to endorse "What our fellow colleagues have put on record on 12/08/2020, and widen the scope to reflect the magnitude and degree of trauma being experienced by women in media.
 "A journalist's criticism of any given policy of PTI or of political parties including PML-N, PPP, religious parties and accounts affiliating themselves with state institutions may also unleash a barrage of abuse."
The petition noted that political parties and their supporters who indulged in "vile and vicious attacks online" were "impacting their work, mental well-being and security".
 "If there was a World Cup for getting trolled, I would have won it," quips Asma Shirazi, a signatory to the petition. "The way a virus spreads, this nasty abuse has multiplied the same way. What has happened in the last three years has been unprecedented. Zuban band ho jaye kisi tareeqay sey [our mouths should be gagged somehow]."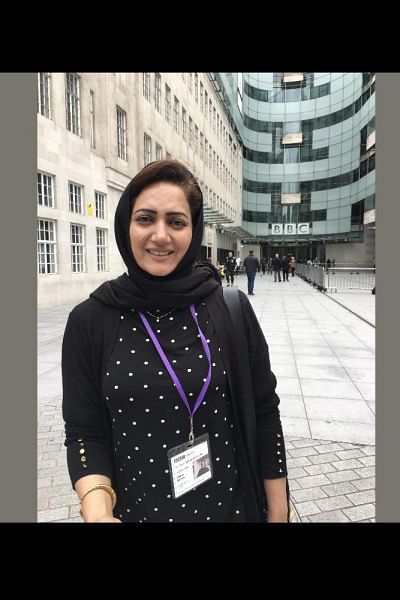 Host of a flagship political talk show on Aaj News and one of the country's top rated anchors, Shirazi left PTV to join Geo TV in 2002 when there were hardly any women doing political reporting. "In 2007, during Musharraf's rule, I was banned from TV along with some others. Back then, we would get threats, someone would follow us or a message would be delivered via messengers, but all records were smashed after 2011 when social media especially Twitter became big."
Shirazi shares incidents of fake news and propaganda against her which not only hurt her credibility but also caused her immense mental stress. "There is an extensive campaign to discredit pro-democracy voices. I decided intentionally to let my voice be heard and push back," she says. "I have been a victim of fake news so often, I have gotten used to it. My private pictures are often doctored and leaked. I can't fight with the forces [behind these attacks], all I can do is stand with the ideology I believe in."
Attacks and Harassment: The Impact on Female Journalists and Their Reporting, a 2020 report based on a global survey by the International Women's Media Foundation and co-authored by Troll Busters, found that out of the 597 respondents, a majority had been threatened, harassed or physically attacked as a result of the work they do in the journalism or media field.
"Sixty-three per cent indicated they had been threatened or harassed online, 58pc indicated they had been threatened or harassed in person while 26pc indicated they had been physically attacked," the report says. "One in 10 respondents has experienced a death threat in the past year."
"For women in Pakistan, there is no safe space," contends Gharidah Farooqi, a popular current affairs talk show host on NewsOne, who says she was the first female journalist in Pakistan to file a complaint of cybercrime with the FIA. Abuses hurled her way include allegations of extra marital affairs with political figures. "During the 2014 dharna, accounts associated with PTI ran a campaign against me and I was also physically attacked while reporting on the sit-in," she says. According to her, she was even the target of an organised smear campaign by a well-known female PTI legislator who later became a minister of state.
Following the deadly attack on two Christchurch mosques in New Zealand, there were reports that the killer had earlier travelled to Pakistan. When Farooqi tweeted a CNN story about this, a storm of abuse rained down on her, calling her traitor and demanding she be tried for treason. In that case too, she alleges, a PTI supporter led the charge. Once again, she went to the FIA. However, by this time the online harassment was no longer confined to Twitter and Facebook. "I did not step outside the house for three months," she recalls.
Many women journalists tell Dawn that whenever they write a political story or even tweet an opinion deemed unfavourable to the PTI or the other parties, the security establishment or the corporate sector, they are mercilessly trolled. The backlash, which ranges from threatening phone calls to doxxing and, in the case of political trolling, is amplified if verified party accounts jump in. The prospect of someone recognising them in public and acting on those threats is frightening enough to induce self-censorship.
Ailia Zehra, a Lahore-based journalist and managing editor of Naya Daur, a web-based news portal, agrees that the likelihood of online physical and sexual threats translating into real-time events is very high for female reporters. Fortunately, unlike Shirazi and Farooqi, Zehra is not a household name or an easily recognisable face, except by one of her 20,000 online followers. But that has not made her feel any safer.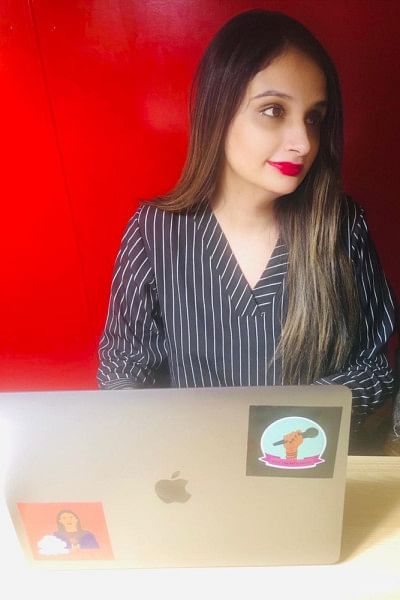 "When the Saudi crown prince was visiting, I wrote a report on censorship by news organisations [on the subject of Jamal Khashoggi's murder]," says Zehra. "The next day I got a call from an untraceable number, asking how I could write something like this. He said in a threatening tone, 'Our guest is visiting and this isn't journalism, it's yellow journalism'."
The list of obscenities hurled her way, she maintains, is getting longer and longer. Sometimes, after tweeting something, she has to go offline for 48 hours until the verbal assault dies down. Restricting her Twitter notifications is another tactic, but that leaves her unable to get tips and feedback from readers.
Following a vlog she did on Ishaq Dar's BBC interview in December 2020, Zehra says she was mercilessly trolled by the PTI's official account. "They took out a portion of that video and edited it, making me sound like I was drunk. The result of all this is that we are now very careful at Naya Daur. Self-censorship has increased given that the number of red lines has multiplied."
Hostile newsrooms
Many women reporters also describe the environment of the newsrooms as hostile; male journalists can be their female colleagues' worst enemies.
Pakistan's first female chief reporter and Karachi bureau chief Rafia Haider would certainly agree. With a career spanning 30 years at the Associated Press of Pakistan (APP), the state-run news agency, she has reported extensively on health, environment and human rights.
A mild-mannered single woman, she has also faced sexist and ageist remarks — most of all, unfortunately, from the men in her newsroom. Her male colleagues are not keen on taking directions from a woman chief reporter. "It has gone from bad to worse since I was made bureau chief again in 2020 [she was Pakistan's and APP's first female bureau chief a decade ago]," she contends. Haider has been repeatedly subjected to online and offline vilification campaigns. "Laughably enough, my colleagues recently sent a letter to Prime Minister Imran Khan, implying that I am a coronavirus-denier and am forcing them to work in a pandemic when all I was doing was following orders from the head office," says Haider. A year away from retirement, she shares that these days she often contemplates quitting.
Similarly, Multan-based Rakshsanda Nayyer, a reporter with over two decades of experience at Nawai Waqt newspaper, accuses her colleagues of making it impossible for her to work. "I used to wake up in the middle of the night worrying what will happen to me." As a young widow with small children, Nayyer would do additional work to boost her income. "Our publication gave us a decent commission if we got advertisers to pay for supplements. I also took on consultancies with various firms and this irked my colleagues. They would contact those companies [and malign me], and even send them anonymous letters casting aspersions on my character."
One day she filed a story on challenges faced by female lawyers in her hometown, which ended up on the front page of Nawai Waqt Multan as well as in all other editions. "When I went to work, the beat reporter was furious and threatened to break my legs. 'I will burn you, I will burn this face of yours that you go around with' were his words," she remembers. It took an intervention from several media colleagues to get the man to back off. "But the resident editor actually asked me why I was interfering with his beat."
This 'boys' club' mentality means that male journalists often do not support their female colleagues, thereby leaving them feeling victimised twice over. "Once I was doing a story on maternal health and talking to a pregnant woman in her home when her husband flashed me," says a Quetta-based reporter. "His wife pretended like nothing had happened. As I tried to leave, he made inappropriate gestures. Next day, a male reporter who was related to the family I had visited said I should behave respectably and not entice men."
Gharidah Farooqi, the current affairs talk show host mentioned earlier, minces no words about the newsroom issues that women journalists face. "Your colleagues will ask you for favours … sit down with us, have a cup of tea with us, party par chalien, sit in my car, extreme offers. The women who don't oblige find their shifts or job descriptions changed without intimation."
For female television reporters, stepping into the public domain also means facing crowds of leering men. "Someone will try to touch your back or bottom, grope you or scream loudly in your ear," says Naheed*, a young TV journalist. "The worst are the cameramen who try to take advantage of new girls by offering to adjust their collar mic". She remembers once pushing away a senior cameraman at a shoot when he tried to touch her neck, ostensibly while adjusting the mic. Similar experiences were narrated by other women reporters, who said complaining meant being labeled 'difficult' and losing out on choice assignments.
Maheen Usmani, a senior print journalist who became a television reporter in 2007, says that "something as simple as recording a package in a market can lead to being mobbed". But the men, including her bosses, would downplay what happened, although they could see the crowd growing bigger and more aggressive in the footage. "When I would come back and sit through the edit, someone would still feel the need to remind me that the shots were not good enough."
An independent journalist and documentary filmmaker, Sabin Agha has been at the receiving end of threats from non-state actors due to her reporting in Balochistan. She recalls how she feared for the well-being of her fixers who in turn were worried about her as she was on the agencies' radar as well.
"When you talk about a threat or an attack, people who work with you will say: 'What else were you expecting? Women like you have it coming.' These words have a sexual connotation where they only see you as an object. For female journalists, there are limited avenues to share these fears," she complains, asserting that the press clubs will not stand up for women journalists the way they do for men.
 'Stand your ground'
"Being invited for a cup of tea is one thing, but if you hear 'we have booked a room,' what is that supposed to mean?" asks Sadia Sehar Haideri, the country's first female photojournalist who works for the APP. In 2001, her husband Aziz Ullah Haideri, a journalist with Reuters, was kidnapped and later killed by the Taliban in Afghanistan along with three other journalists. A young widow, Haideri had to take care of her two children while navigating a sea of sharks in the media world.
In 2005, Haideri joined APP after clearing the written test and interviews. "I was happy I'd got a government job since I was looking for stability." But she got more than she bargained for, and the chai offers began to trickle in.
 "I was harassed, targeted, propositioned by my in charge. Once the person realised I was not willing to go along, he would say to my face 'saday kam de nai' (she is of no use to us). Back in 2005, I didn't want to stay back at the office in the evenings because it wasn't safe." As a result, she was denied good assignments and her work suffered.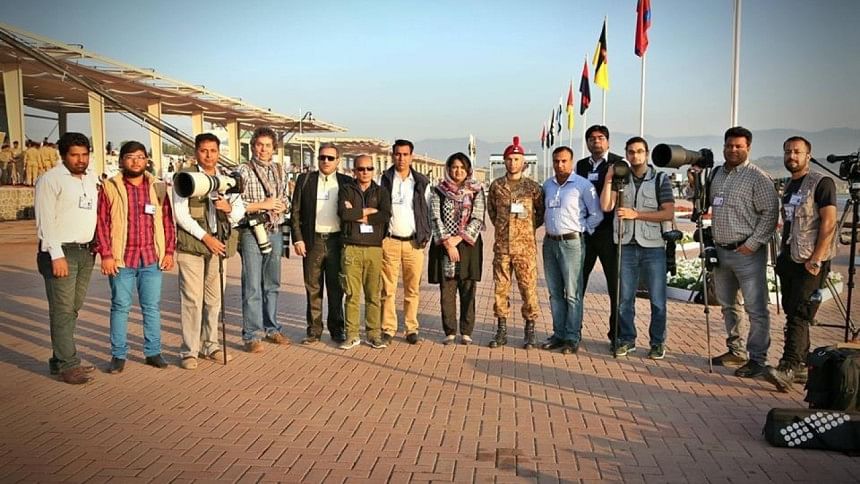 One day she was asked to hand over her equipment on the pretext that she was being transferred to another department. "Next day I was stopped at the gate and informed I was no longer employed at APP," she says. It took a court case that lasted over three years to be reinstated. During this time, she worked for Geo, Xinhua and international news agencies as a photographer — and that too an award-winning one.
"The men are not willing to accept women [journalists], let alone women photojournalists," Haideri says, adding that despite a career spanning 20 years, she has yet to be given membership to the photojournalists' association.
Iffat Hasan Rizvi is a Supreme Court reporter well known in the Urdu media for her sharp political analysis. She has been a frequent target of online trolling, even for some innocuous comments. Unfortunately, respect for women journalists is scant. For instance, she says, no matter how smart a woman is, she is expected to report on "mausam ka haal" (the weather). "One minute I'd be reporting on a major case in the SC and the next I'd get a call from work asking me to send a small report on the drizzle in Islamabad. When I took this up with the senior management, they said, 'We always have women cover the weather'. Also, the minute a high-profile story breaks, it would be handed over to a male reporter," complains Rizvi, but nevertheless iterates the importance of women reporters standing their ground.
As for unwelcome male advances, even the halls of justice offer little refuge. "A lawyer representing the government in the SC once grabbed my hand while handing me a document. I was stunned and disgusted. When I shared this with the male reporters, they took it very lightly and said 'yeh sab tharki hotay hain' and suggested that the next time I take a man along."
Yasmeen Taha, editor of Ausaf magazine, is a rarity in Urdu journalism who went from showbiz reporting to current affairs. In fact, in recent years she has been at the receiving end of criticism from political parties for her weekly current affairs diary. When she was subjected to harassment at a leading Urdu newspaper, Taha and three other female journalists filed a complaint against a male colleague. But their initiative came to naught and she eventually left the job. "Harassment committees are led by handpicked individuals and they submit reports based on the management's choice which can make the victim look like the villain," she says. "When a harassment case is decided based on the victims' looks and age, it shows something is really wrong with the men and women conducting the investigation."
Lahore-based reporter and Chevening Fellow Gonila Hasnain carries the double burden of being a woman and a member of a minority community. Currently in the UK for her Masters' degree, she says her marriage to a Muslim — an act legally and religiously allowed — irked many in the newsroom and press clubs, with her husband being called out for not converting her.
Over the course of her 15-year career, she says she has been repeatedly harassed by professional and political contacts. "Each and every proposition I refused, that person said to me, 'You're Christian, aren't you, and making friends is nothing out of the ordinary in your community'.
"Once when I was on an assignment, the office transport broke down. I called an Uber and my colleague felt it was okay to sit in the back next to me. When he touched me inappropriately and I told him to stop, he said 'Don't you dress like this to attract male attention?'" When Hasnain lodged a complaint at the office, she says he had the audacity to call her a "choori" (a derogatory term for Punjabi Christians) and accuse her of making a pass at him. The outcome was predictable. "Men support men, then there was the religion issue. They said it was a 'drama' and that was that."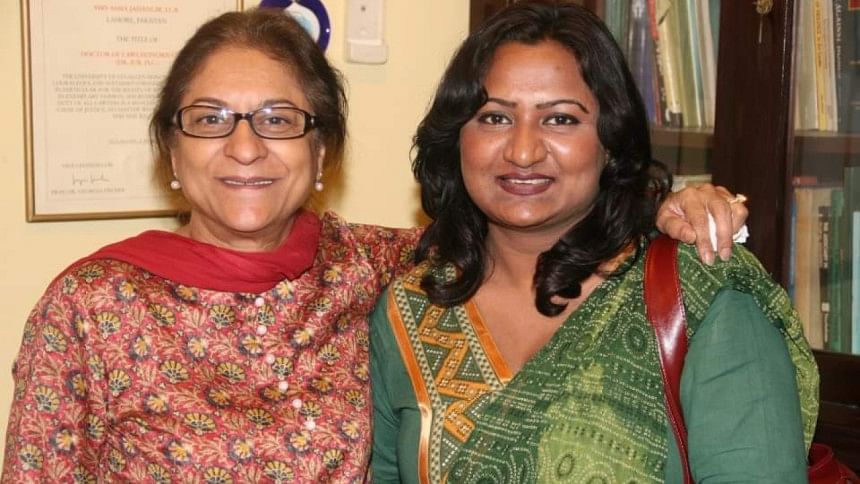 The 'Protection Against Harassment of Women at the Workplace Act 2010' stipulates that every organisation must adopt the Code of Conduct prescribed by the law and ensure it is displayed noticeably in languages understood by the majority of employees. Failure to do so is punishable by a Rs100,000 fine. In practice, many media houses are reluctant to comply with these directions.
Talking to Dawn, Provincial Ombudsman Sindh for Protection Against Harassment at Workplace retired Justice Shahnawaz Tariq says: "Journalists, including women reporters, like many others working in the private sector, do not enjoy legal protections from being easily terminated that are available to those working in the public sector if they file a complaint against harassment at the workplace. The fear of losing employment and possibly killing one's career prospects acts as a deterrent which discourages women from coming forward." Consider that over the years, 461 cases overall have been filed under the Harassment Act, 2010 with the provincial ombudsman, with 350 disposed. In all that time, only one case involving a media company and a female radio host has been lodged with the provincial ombudsman. The case was decided in her favour and the accused convicted.
No response was received from the office of the Federal Ombudsperson for Protection against Harassment of Women at Workplace Kashmala Tariq for this report.
Journalists in Pakistan as a whole are going through difficult times. Let alone the wholesale assault on freedom of speech by the authorities, salaries have been drastically cut and massive retrenchments have taken place in media organisations. For many women in this cohort, however, the situation is even more fraught with the trolling they face on a daily basis and the lack of support from male colleagues, who are in fact often part of the problem.
Press clubs remain male-dominated, with women journalists being grudgingly tolerated at on-site press conferences, in dining halls and token participation in meetings with government officials and donors. The ogling by their peers is enough to make most women uncomfortable, so are the lewd messages sent their way 'accidentally' by male journalists in reporters' groups. Many women journalists say they are asked to leave the profession, else 'grin and bear it'.
Back in the 2000s, standing alongside dozens of men at press conferences and events, a short-haired woman clad in t-shirt and baggy jeans could be seen with her camera and tripod stand, often elbowing her way in to get the perfect shot. That was Geo News cameraperson Syed Lalarukh. With her experience as a reporter and feature writer for Urdu publications, she was part of the original team at Geo. "Then I had the motivation to do great things," she says.
Lala was everywhere. Many young media studies students wanted to join the media following her example. But inside the newsroom it was a different story, with male jealousy at its worst.
Now a shadow of her former self, Lalarukh says misogyny and political interference affected her career. "I covered bomb blasts, accidents and just about anything that cameramen did. Sometimes I would be the first person to arrive on the scene and get excellent footage." At times, she would be abused and roughed up, more so than the men around her.
"In 2008, I was covering the attack at the city courts in Karachi when MQM workers spotted me. They got hold of me and snatched my camera. And then the beating started. No one stopped them," she says. The attack left her with a fractured arm.
Lala went on to join other TV channels. But when salaries started getting delayed for months, she left journalism. Now she sells clothes. "My car serves as a pop-up stall, anywhere I see girls and women, I display the clothes," she says. With an ailing mother and two pre-teen sisters at home, she says surviving on the bare minimum is nothing compared to that brutal assault where none came to extend her a hand.
On Aug 12, 2020, in response to the statement issued by the women journalists about the vile online attacks on them, Minister for Human Rights Shireen Mazari tweeted: "Disturbing to learn of women journalists being targeted and abused. Abusing women bec[ause] they are critical is never acceptable. Journalists do their job & to target them, especially gender-based abusive attacks on women journos, is absolutely unacceptable and disgusting."
However, little has happened since then to show that this government is committed to improving the environment for women journalists in public and online spaces. Repeated attempts to contact Ms Mazari for comments on the subject did not receive any response.
For women in Pakistani media, most days are like climbing a personal Everest, navigating harsh terrain and bottlenecks, where the slightest misstep can put paid to one's job, reputation and sanity. Their experiences of offline and online abuse are dismissed as 'occupational hazards'. That is unacceptable. Pakistani social media is a disturbing reflection of a troubled society averse to differing opinions and obsessed with harming women in ways unimaginable — a glance through the Whatsapp messages and timelines of women journalists is proof enough.
They need assurance from their employers as well as from the state that when they share their fears and experiences of being doxxed, trolled, surveilled or physically attacked, they are not dismissed as being paranoid and asked to 'toughen up'. Instead, their tormentors must be brought to book.
*Some names have been changed for the sake of privacy.
Header illustration by Reem Khurshid.
---
Nepal: Virtual violence
By Anjali Subedi
Earlier it was verbal abuse. And only relatives, neighbours or acquaintances could manage to give women 'cold vibes mixed with warning' for 'crossing limits' or standing for change, equality or inclusion at 'the cost of the social fabric'. Now it's easy for abusers, thanks to digital empowerment. And because it's digital, where the two parties need not come face to face, the abusers are even vulgar and ruthless. Digital violence against women is on the rise; and according to female journalists, they are not spared either. For covering stories against patriarchy, religious dogmas and inequality, dozens of women journalists across Nepal have received threats from people.
"During interactions, young women journalists emphasise digital safety. There have been a few serious cases while other cases are of a milder abuse. We don't have accurate data on the scale of digital violence on women journalists. However, on the basis of the stories shared by women we can say that the situation is worrisome," notes Neetu Pandit, president of Sancharika Samuha, an umbrella organisation of around 12,000 women journalists across Nepal.
According to the Federation of Nepalese Journalists, 16pc — 1,613 out of 10,095 journalists — are women. Of those, 48pc work in radio and FM stations, 41pc in print media, 10pc in television and 2pc in online platforms. Almost 47pc of female journalists say they report on 'soft social issues'.
According to Pandit, character assassination, which is generally used against women to silence them, applies to journalists as well. Members of Sancharika Samuha have stated that their Facebook and Twitter inboxes are filled with ugly messages soon after they put forth 'different views' or raise their voices for change.
 "I was forced to open a fake ID on social media simply because of abuse. Handling such abuse becomes challenging when the platform is visible to your close ones — parents or other family members. The abuse then affects not only you," said Shilpa Karna, a journalist associated with a Nepali daily newspaper. "Because I am from Madhesh, the causes and the nature of attack also happen to be a little different. For instance, if I take the side of 'Pahade' in some genuine issue that appeals to me, I am targeted much more," she added.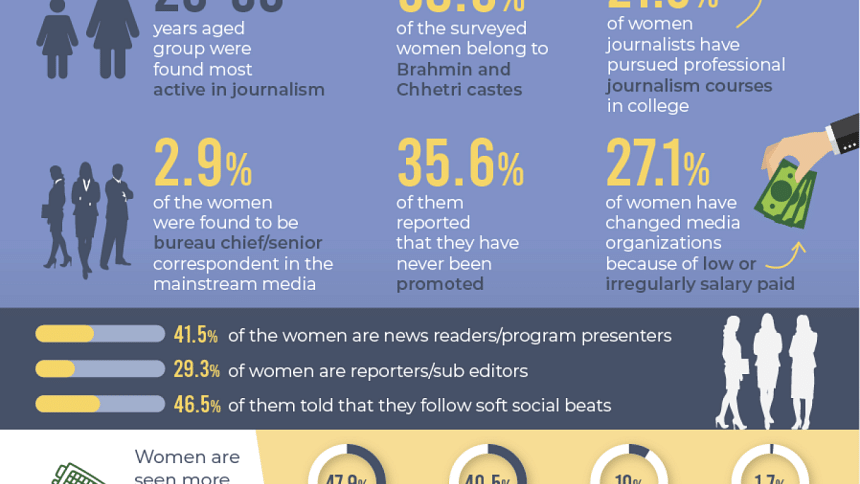 For Karna, handling two IDs on Facebook and Twitter is like living two separate lives. While she appears quiet and meek in one, it is just the opposite on another platform. Had she been a male journalist, the same uproar expressed on social media would be less troublesome, she says.
"As a journalist, I have to appear fair and decent to some degree, which applies to both the genders. But simply because I am a female, breaching that image turns out to be costlier; people jump to naming and shaming when I disagree with their views. So a fake ID is a safe haven," she elaborates.
As per Sancharika Samuha, women journalists are easily body shamed. Some journalists have reported that their names are linked with influential persons alleging that they have taken special favours. More than their professional strength or weakness, people talk about their family, husband or character.
"I have experienced this. Our hard work, passion, capacity is undermined. If we succeed at something, credit is given to our outer beauty, our links and not to our talent or essence. It's very funny, but it's true," said Reeta Pariyar, a media person and activist. "I don't know when people will begin to treat a female as an individual who can handle life independently. Be it journalists or other professionals, society expects them to behave in a certain way, the liberty given to them is narrower," she adds.
Pariyar has been the target of online abuse several times when she raised a voice for justice for the Dalits, women, differently-abled and other marginalised communities. People warn her to keep 'social harmony' in mind before posting 'provocative' messages.
"I don't reply to mild statements. But when it's ugly, I block such users. If there is a need, women should not hesitate to file a complaint at the cyber cell in the police," she stated.
Women journalists have sought help from the federation of women journalists regarding the cases of digital violence. Pandit was involved in dealing with two such cases two years ago. But she believes that such attacks are too rampant to be handled just by the federation or any such organisation. It is high time digital discipline is inculcated among people through some policy, she asserts.
"Or else, much damage could be done to journalists and others alike. And because people are more prone to attacking women, fewer women want to use social sites, claiming little digital space for themselves."
The writer is a reporter for Republica.