'Myanmar president pardons 63 political prisoners'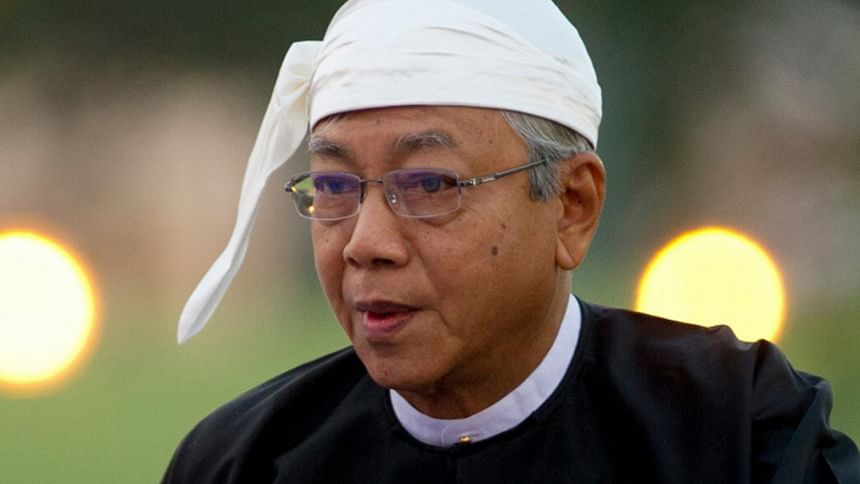 Myanmar President Htin Kyaw pardoned at least 63 political prisoners on the country's traditional New Year Sunday, according to a watchdog group, in his first major political act since he was sworn in last month.
His fledgling administration, which is steered by veteran democracy activist Aung San Suu Kyi, has vowed to prioritise freeing the scores of political prisoners jailed by the country's former military rulers.
"According to our documents, 63 political prisoners are released from various prisons by the amnesty of the president," said the Assistance Association for Political Prisoners (AAPP).
A presidential pardon published Sunday morning said 83 people would be freed, but it did not specify how many were political prisoners.
The president's statement, which was posted on Facebook, said the amnesty was intended to "make people feel happy and peaceful, and (promote) national reconciliation during the New Year".
Myanmar's nearly two-week long New Year holiday, a festival known as Thingyan, falls in mid April.
Suu Kyi's ruling National League for Democracy (NLD), which swept historic November polls, includes many ex-political prisoners jailed for their democracy activism under the former military regime.
The army's routine jailing of dissidents was one of many repressive policies that garnered global support for the NLD's democracy struggle.
Earlier this month, authorities dropped charges against nearly 200 political activists after Suu Kyi pledged to see their release in a statement ahead of the New Year holiday.
The Nobel laureate is banned from the presidency by a junta-era charter but is guiding her party's government through her roles as state counsellor and foreign minister.
In a New Year day speech broadcast on television Sunday, Htin Kyaw -- who is Suu Kyi's close friend and ally -- stressed his administration's determination to free all political activists facing prosecution.
"We are trying to set the political prisoners, political activists and the students who face trials concerned with politics free," the president said in his first lengthy public address since taking office.