President poll a battle of ideology, principles: Sonia Gandhi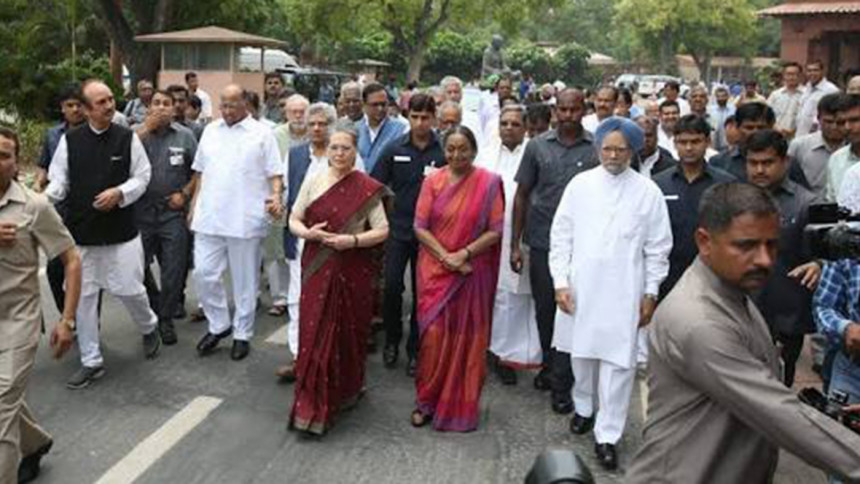 India's Congress party chief Sonia Gandhi today described the upcoming election for the highest constitutional post of president as a battle of ideologies and principles and said the opposition was determined to fight it.
"For us, it's a battle of ideologies, principles and truth and we will fight it," Sonia said after the opposition's candidate Meira Kumar filed her nomination in Parliament for the July 17 presidential polls against ruling BJP-led NDA nominee Ram Nath Kovind.
The Congress president led the 17 opposition parties in accompanying Kumar, a former Lok Sabha Speaker, as she filed her nomination on the last day today. Sonia is one of Meira Kumar's proposers in one set of nomination papers, sources said.
Congress Vice President Rahul Gandhi, who is abroad on a vacation, said Kumar represents the values that bind the country and its people.
"Against the ideology of divisiveness she represents the values that bind us as a nation and people. Proud to have Meira Kumar ji as our candidate," he tweeted.
Meira Kumar's candidacy is backed by a number of parties including Congress, Rashtriya Janata Dal, Trinamool Congress, Samajwadi Party and Bahujan Samaj Party.
The 71-year-old president candidate is a five-time MP and a former diplomat. 
Meanwhile, Ram Nath Kovind, 72, a lawyer and former head of BJP's frontal wing for backward castes and tribes, is being supported by all the parties in National Democratic Alliance as well as non-NDA constituents like BJD, TDP and TRS and AIADMK.
Both Kumar and Kovind, hailing from Bihar and Uttar Pradesh respectively, belong to the backward caste.
However, Kumar had said yesterday that "caste identification" should not play a role in election to the high office.
She said the contest is a battle of ideologies and questioned the society's mindset for portraying it as a Dalit vs Dalit fight.
"Prior to this, when elections for this post took place many a time, there were candidates from the so-called upper castes. But there was no discussion on their castes. Their qualities, abilities and qualifications were discussed. I don't remember their being any debate about their castes," she said.
Incumbent Indian President Pranab Mukherjee steps down on July 24 on completion of his five-year term.
The election for the post of President is held through a complex voting process with Electoral College comprising members of both houses of Parliament and members of legislatures in different states.