Disarray grips Brazil over impeachment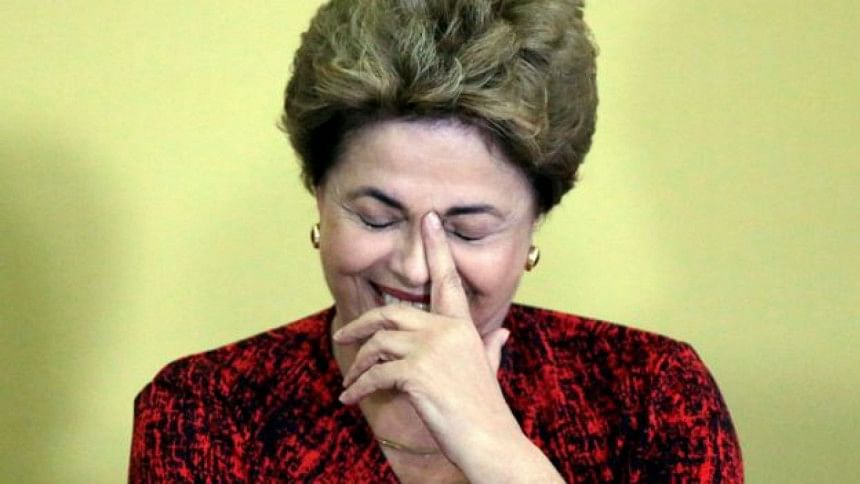 The Brazilian Senate has vowed to vote on the impeachment of President Dilma Rousseff despite a ruling that a vote in the lower house was flawed.

Senate Speaker Renan Calheiros rejected the attempt by Waldir Maranhao, the lower house's acting speaker, to halt the process.

 Maranhao had called for a new vote in the lower house.

But to boos and cheers in the Senate, Speaker Renan Calheiros called that decision illegal.

The Senate is scheduled to vote on Wednesday on whether to start an impeachment trial.

The president of the Senate impeachment commission also said the vote would take place as scheduled.

If  Rousseff loses, she will be suspended from office, pending a trial that could last six months. She faces allegations that her government violated fiscal rules.
In his decision,  Maranhao said there had been irregularities during the lower house session in which its members overwhelmingly voted in favour of the impeachment process going ahead.

He said members of the lower house should not have publicly announced what their position was prior to the vote, and that it had been wrong of party leaders to instruct their members how to vote.

 Maranhao called for a new vote in the lower house.

But  Calheiros said in a special session that he would ignore  Maranhao's order, and go ahead with the Senate vote. He accused  Maranhao of "toying with democracy".
 Maranhao, who opposed the impeachment process in the 17 April vote, only took over as the speaker of the lower house last week, after the previous speaker, Eduardo Cunha, was suspended.

 Cunha, an outspoken critic of President Rousseff, led the impeachment drive against her.
'Caution'

 Rousseff has said the efforts to impeach her amount to "a coup attempt".

She has accused  Cunha and Vice-President Michel Temer of being the "ringleaders of the coup".
 Temer would step in as interim president if  Rousseff were to be suspended from office.

In a BBC interview last week,  Rousseff said she was an "innocent victim" and that she would fight on.

She is accused of manipulating the government budget ahead of her re-election in 2014. The president has defended her fiscal measures as common practice in Brazil.

Investors have criticised  Rousseff and her Workers' Party for what they say are interventionist policies and see  Temer as being more market-friendly.

Brazil is in its worst recession in 25 years, with inflation at a 12-year-high in 2015.

The president's approval ratings have plummeted recently, and recent polls suggest most Brazilians support her removal from office.