21 schoolchildren among 216 dead in Mexico quake
At least 216 people were killed when a powerful 7.1-magnitude earthquake struck Mexico on Tuesday, including 21 children crushed beneath an elementary school that was reduced to rubble.
The destruction revived horrific memories in Mexico on the anniversary of another massive quake in 1985, the disaster-prone country's deadliest ever.
It struck just two hours after the country held a national earthquake drill, as it does every year on the anniversary of the 1985 quake, which killed at least 10,000 people.
One of the most gut-wrenching scenes was at the Enrique Rebsamen primary school on Mexico City's south side, whose three floors collapsed into one, trapping students and teachers inside.
Twenty-one children and five adults were killed, said Major Jose Luis Vergara of the Mexican navy, who was coordinating a rescue effort that involved hundreds of soldiers, police, civilian volunteers and rescue dogs.
He said another 30 to 40 people remained trapped, while 11 children have been rescued so far.
Emergency workers found a teacher and a student alive beneath the rubble and are trying to get them out, he said.
But the situation was precarious. Late into the night, part of the wreckage collapsed as rescuers continued their search.
Local media reports said soldiers had administered oxygen to one trapped child through a tube.
President Enrique Pena Nieto, who rushed to the site, warned the death toll could rise.
"Unfortunately, many people have lost their lives, including children," he said in a national address.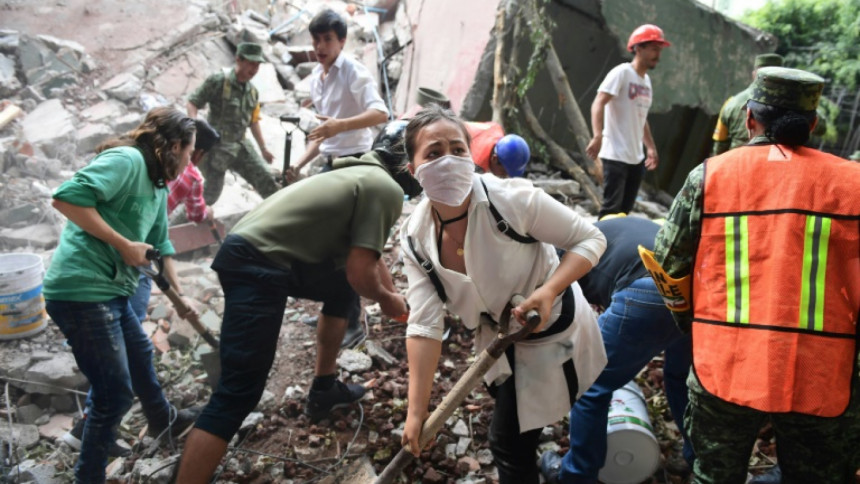 The devastation struck across a swath of central states and the death toll as of early Wednesday was 216, the head of the national disaster response agency, Luis Felipe Puente, said on Twitter.
In a sign of the ongoing confusion gripping the country, he had at one point put the death toll at 248.
In addition to Mexico City, people were also killed in Puebla, Morelos, Mexico state and Guerrero.
'Nightmare'
Well after nightfall, rescue crews and volunteers in Mexico City -- home to 20 million people -- were still clawing through the rubble of dozens of collapsed buildings looking for survivors and bodies.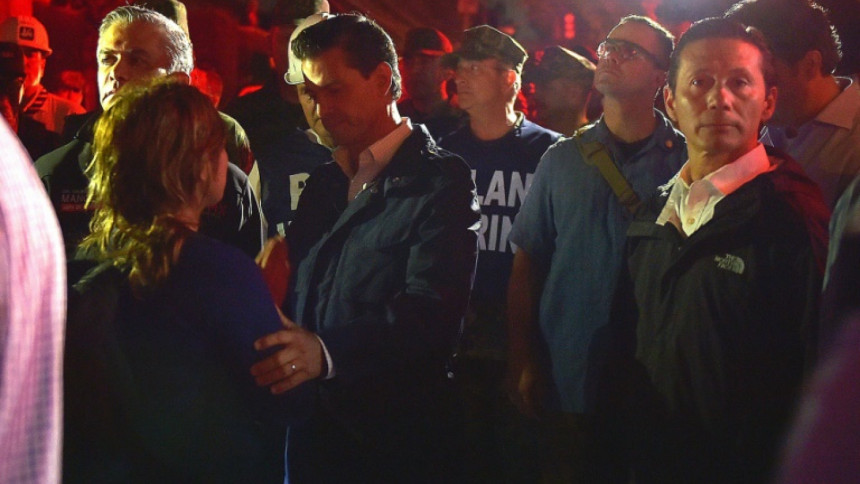 Rescue workers reported that families were getting WhatsApp messages pleading for help from desperate relatives trapped under debris.
Memories of the devastating 1985 earthquake surged to the surface on what was meant to be a low-key 32nd anniversary.
Adding to the national sense of vulnerability, the quake also came just 12 days after another temblor that killed nearly 100 people and left more than 200 injured, mainly in the southern states of Oaxaca and Chiapas.
[twitter]
God bless the people of Mexico City. We are with you and will be there for you.

— Donald J. Trump (@realDonaldTrump) September 19, 2017
Many in the capital ran outdoors when walls around them swayed and cracked.
"I'm so worried. I can't stop crying. It's the same nightmare as in 1985," Georgina Sanchez, 52, sobbed to AFP in a plaza in the capital.
The quake, which occurred in the early afternoon, caused massive damage in the bustling city center.
"It was horrible," said Leiza Visaj Herrera, 27. "I had to hold on to the ground."
Scenes of chaos erupted in the quake's aftermath. Traffic jammed to a standstill at blanked-out stop lights, and anxious people ran between vehicles as ambulances tried to make headway, sirens blaring.
In several locations, large crowds of people clambered on buildings that were now piles of stone and tangled metal, trying to pull people out.
Emergency workers held up signs commanding "Silence" so crews could listen for the sounds of any survivors.
Afraid to go home
Patients were evacuated from the capital's hospitals, wheeled out on beds and wheelchairs.
At one collapsed building in the Roma district, dozens of people dug through rubble as they waited for the arrival of heavy machinery to move the massive chunks of stone. Officials called out for more volunteers, and for water.
Mexico City's international airport closed for more than three hours following the quake. The stock market was forced to shut.
In Puebla, a picturesque colonial city near the quake's epicenter, several churches were damaged and one collapsed, killing 11 people, officials said.
Fearful residents whose homes were damaged camped out for the night on the street or in parks.
On the clogged and darkened roads, muggers came out at night to assault motorists.
Trump's prayers
Officials in several countries responded to the quake with offers of help.
Honduras sent a 36-strong rescue team.
US President Donald Trump, who has forged an antagonistic relationship with Mexico, tweeted: "God bless the people of Mexico City. We are with you and will be there for you."
Canadian Prime Minister Justin Trudeau tweeted: "Devastating news from Mexico City. My thoughts are with those affected by today's earthquake -- Canada will be ready to help our friends."
Mexico sits atop five tectonic plates, making it prone to earthquakes, and has two long coastlines that are frequently battered by hurricanes.