Singapore using cyber diplomacy as weapon against cybercrimes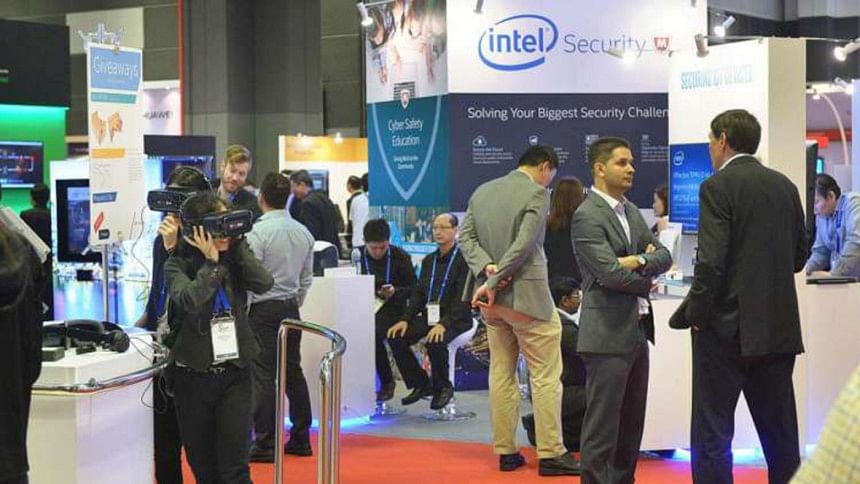 Singapore is taking the lead in the war against cybercrime by building alliances regionally and globally.
What more can Singapore do in a digital world where dependence on technology trades security for greater efficiency and connectivity?
With more countries using technology as a component of military response, the first thing to do is to treat the threat as seriously as a conventional one.
To this end, Singapore has been deploying 'cyber diplomacy' - building alliances with other countries, both to swop expertise, such as the latest in attack methods, and to regularly exercise and test its defences.
Singapore's Cyber Security Agency (CSA) has signed bilateral cyber agreements with five countries: France, the UK, India, the Netherlands and the US.
The agreement with the US, signed in August, is the first cyber agreement between an Asean nation and the US. This opens the door to regular exchanges on cyber issues and effectively gives Singapore a voice when the larger countries try to shape global cyber norms, according to experts.
"While Singapore benefits from accessing knowledge about cyber threats and mitigation responses from the US, Washington will equally gain deeper insights into the cyber threats experienced by Singapore and potentially the South-east Asian region," said US Army Lieutenant-Colonel Harry Hung, a visiting fellow with the S. Rajaratnam School of International Studies.
Building on our assets
This and other recent efforts by the government demonstrate a cyber security approach that looks to leverage on the island's reputation as a global hub and a valued intermediary.
At the launch on October 10 of Singapore's cyber security strategy, a comprehensive document, which maps the country's long-term approach to the issue, Prime Minister Lee Hsien Loong said the government is sparing no effort to build a sizeable workforce of industry professionals here.
The four prongs of the strategy involve strengthening cyber defence of the country's critical infrastructure, developing a vibrant cyber security ecosystem by educating businesses and individuals, creating jobs by developing cyber security talent and building international partnerships to better respond to cyber threats.
This means the republic wants to work closely with Asean countries to jointly secure the region's Internet space, an ambitious undertaking, given the uneven level of development across the 10 member states.
Singapore has put its money where its mouth is. At the first official gathering of Asean ministers in charge of cyber security, held a day after the launch of Singapore's strategy document, Minister in charge of Cyber Security Yaacob Ibrahim launched a $10 million fund to assist fellow Asean countries in building their cyber threat response capabilities.
Besides helping to train technical professionals in neighbouring countries, the funds will be used to train policymakers, prosecutors and other officials to help these countries formulate their cyber policies, said CSA Chief Executive David Koh.
This is long-term thinking. With Asean countries building their fibre networks and the region becoming more connected, cooperation is necessary, so that no Asean member becomes the "weak link" that makes the community vulnerable, said Yaacob.
"What we want to do is ensure that all Asean member states pay attention, so that they don't become that weakest link," he said.
The money will also go towards organising an annual Singapore International Cyber Week (SICW), the first edition of which closed on October 12, having drawn 5,000 attendees from almost 50 countries.
They included more than 100 experts in the field from governments, the private sector and academia, such as the US Department of State's Coordinator for Cyber Issues, the UK's Cyber ambassador and the director-general of China's Bureau of Cybersecurity Coordination and Administration.
Yaacob also hosted several bilateral meetings with key Asean cyber security principals on the sidelines of the SICW.
The partner approach
This is something Singapore has done well in the past. Identify a niche where there are few platforms for countries to meet and discuss an issue of growing importance, then become the pre-eminent forum for leaders to come together, in big groups and private sessions, to tackle thorny issues.
It is a model learnt from the Shangri-La Dialogue - an annual defence forum that attracts high-ranking military and political officials here from every country, and one of the world's top security gatherings.
Together with the annual Asean Cert Incident Drill, organised by CSA and into its 11th edition, the plan is for Singapore to "start the conversation" and to be useful to the region and the world as a hub for cyber security cooperation, said Koh.
"Our perspective is cyber security is a team sport: no one country can do it by itself, and that's why Singapore is partnering with the other Asean member states," he said.
And in the same way that regional forums have given the collection of small states that is Asean a bigger voice in global matters, Singapore is hoping to take the lead in shaping the ongoing global conversation on acceptable behaviour in cyberspace.
"The world is shaping cyber norms, and we agree that we must have norms in cyberspace," said Yaacob.

"But how those norms are applicable to our region is something that we have to understand ourselves before they're being imposed by others," Yaacob added.
However, in order to become a global heavyweight in cyber matters, Singapore has to keep its own house in order.
This is where the remaining three prongs of the national cyber security strategy come in.
The strategy document lays out a plan to strengthen the republic's cyber defences, especially for critical infrastructure, such as utilities and emergency services, and includes a new law to be introduced next year that will compel such operators to secure their systems and report breaches to the government in a timely manner.
It spells out how the government will step up public education to teach the public safe Internet-use practices to keep their devices clean and to keep the man in the street aware of common online scams.
It also fleshes out how the government intends to develop a home-grown cyber security fraternity - through heavy investment in research and development, more scholarships for students looking to enter the sector and opportunities for mid-career professionals in related fields to cross over.
The issue of cyber security is particularly important, given Singapore's push to become the world's first Smart Nation, where a vast array of sensors provide the government with feedback used to shape policies and the day-to-day lives of Singaporeans.
Such sensors also need to be secure, giving further impetus to the push for strong cyber security. For, as Lee put it at the launch of the strategy document: "To be a Smart Nation, we must also be a safe nation."



Copyright: The Straits Times/ Asia News Network