3 injured in Maryland high school shooting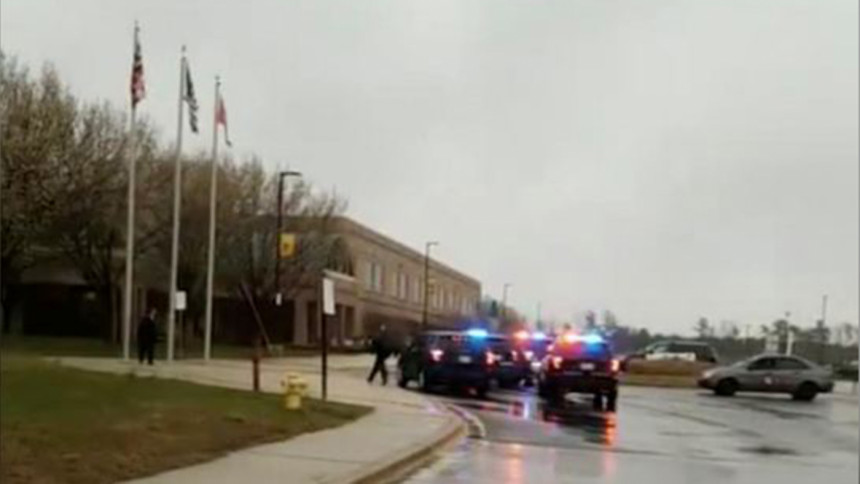 A student shot and critically wounded two fellow students at a Maryland high school today before exchanging fire with a campus security officer, who ended the attack by wounding the shooter, the county sheriff said.
The school day had barely begun when the student, who has not been identified, shot a male student and a female student this morning at Great Mills High School in St. Mary's County before the campus security officer intervened, county Sheriff Timothy Cameron told NBC's Washington affiliate.
All three students were in critical condition at hospitals.
Hi Twitter. I am in Great Mills HS. My school is on a very real lockdown threat and there's already someone possibly dead. Please pray for us.

— Mollie Davis (@davism0llie) March 20, 2018
The officer was not harmed, and the public school's roughly 1,600 students were later escorted off campus by police, classroom by classroom, to reunite with their parents at another high school.
It was not clear whether the student shooter was shot by the security officer or wounded in another fashion.
The relationship between the students and the shooter's motivation were unclear, Cameron said.
"You train to respond to this and you hope that you never ever have to," he said. "This is the realisation of your worst nightmare."
The violence was the latest in a decades-long series of deadly gun attacks at American schools and colleges. It occurred amid a re-energized national debate over school shootings after 17 students and faculty were killed in a rampage on February 14 at Marjory Stoneman Douglas High School in Parkland, Florida, the deadliest mass shooting at a US high school.
The Maryland school is in Great Mills, a community about 70 miles (110 km) south of Washington.
Local law enforcement officers were joined at the school by agents from the Federal Bureau of Investigation and the US Bureau of Alcohol, Tobacco, Firearms and Explosives were heading to the school, official said.
"You never think it'll be your school and then it is," Mollie Davis, who identified herself as a student at Great Mills High School, wrote on Twitter. "Great Mills is a wonderful school and somewhere I am proud to go. Why us?"
You never think it'll be your school and then it is. Great Mills is a wonderful school and somewhere I am proud to go. Why us?

— Mollie Davis (@davism0llie) March 20, 2018
Following the shooting, she exchanged messages on Twitter with students from Stoneman Douglas High School, saying their activism had inspired her to spearhead a walkout against gun violence at her school. A few Parkland students expressed their sympathy and told her to be safe.
Emma Gonzalez, a senior at Stoneman Douglas High School who survived last month's shootings, wrote on Twitter, "We are here for you, students of Great Mills, together we can stop this from ever happening again."
The shooting came four days before the March For Our Lives - partly organised by student survivors of the Parkland rampage - takes place in Washington to urge lawmakers to pass tighter gun control laws.
Republican Maryland Governor Larry Hogan said he was monitoring events at the school. "Our prayers are with students, school personnel, and first responders," he said in a statement.