16 dead in French Riviera floods
Violent storms and flooding have hit south-eastern France, killing at least 16 people with three more missing, officials say.
Three elderly people drowned when their retirement home near the city of Antibes was inundated with floodwater.
Others died trapped in their cars in tunnels and underground car parks as the waters rose.
French President Francois Hollande has thanked rescuers and expressed the "solidarity of the nation".
He and Interior Minister Bernard Cazeneuve have been visiting the affected regions.
Heavy rain hit the French Riviera, which lies on the Mediterranean coast and borders Italy, on Saturday evening.
The city of Nice is estimated to have received 10% of its average yearly rainfall in two days alone.
The river Brague burst its banks, sending water coursing into nearby towns and cities. Social media pictures showed water gushing down the streets of Cannes.
"Some cars were carried off into the sea," said mayor Davis Lisnard.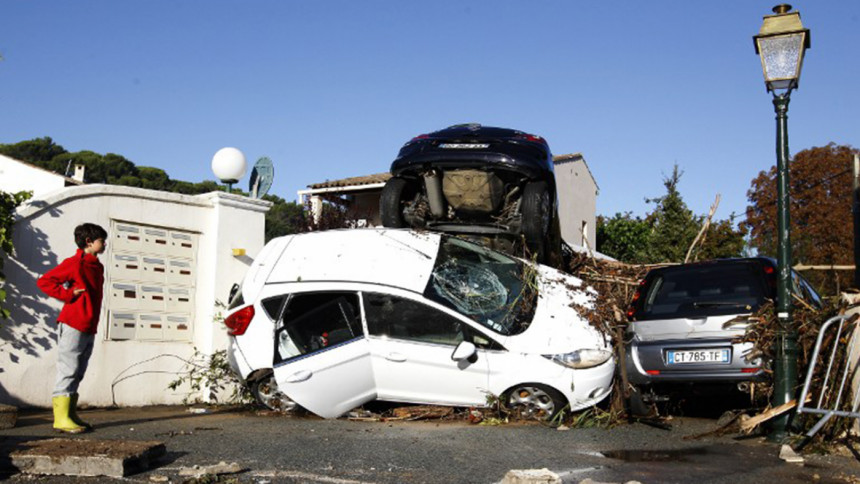 "We have rescued a lot of people, and we must now be vigilant against looting."
"We have lived through an apocalyptic situation that we have never experience before," tweeted Eric Ciotti, president of the Alpes-Maritimes department.
The main motorway through the area has been closed, trains halted and hundreds of tourists sought shelter at Nice airport overnight. About 27,000 homes are without power.
Some concertgoers attending a show by French rock legend Johnny Hallyday at a venue in Nice had to sleep overnight there after becoming stranded.