Salman Khan jailed for 5yrs in hit-and-run case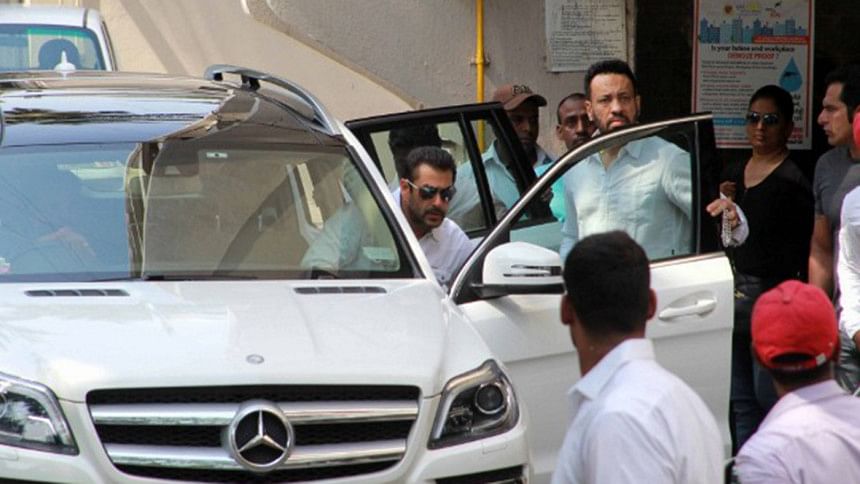 An Indian court today sentenced Bollywood superstar Salman Khan to five years in jail for running over a man in Mumbai 13 years ago.
The court found him guilty of culpable homicide not amounting to murder in the case where Salman ploughed his car on a pavement, killing one and injuring four others.
Salman, 49, sank to the floor of the courtroom and broke in tears after Mumbai Sessions Judge DW Deshpande gave the verdict, our New Delhi correspondent reports.
He has been on bail since October, 2002, about a month after the hit-and-run incident had taken place in a Mumbai suburb.
Salman, star of blockbusters films like "Bodyguard" and "Dabangg" is accused of losing control of his Toyoto Land Cruiser vehicle and running over homeless men after a night of drinking at an upmarket bar on September 28, 2002. The prosecution alleged that he immediately fled the scene.
Khan had pleaded not guilty to the charge during the trial, saying his driver Ashok Singh was driving when the vehicle mounted the pavement where five men were sleeping outside a bakery in the upmarket suburb of Bandra West in Mumbai.
Khan was earlier tried in the case on the charge of rash and negligent driving, which carried a maximum imprisonment of two years.
But the charge was made more serious by a trial court which said the actor should be tried on the charge of culpable homicide not amounting to murder.
The trial in the case saw several twists and turns and saw 27 prosecution witnesses. The sole defence witness, Ashok Singh, the actor's driver for over two years, had claimed on March 30 this year that he was driving the vehicle and not Khan.
Special public prosecutor Pradeep Gharat dubbed Singh as a "self-condemened liar" and said he was liable for perjury.
Judge Deshpande told Salman Khan in the court this morning "you were driving the car" and held him guilty of all charges against him in the case
Since the sentence for Khan carries more than three years imprisonment, the actor has to approach the High Court to get bail.