Saddam's tomb destroyed near Tikrit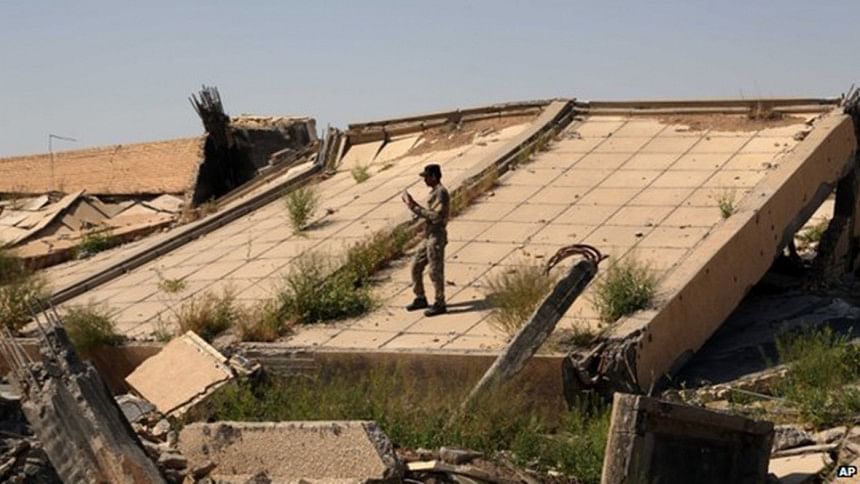 The tomb of ousted Iraqi leader Saddam Hussein has been almost completely levelled in fighting near Tikrit.
Footage filmed by the Associated Press shows all that remains of the once-lavish mausoleum in the village of al-Awja are pillars that held up the roof.
Iraqi forces and Iranian-backed Shia militia are battling to drive Islamic State (IS) militants from Tikrit.
Last year, the local Sunni population said they had removed Saddam's body and taken it to an unknown location.
The capture of the tomb came as fighting intensified north and south of Tikrit on Sunday as Iraqi security forces vowed to reach the city centre within 48 hours.
The footage shows the mausoleum, south of the city, reduced to concrete rubble.
Poster-sized pictures of Saddam that once covered it have been replaced with Shia militia flags and pictures of militia leaders, including Iranian General Qassem Soleimani who advises the Shia militias.
AP said that its crew was embedded with the Iraqi military and may have been subject to reporting restrictions.
"This is one of the areas where IS militants massed the most because Saddam's grave is here," said Captain Yasser Nu'ma, an official with the militias.
"The IS militants set an ambush for us by planting bombs around."
IS said last August that the tomb had been completely destroyed but local officials denied this, saying it had been ransacked and suffered only minor damage.
Saddam Hussein, who was from Tikrit, was captured by US forces in 2003.