Solution lies with Myanmar: UNHCR chief
Calls for stepping up aid for refugees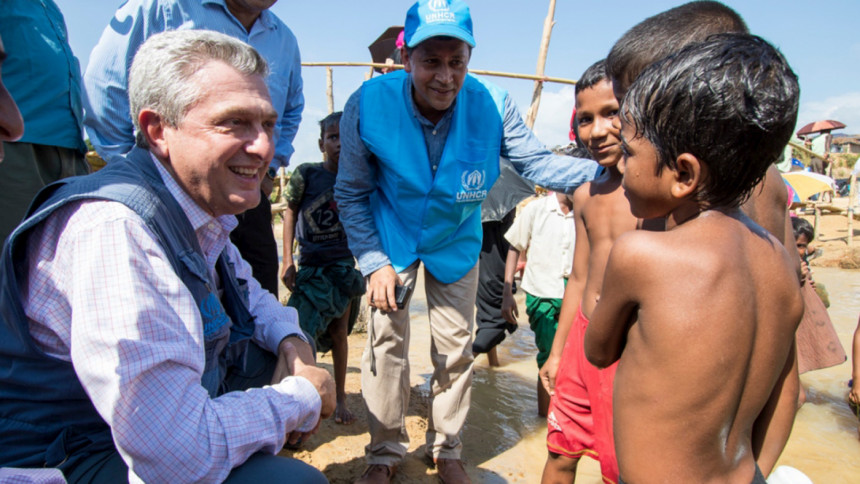 UN High Commissioner for Refugees Filippo Grandi today said that the solutions to Rohingya refugee crisis lie with Myanmar.
"Only Myanmar has the solution to the Rohingya crisis as the issue has started from the country," he said while addressing a press conference over the issue at a Gulshan hotel in Dhaka this afternoon.
But until then, the world had to help the "deeply traumatised" refugees facing enormous hardship, whom he had met on a weekend visit to camps in Bangladesh, adds Reuters.
Grandi said Muslim refugees seeking shelter in Bangladesh from "unimaginable horrors" in Myanmar will face enormous hardship and risk a dramatic deterioration in circumstances if aid is not stepped up.
He called for aid to be "rapidly stepped up" and thanked Bangladesh for keeping its border open.
The head of the UN refugee agency arranged the press briefing following his visit to different refugee camps in Cox's Bazar on Saturday and Sunday.
Earlier on the day, Myanmar government forces found the bodies of 28 Hindu villagers who authorities suspected were killed by Muslim insurgents last month, at the beginning of a spasm of violence that has sent 430,000 Muslim Rohingya fleeing to Bangladesh.
The violence in western Myanmar's Rakhine State and the refugee exodus is the biggest crisis the government of Nobel laureate Aung San Suu Kyi has faced since it came to power last year as part of a transition from nearly 50 years of military rule.
The latest violence began on August 25 when militants from a little-known group, the Arakan Rohingya Salvation Army (ARSA), attacked about 30 police posts and an army camp.
The United Nations has described a sweeping military response as ethnic cleansing, with refugees and rights groups accusing Myanmar forces and Buddhist vigilantes of violence and arson aimed at driving Rohingya out.
The United States has said the Myanmar action was disproportionate and has called for an end to the violence.