Rohingyas are security threat, India govt tells SC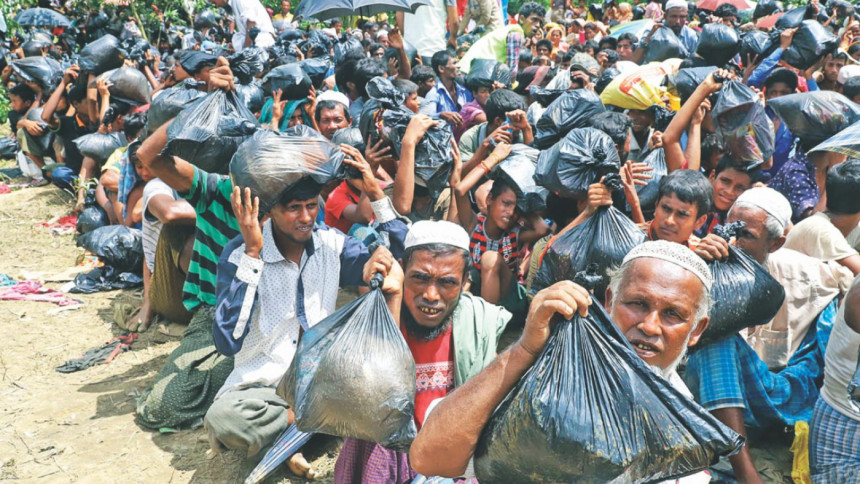 Indian government today told the Supreme Court that it has intelligence of links between some Rohingya Muslims and Pakistan's ISI and terror group Islamic State, making them "a serious security threat to the country".
The government also said in its affidavit filed in the top court that militant elements among Rohingyas are active in Delhi, Hyderabad, Mewar and Jammu, and added that it will place all intelligence inputs before the court on October 3.
An estimated 40,000 Rohingyas are present across India including Jammu and Kashmir and Rajasthan states.
The government affidavit said there is an "organised network of touts operating in Myanmar, West Bengal and Tripura states of India to facilitate the influx of illegal Rohingyas" into India.
It said many Rohingyas "illegally" obtained voter identity cards and Permanent Account Number cards required for filing income tax returns and for high-value financial transactions and some are "using the 'hawala' route to raise money for illegal activities".
In its 15-page affidavit filed before a bench headed by Chief Justice of India Justice Dipak Misra on a plea by two Rohingya refugees against their deportation, the Indian government hinted that the SC should not interfere in executive policy dealing with illegal Rohingya migrants.
Arguing for deportation of Rohingyas, the government said the Rohingya influx began in 2012 and added that there are at present around 40,000 such refugees in the country.
The government also told the top court that deporting Rohingya refugees would be an "executive policy decision" and the Supreme Court must not interfere.
The apex court rejected a plea to issue a notice to India's National Human Rights Commission, headed by a former Supreme Court judge, which opposed deportation of Rohingyas.
The apex court bench posted the next hearing in the case to October 3.
A galaxy of legal luminaries was present in the apex court today to appear for Rohingya refugees and against their deportation. They included Fali S Nariman, Kapil Sibal, Rajeev Dhawan, Colin Gonsalves, Ashwani Kumar and Prashant Bhushan.