Paul Simon, Tom Morello lead music drive against poverty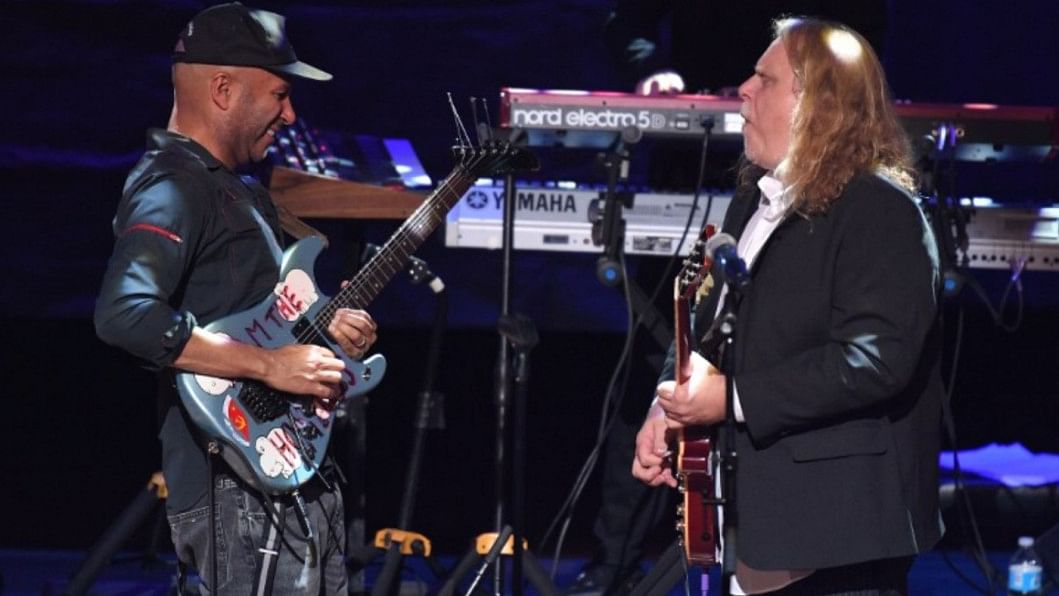 Pop-folk legend Paul Simon and hard-edged guitarist Tom Morello on Thursday led a drive by musicians to fight poverty, bringing promises of greater action to help the world's most vulnerable.
The two headlined a first night of the Global Citizen Festival, which will culminate with a live-broadcast concert Saturday from New York's Central Park featuring Rihanna and Metallica.
The five-year-old festival, which distributes tickets for free to fans who lobby leaders to support international development, held the more intimate first concert to highlight the causes at stake.
Interspersed with celebrity appearances, activists spoke of key, if unglamorous, challenges to development -- such as sanitation, with more than 650 million people around the world lacking safe drinking water, according to UN figures.
Prime Minister Mark Rutte of The Netherlands, a country with a long history of fighting floods, announced $50 million for the UN's Water Supply and Sanitation Collaboration Council.
"It's like a Rubik's Cube," Rutte, speaking to the concert by video, said of the planet's development and environmental issues.
"A change on one side has a knock-on effect on everything else. But I say, let's go for the blue side first because water is the beginning of everything," he said.
Several companies including Microsoft, HP and Western Union also announced charitable efforts in support of refugees amid the bloodshed in Syria.
'Here Comes the Sun'
Global Citizen, which says its supporters have taken more than six million actions such as petitioning leaders since 2012, takes inspiration from the 1971 Concert for Bangladesh.
The two shows were organized in New York by ex-Beatle George Harrison to support masses left destitute by a ruthless Pakistani military campaign and devastating cyclone.
Simon presented an inaugural Global Citizen award to Harrison's son Dhani and widow Olivia -- before playing a cover of Harrison's most famous song, "Here Comes the Sun."
The former half of Simon and Garfunkel, who has flirted with retirement, gave a light, folksy take on the Beatles classic as he played guitar with fellow strummer Mark Stewart.
Morello, best known as the guitarist of leftist rockers Rage Against the Machine, predictably delivered the most charged performance of the evening.
Backed by The Kenyan Boys Choir, Morello -- who recalled that he is partially of Kenyan heritage -- led an intense "This Land Is Your Land," often called the alternative US national anthem.
Morello -- who sang an oft-forgotten verse by the song's Marxist writer Woody Guthrie attacking private property -- urged fans to fight for justice "without compromise or apology."
"Aim for the world you really want... one where you don't have to be afraid of being blown up by a drone in the Middle East or being killed by a cop here in the United States of America," he said.
Morello later dazzled the crowd with a soaring solo, briefly playing the guitar with his mouth, on Bruce Springsteen's "The Ghost of Tom Joad."
Kesha opened the concert with Bob Dylan's "I Shall Be Released," belting out a full, rich timbre in place of the rock legend's scratchy voice.
Kesha has become a hero to fans for fighting, so far unsuccessfully, to end her contract with producer Dr. Luke, whom she accuses of rape. He denies the charges.
Dedicating the song to all people fighting for their rights, Kesha said: "I would just beg of you to please never give up hope."