US sport grapples with racial tension in wake of shootings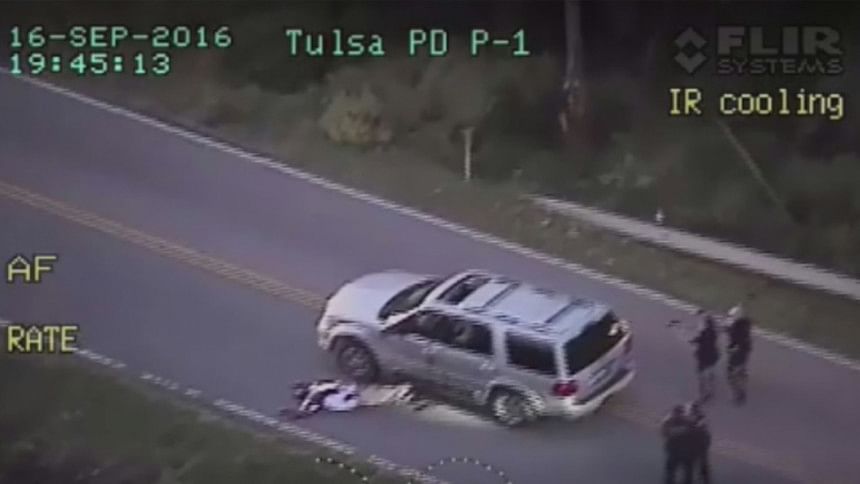 The shootings of two black men by police in Tulsa and Charlotte reverberated in the US sports world Wednesday as racial tensions flared around the United States.
Steve Kerr, head coach of the NBA's Golden State Warriors, said he would "absolutely" encourage his players to talk as a team about using their platforms to speak out against social injustice.
Kerr said he had already spoken to several of his players about San Francisco 49ers quarterback Colin Kaepernick's national anthem protest, in which Kaepernick has declined to stand for the Star Spangled Banner before NFL games.
Kaepernick's actions have sparked outrage in some quarters, but Kerr said it was important to start a dialogue.
"No matter what side of the spectrum you're on, I would hope every American is disgusted with what's going on in the country, what just happened in Tulsa two days ago with Terence Crutcher," Kerr said.
Crutcher was shot and killed by police in Tulsa, Oklahoma, last Friday while Keith Lamont Scott was killed by authorities in Charlotte, North Carolina, on Tuesday.
"I understand people who are offended by his (Kaepernick's) stance, maybe they have a military family member or maybe they lost someone in a war and maybe that anthem means a lot more to them than someone else," Kerr said. "But then you flip it around and what about non-violent protests? That's America. This is what our country is about. It's a non violent protest. It's what it should be about. So I think Colin has really clarified his message over the last couple weeks. I would think that something similar will happen in the NBA."
While Kaepernick has been joined by some fellow NFL players in declining to stand for the anthem, others have demonstrated differently.
The Seattle Seahawks have stood with their arms interlocked for the pre-game anthem, but Seahawks cornerback Richard Sherman said Wednesday it was important to remember the anthem is not the issue.
'Not right'
"The reason these guys are kneeling, the reason we're locking arms is to bring people together to make people aware that this is not right," Sherman said Wednesday. "It's not right for people to get killed in the street."
At his weekly media availability on Wednesday, Sherman told reporters he wouldn't take questions. Instead he spoke about the latest shootings and the need for change.
"I do a lot of community service, I go out there and try to help kids and try to encourage them to be better and to aspire to more," Sherman said. "And when you tell a kid, 'When you're dealing with the police, just put your hands up and comply with everything,' and there's still a chance of them getting shot and no repercussions for anyone, that's an unfortunate time to be living," he said.
"There's not a lot you can tell a kid. There's not a lot you can say to inspire a person when you say, 'Hey, we need black fathers to be in the community to stay there for your kids,' but they're getting killed in the street for nothing, for putting their hands on their cars."
Carolina Panthers quarterback Cam Newton spoke more obliquely, saying he didn't know enough about the specifics of the shootings to comment.
However, he said, police as well as ordinary citizens must be held accountable for their actions.
"My big thing is always holding people accountable," Newton said. "No matter what the race is, no matter what the gender is, no matter what the age is, we all have to hold each other accountable."