Palestinian teen says no regrets after release from Israeli prison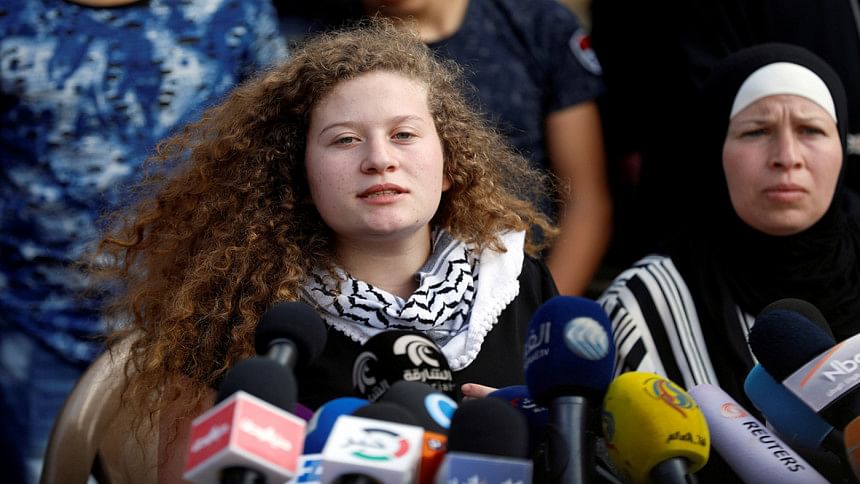 Palestinian teenager Ahed Tamimi has said she was deeply changed by her eight-month sentence in an Israeli jail for slapping two soldiers, but does not regret any of her actions.
Tamimi was released on Sunday and swarmed by media from across the globe.
She was 16 when she was arrested in December last year for hitting and kicking soldiers in front of her house in the occupied West Bank.
 In an interview the day after her release, the now 17-year-old told AFP that she understood she had become a "symbol" of the Palestinian cause.
"Of course my life has been changed a lot. I changed a lot in prison," said Tamimi.
"I became more focused, more aware also. Prison ages a person. In one day you age 100 years," she said in the backyard of her home in the West Bank village of Nabi Saleh.
Asked if she would have done the same thing if she had known it would land her behind bars for months, she said yes.
She pointed to the circumstances in which the soldiers had entered the garden of her house in December during a day of major protests that saw her cousin shot in the head with a rubber bullet.
"I didn't do anything wrong that I should regret," she said.
"If I had known I would be in jail eight months, of course I would have done it because it was a natural reaction to a soldier being in my house shooting at people, people from my village," she said.
"Any person in this situation -- I hit him, maybe there are people that would have killed him."
Israel's military said the two soldiers had been in the area to prevent Palestinians from throwing stones at Israeli motorists.
The video of the altercation does not show the soldiers reacting to Tamimi's actions or using their weapons, and the teenager was arrested four days later.
Tamimi said she hoped to study law to expose the issue of Israel's occupation to the rest of the world.
Israel has long said Tamimi and her siblings have been manipulated by her parents -- longtime activists -- and used as pawns in staged provocations.
When she was only 14, a picture of her biting a soldier's hand to prevent him from arresting a family member went viral.
She denied claims that she had been exploited.
"My family never exploited me once," she said.
"I am mature enough and I know the cause. I know the consequences that will stem from choosing this path. I am not a child."
Tamimi and her mother Nariman were sentenced to eight months by an Israeli military court in a plea deal following the December incident, which was recorded and went viral online.
It led Palestinians to view the teenager as a hero standing up to Israel's occupation.