No army link found yet: Thai deputy PM
Says it's difficult to keep watch what's happening inside the bordering jungles; IOM seeks $26m to address the issue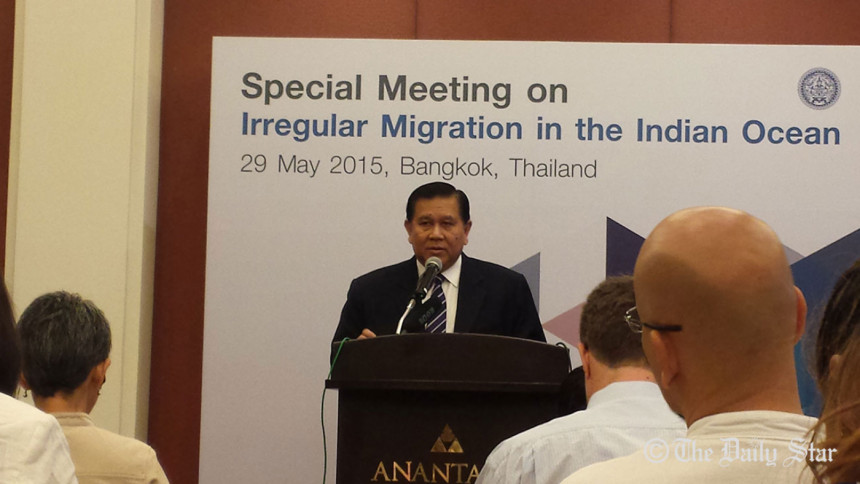 Amid different quarters' insistence that Thailand must take steps against its army and police officials involved in human trafficking, the country's deputy prime minister denied having found any army personnel's link with the trade.
"We agree that high ranking officials were involved in trafficking of people. There are police among them. But so far, we haven't found any army officials to be involved in this," General Tanasak Patimapragorn, who is also the foreign minister of the country, said at press conference during a Special Meeting on Irregular Migration in the Indian Ocean in Bangkok.
Investigation was on and if army officer was found involved, the Thai government will take action against them, said Patimapragorn.
As representatives from 17 countries directly and indirectly affected by "irregular migration in the Indian Ocean put their heads together to find solution to the crisis dogging Southeast Asia, International Organisation for Migration (IOM) sought US$26 million to address the issue.
Thailand called the special meeting of senior officials and experts from 17 countries and three international organisations to seek a solution to the migrant situation in the Indian Ocean.
Representatives from Australia, Bangladesh, Cambodia, India, Indonesia, Laos, Malaysia, Myanmar, the Philippines, Vietnam, New Zealand, Papua New Guinea, Sri Lanka, Pakistan, Afghanistan and Iran are attending the meeting.
Besides, officials from the US, Japan and Switzerland are participating as observers along with officials from international organizations including the UN refugee agency, the UN Office on Drugs and Crime and IOM.
Addressing a press conference after opening of the meeting being held at Anantara Siam Bangkok Hotel, the Thai deputy PM said 44 officials have been arrested for their link with the illegal human trade.
When asked why the Thai government did not act to bust the traffickers' network although the trade has been continuing for many years, General Tanasak Patimapragorn said it is very hard to keep eyes on the bordering jungles so deep it is. "In some places, it takes three days to cover just 1 kilometre. You can't see everything well. As a result, air surveillance doesn't help much."
The issue is not new and the incumbent Thai government is now trying its best to stop this, he said. "We are doing it like never done before. Our friends and countries concerned are very happy with our steps."
Earlier in his opening remarks earlier at the meeting, the Thai deputy PM said stressed that the issue of irregular maritime migration in the region needs to be addressed in a collective and sustainable manner.
"The influx of irregular migrants in the Indian Ocean has reached an alarming level. Sadly, we have witnessed desperate migrants leaving their homes and risking their lives. The situation has affected various countries in the region. No country can solve this problem alone," he said, terming the problem, as "more complex than what we are seeing".
Malaysia and Indonesia also offered temporary shelter for the stranded migrants provided that the resettlement and repatriation process will be done in one year by the international community. "On our part, Thailand remains ready as always to provide humanitarian assistance to these migrants by tripling our efforts," the Thai foreign minister said.
"Since May 26, Royal Thai Navy vessels have been deployed to serve as floating platforms to provide humanitarian assistance to those migrants at sea. Personnel on these floating vessels consists of the followings: First a medical team to provide treatment, food and water; Second an investigation team to investigate the possibility of human trafficking activities; Third a registration team to identify and prepare for possible solutions, including referrals to shelters offered by Indonesia and Malaysia. If disembarkation is absolutely necessary, the migrants will be treated first and foremost according to humanitarian principles under Thai laws."
IOM SEEKS $26M
Saying that the boat people crisis has left 10,000 estimated people affected and 5,000 estimated people in need of return and reintegration assistance, IOM has placed an appeal for $26 million to address the issue.
As per its demand placed before the meeting, $12.8m will be spent for temporary shelter and non-food items; $1.4m for heart and nutrition support; $0.3m for psychological support; $10m for return and reintegration assistance; and $1.5m for migration management support and coordination.
Estimated 58000 people undertook an irregular and dangerous journey by boat in the Bay of Bengal and Andaman sea in 2014, joined by a rusher 25000 in the first quarter of 2015. They are part of complex migratory movement including refugees tasteless people and economic migrants. Unregulated and until recently inconspicuous, the scale of the movement has tripled since 2012 and the abuse of voyagers has grown obscene.