Nigeria's twin blasts kill 44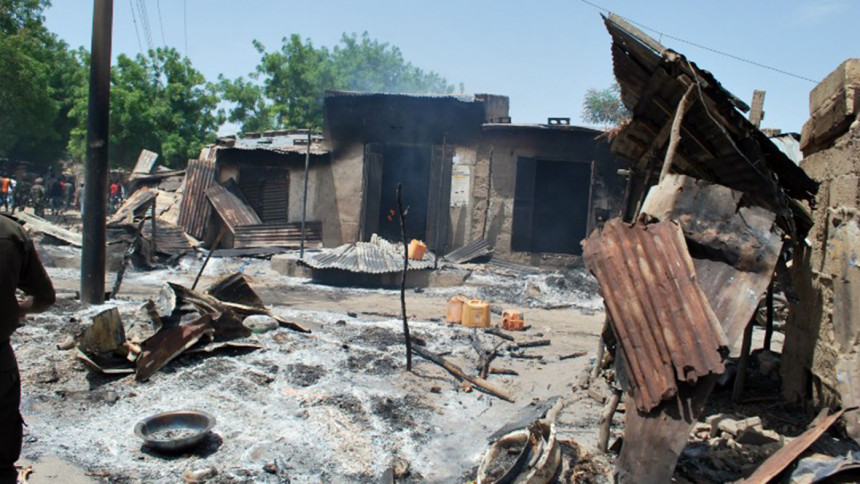 Two bomb attacks on the central Nigerian city of Jos have left at least 44 people dead, the authorities say.
A restaurant and a mosque were targeted on Sunday night.
No-one has claimed responsibility but militant group Boko Haram has attacked Jos before, even though it is not in north-east Nigeria where the Islamists normally operate.
The blasts are the latest in a series of deadly attacks in recent days which have seen more than 200 people killed.
The attacks came shortly after the Ramadan fast was broken, with both sites full of people.
Of the 44 dead, 23 were killed at the restaurant and 21 at the mosque, Nigeria's National Emergency Management Agency (Nema) says.
There are also 47 people being treated for injuries, but emergency officials are still gathering information, so the figures may rise.
The blast at the restaurant was the result of a bomb that had been planted, whereas the mosque was attacked by a suicide bomber and that explosion was preceded by a gun attack, the BBC's Ishaq Khalid reports.
Our correspondent says that many believe that the mosque's imam, who was preaching at the time, may have been the target.
Sheikh Muhammad Sani Yahya Jingir, who survived the attack, has been preaching against Boko Haram since 2010. He has survived a previous assassination attempt at his home.
Jos has seen several attacks blamed on Boko Haram, including an incident in February when at least 15 died and in December last year when more than 30 people died.
A week of attacks in Nigeria:
Sunday: Church attacked in Potiskum, in Yobe state, killing at least five
Friday: Several suicide bombers kill large numbers in Zabarmari village, north-east Nigeria
Thursday: Two female suicide bombers attack another village in Borno state
Wednesday: More than 50 gunmen kill 97 people in the village of Kukawa, near Lake Chad
Tuesday: 48 men shot dead after prayers in two villages near the town of Monguno, Borno state
On Friday, Nigeria's President Muhammadu Buhari described the recent attacks as "inhuman and barbaric".
He said they were "the last desperate acts of fleeing agents of terrorism".
Boko Haram took control of a large area of north-eastern Nigeria last year and declared a caliphate - a state governed in accordance with Islamic law.
However, Nigeria's military, backed by troops from neighbouring countries, has recaptured most of the territory.
President Buhari has called for an expanded regional force to be deployed more rapidly.