Nigeria voting continues after delays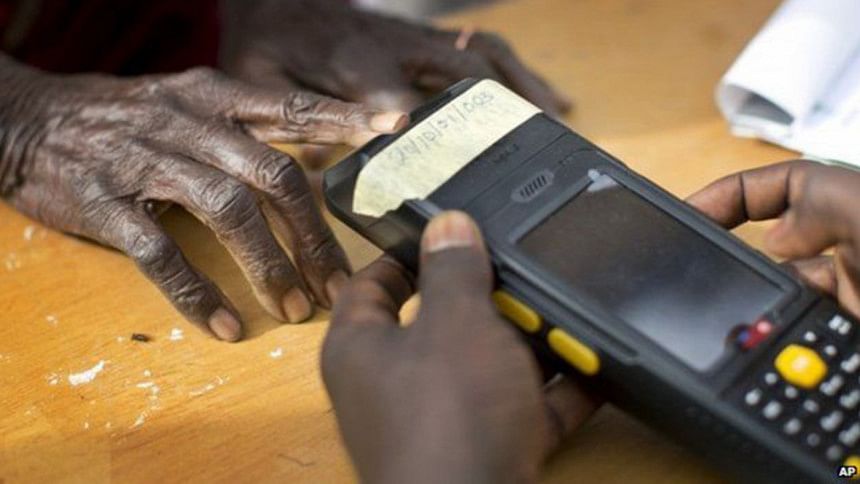 Voting is to continue in some parts of Nigeria after technical problems during Saturday's presidential election.
The electoral commission postponed voting because of problems with electronic card readers - new technology intended to reduce fraud.
There was also some violence with more than 20 people reportedly killed in attacks by unknown gunmen.
It is expected to be a closely fought election between President Goodluck Jonathan and Muhammadu Buhari.
Jonathan and at least three governors from his ruling party were among those whose biometric details could not be checked by the new devices.
Instead, they had to be processed by hand. Jonathan's Peoples Democratic Party (PDP) called it a "huge national embarrassment" and a "vindication" of their position against the technology.
"There should have been a test-run for a smaller election before deploying it for an election of this magnitude," said Jonathan's presidential campaign spokesman Femi Fani-Kayode.
The election as it happened.
About 300 polling units out of about 150,000 were affected, a spokesman for the Independent National Electoral Commission (Inec) said.
The vote had been delayed by six weeks because of the insurgency by militants from the islamist group, Boko Haram.
Both the main candidates had pledged to prevent violence during and in the aftermath of the elections.
But several hours after voting started, reports came in of attacks at polling stations.
Attacks were reported in north-eastern Gombe state, including incidents where gunmen opened fire on voters at polling stations.
It is unclear whether the attacks were the work of Boko Haram militants or political thugs.
However, Jonathan told the BBC's Peter Okwoche that most of the violence in Gombe was not directly related to the elections.
"The war against terrorists is going on, voting or no voting," he said. "There was a conflict, kind of a crossfire, between soldiers and terrorists that had nothing to do with the elections."
At polling stations where voting was closed, officials began counting votes - with blackouts forcing some to use torches or car lights.
The People's Democratic Party (PDP) has dominated Nigerian politics since 1999, but Gen Buhari's All Progressives Congress (APC) is viewed as a serious challenge.
Voters are also electing members of the house of representatives and the senate.