UNSC to hold 'closed door' meeting on India's Kashmir move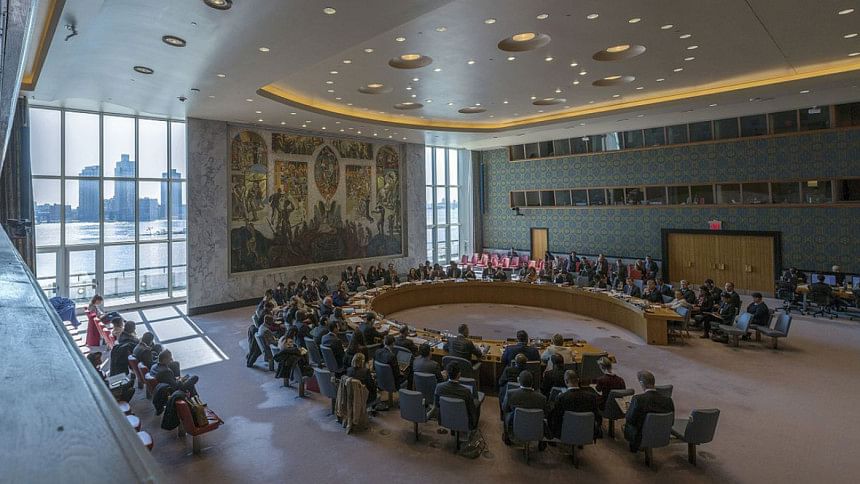 The United Nations Security Council (UNSC) will reportedly hold a "closed door" meeting to discuss India's move to revoke Article 370, that had granted special status to Jammu and Kashmir.
UNSC President Joanna Wronecka told reporters on Wednesday said that they would discuss "the Jammu and Kashmir situation behind closed doors most likely on August 16", according to media reports.
The development comes after Pakistan wrote a formal letter to the UNSC president calling for an emergency meeting of the UNSC to discuss India's move to revoke the special status to Jammu and Kashmir. The letter was sent through Permanent Representative Maleha Lodhi to convene the meeting.
"I have requested in the letter that a special meeting of the Security Council should be called to discuss those actions of India which we consider as illegal and against the UN resolutions," Foreign Minister Shah Mahmood Qureshi said.
Qureshi said Pakistan considered India's actions in Kashmir as a threat to the regional peace.
"It is a mistake on part of India if it thought that it could crush the right of self-determination of the people of Kashmir," he said.
Meanwhile, China had also formally asked for "closed consultations" in the United Nations Security Council to discuss the Kashmir move.
"China asked for closed consultations on the Security Council agenda item 'India Pakistan Question'. The request was in reference to the Pakistani letter to Security Council President," a top UN diplomat said.
China had earlier "assured Pakistan of its support and commitment" and announced that it supported Islamabad's decision to approach the UN Security Council in the wake of India's decision to scrap Article 370 of its Constitution that gave special status to Jammu and Kashmir.
An official statement on this was issued by the Chinese Foreign Ministry after a meeting between visiting Pakistani Foreign Minister Shah Mehmood Qureshi and his Chinese counterpart Wang Yi in Beijing on Friday.
After his meeting with Wang, Qureshi had said that China intends to support Pakistan in the UNSC over the Kashmir issue.
However, India has categorically told the international community that its move to scrap Article 370 of the Constitution removing the special status to Jammu and Kashmir is an internal matter and has also advised Pakistan to "accept the reality".
The Indian Parliament on August 6 revoked Article 370 of the Constitution and approved bifurcation of Jammu and Kashmir into two Union Territories.
India had earlier briefed the UN Security Council's five permanent members — US, Britain, France, China and Russia — on the abrogation of Article 370 and had explained that the changes made were to a "temporary" article.
Tensions between New Delhi and Islamabad have heightened following India's move on Kashmir.
Following the move, Pakistan downgraded diplomatic relations by expelling the Indian High Commissioner and suspending trade ties with India.
Later, Pakistan announced suspending the Thar Express and Samjhauta Express, connecting the two countries. It also banned Indian films from being screened in cinemas across the nation.
Copyright: The Statesman/ Asia News Network (ANN)