2 Bangladeshis dead, 69 including 21 navy officials injured in Beirut blast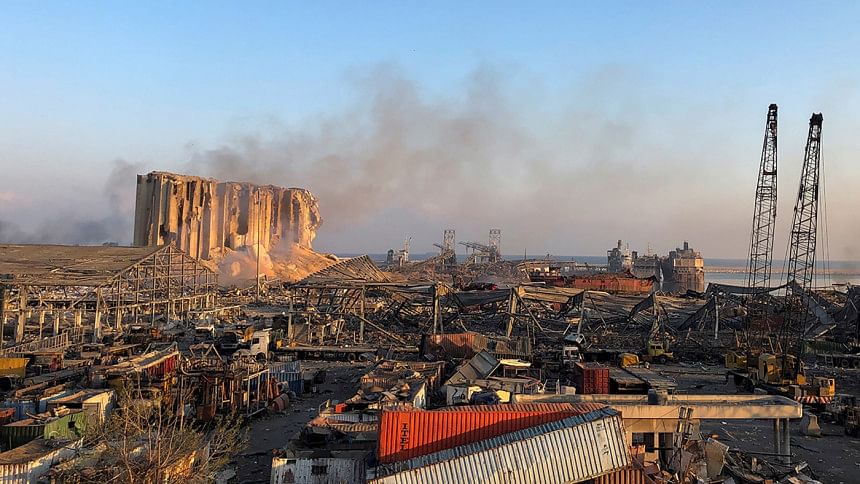 Two Bangladeshi nationals died and at least 69 were injured, including 21 members of Bangladesh Navy, in the Beirut explosion last night.
The deceased have been identified as Mehedi Hasan of Brahmanbaria and Mizan from Madaripur, said Abdullah Al Mamun, head of chancery of the Bangladesh embassy in Beirut.
Twenty-one members of Bangladesh Navy's ship "Bijoy", deployed under peacekeeping mission UNIFIL's Maritime Task Force, were injured, of them one severely, in the explosion, according to a press release of Inter Services Public Relations Directorate (ISPR) issued today.
The critically injured navy officials was undergoing treatment in American University of Beirut Medical Centre, states the release adding that others were taken to Hamoud Hospital by air ambulance following primary treatment under supervision of UNIFIL (United Nations Interim Force in Lebanon).
"They were currently out of danger," the release reads.
Bangladesh Navy Headquarters are in constant communication with the ship, UNIFIL headquarters and Bangladesh Embassy in Lebanon regarding the incident, it added.
The damage sustained by the Bangladeshi ship is also being assessed.
Major General Jahangir Al Mustahidur Rahman, Bangladesh ambassador in Beirut, visited the ship following the incident.
"Within half an hour, we rushed to the ship. We are looking after them and other Bangladeshis," said the head of chancery of Bangladesh Embassy in Lebanon.
There are some 160,000 Bangladeshis in Lebanon. There could be others injured but there is still no confirmed information, he said.