Myanmar swears in first elected civilian president
Myanmar's new president has been sworn in, the first elected civilian leader in more than 50 years.
Htin Kyaw from the National League for Democracy (NLD) takes over from Thein Sein, who introduced wide-ranging reforms during his five years in power.
Although NLD leader Aung San Suu Kyi is barred from the presidency, she has said she will rule by proxy.
The handover completes the transition that began after the NLD won a landslide win in elections in November.
Thein Sein became president of a quasi-civilian government in 2011 - ending decades of military rule -and is credited with starting the reform process in Myanmar, also known as Burma.
Htin Kyaw won the presidential vote in parliament earlier this month, beating another candidate from the NLD and a military-nominated candidate with 360 of the 652 votes cast.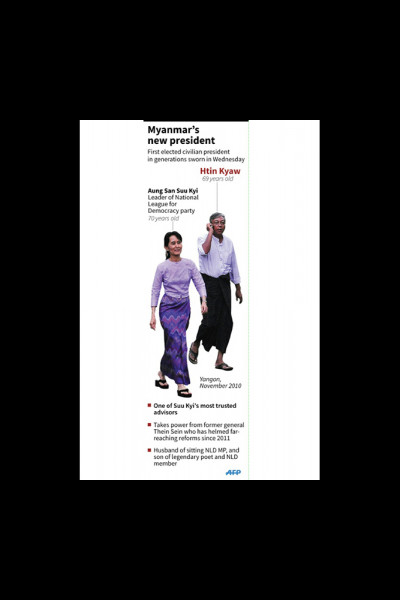 The other two candidates, Henry Van Thio and Myint Swe, will serve as the country's vice-presidents.
The NLD last week named its ministers in the new government - the list includes Suu Kyi who will be in charge of foreign affairs, the president's office, education, energy and electric power.
The military retains control of three key ministries - defence, home affairs and border affairs.
Who is Htin Kyaw?
-Htin Kyaw, 69, is Suu Kyi's close aide.
-He attended university in the UK. He has a reputation for honesty and loyalty, and has kept a low profile.
-His father, the writer and poet Min Thu Wun, won a seat for the party at the 1990 election.
-His wife, Su Su Lwin, is the daughter of an NLD founder, as well as being a sitting MP, and a prominent party member.
-He has played a senior role at the Daw Khin Kyi Foundation, the charity founded in honour of Suu Kyi's late mother, and has been frequently seen at the NLD leader's side, serving as her driver from time to time.
As party leader, Suu Kyi has said she will act "above the president".
Despite her popularity and prominence, she was barred from becoming president under the military-backed constitution because her two sons are British.
The constitution does not allow anyone whose family members have another nationality from being president.
Last year, the NLD won 80% of contested seats in a historic election that was considered mostly free and fair and now dominates parliament.
However, the military will still play a significant role going forward.
Besides retaining control of key security ministries, it is also guaranteed to have 25% of parliamentary seats - thus retaining the power to veto any changes to the constitution, as that would require more than 75% of votes.