Modi accepts invite for first Pakistan visit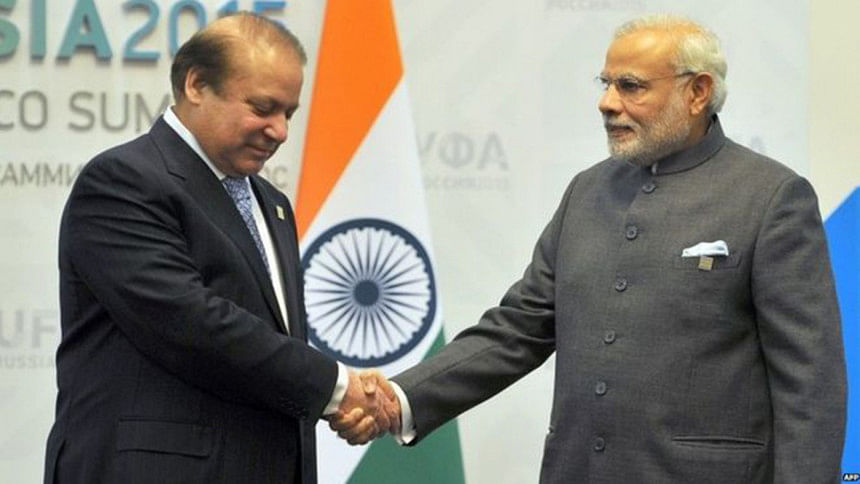 India's Prime Minister Narendra Modi accepted an invitation Friday from his counterpart Nawaz Sharif to pay his first visit to Pakistan, signalling a new thaw in ties between the nuclear-armed rivals.
After months of stalemate and recriminations, Modi and Sharif spoke for around an hour while visiting Russia, the talks ending with an agreement by the Indian premier to attend a regional summit in Islamabad next year.
While analysts warned major obstacles still lay in the way of significant progress, a joint statement said both leaders recognised their "collective responsibility to ensure peace and promote development".
The statement included joint, albeit vague, commitments on some of the most contentious issues between them, including speeding up efforts to bring those behind the 2008 Mumbai attacks to justice.
While Sharif did attend Modi's inauguration in May last year, relations soon cooled amid flare-ups in violence along the border in Kashmir, the Himalayan region which is claimed by both countries.
Indian officials had previously refused to confirm Modi's participation at the next summit of the South Asian Association for Regional Cooperation (Saarc), which is being held in Pakistan's capital.
But the statement said Sharif had used their talks in Russia as an opportunity to reiterate an earlier request for Modi to attend the summit, adding that "Prime Minister Modi accepted that invitation".
It will be the first time that Modi -- who has a reputation as a hardline nationalist -- has travelled to Pakistan since coming to power.
The two countries have fought three wars since the partition of the subcontinent in the wake of independence from Britain in 1947, two of them over Kashmir.
Since 1989 several rebel groups have waged campaigns against the hundreds of thousands of Indian forces deployed in Kashmir, hoping to achieve independence or the territory's merger with Pakistan.
While the situation has been calmer since a 2003 truce, India accused Pakistan of killing one of its border guards on Thursday night in firing across the de-facto Kashmir border.
'THE ICE HAS BEEN BROKEN'
In the statement, it was agreed that officials responsible for security on both sides of the border would meet soon, as would their respective national security advisors to "discuss all issues connected to terrorism".
India has long argued Pakistan shelters or sponsors militant groups such as Lashkar-e-Taiba, which is accused of being behind an attack on the financial capital Mumbai that left 166 people dead in November 2008.
Modi's government was furious in April when Pakistani authorities freed the alleged mastermind of the attacks, Zaki-ur-Rehman Lakhvi, on bail.
India has seethed at Pakistan's failure either to hand over or prosecute those accused of planning and organising the attacks. Pakistan says India has failed to give it crucial evidence, such as recordings between the attackers and their handlers.
While it did not go into details, the statement said that "both sides agreed to discuss ways and means to expedite the Mumbai case trial, including additional information like providing voice samples".
A senior Pakistani security official acknowledged Delhi had "concerns" over Lakhvi but added that Islamabad was unhappy at what it regards as interference by India in restive Baluchistan province.
"The two sides will have to sincerely address each other's concerns," the official, speaking on condition of anonymity, told AFP.
"There are serious misunderstandings and sincere efforts will be required to melt the ice and the visit alone will not be enough."
KG Suresh, a senior fellow at the Vivekananda International Foundation think-tank in New Delhi, also sounded a note of caution.
"The ice has been broken. It's a welcome step. India has always shown, particularly this government, from the day that it was sworn-in that it wants good neighbourly relations," he said.
"But let us be realistic, let us not expect miracles. Any progress in India-Pakistan relations would be slow and steady."
Modi and Sharif met while attending a meeting of the Shanghai Cooperation Organisation, held in the Russian city of Ufa.