Migrants drown off Turkish coast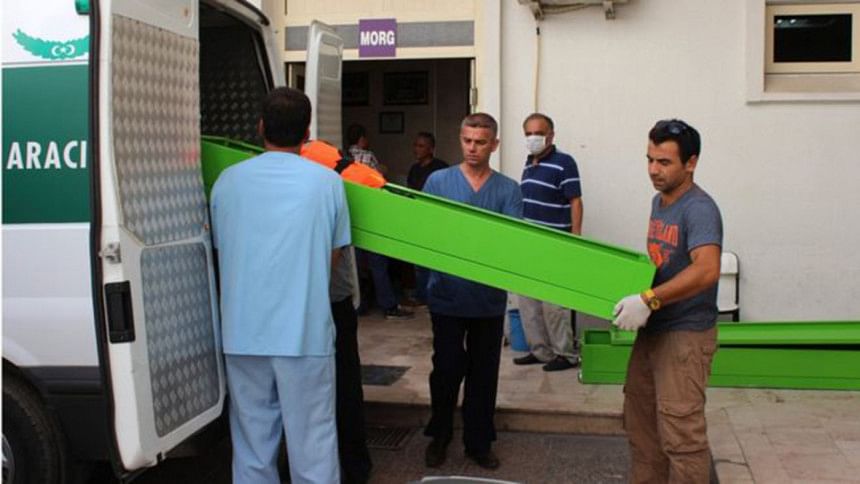 Seventeen migrants attempting to reach Greece by boat from Turkey have drowned after their boat sank off the Turkish coast.
The victims, all thought to be Syrians, included five women and five children, local media said.
They were trapped in the boat's cabin as it sank, Turkey's Dogan news agency reported.
Another 20 people on the boat's deck, who were wearing life jackets, survived, the news agency said.
The boat is thought to have set out from the village of Gumusluk near the Turkish resort town of Bodrum, where three-year-old Syrian refugee Alan Kurdi died earlier this month.
Alan's death made international headlines when an image of his body washed up on the beach in Bodrum was widely shared.
Some 300,000 or more migrants and refugees have arrived in Greece so far this year, mostly setting off from Turkey's Aegean coast, according to the International Organisation for Migration.
With several Greek islands within a few miles, thousands of people are attempting the dangerous journey every day.
MEDITERRANEAN RESCUE
Separately, 500 migrants have been rescued from the Mediterranean so far this weekend in seven operations involving the Italian coastguard and navy and a ship belonging to the charity Medecins Sans Frontieres.
A spokesman for the coastguard told the AFP news agency on Sunday that three of the seven operations were ongoing.
The rescued migrants are thought to be largely from Nigeria, Ghana, Senegal and Sierra Leone and left Libya three days earlier. They were rescued about 80km (50 miles) off the Libyan coast.
Hungary's public broadcaster MTV said on Sunday morning that nearly 2,000 migrants had arrived at the border crossing point of Hegyeshalom, prior to continuing their journey on into Austria.
About 10,000 migrants crossed into Croatia from Serbia on Friday - a record daily high - with the steady stream of people continuing into the weekend.
Croatia said on Saturday that about 67,000 people had entered the country over the past 10 days, when Hungary's decision to fence off its border with Serbia redirected migrants towards Croatia.
Migrants and refugees crossing the Serbia-Croatia border have suffered a dip in temperatures this weekend.