Migrant crisis: Record number enters Hungary
The number of migrants entering Hungary from Serbia hit a new record on Saturday amid tension in eastern Europe over how to deal with the crisis.
More than 4,000 people walked across the border with Serbia just as the authorities in Hungary were completing preparations to seal the frontier.
Europe is struggling to cope with an enormous influx of people, mostly from Syria, fleeing violence and poverty.
Hungary has been criticised for how it deals with those crossing its border.
Officials estimate that 175,000 migrants have crossed from Serbia into Hungary so far this year.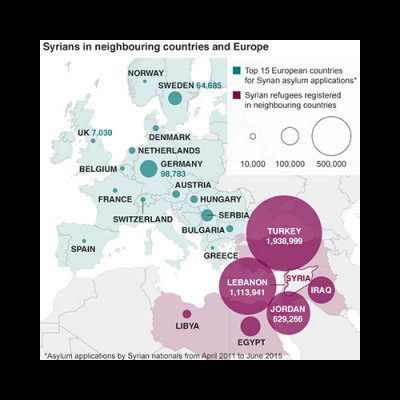 Hungarian Prime Minister Viktor Orban has promised to seal the country's borders and arrest any illegal migrants. The country is close to finishing a 4m-high (13ft) fence along the border with Serbia.

More than 4,000 Hungarian soldiers have been brought in to help police enforce a ban which Mr Orban has ordered must come into effect on Tuesday.

The BBC's Nick Thorpe - reporting from Szeged near the Hungarian-Serbian border - says the humanitarian infrastructure to deal with the migrants is finally being established at the Roske migrant camp.

On Friday, footage emerged of migrants being thrown bags of food at the camp amid criticism that they were being treated like animals.

On Saturday, Austrian Chancellor Werner Faymann drew parallels between Hungary's treatment of refugees and Nazi Germany's treatment of Jews.

In response, Hungarian Foreign Minister Peter Szijjarto said Faymann's comments were "slanderous".

The 4,000 refugees who walked into Hungary on Saturday were shepherded into a field where dozens of large tents, including those of the UN refugee agency, now stand.

No-one knows what will happen on Tuesday when Orban's crackdown on the migrants is due to begin, our correspondent adds.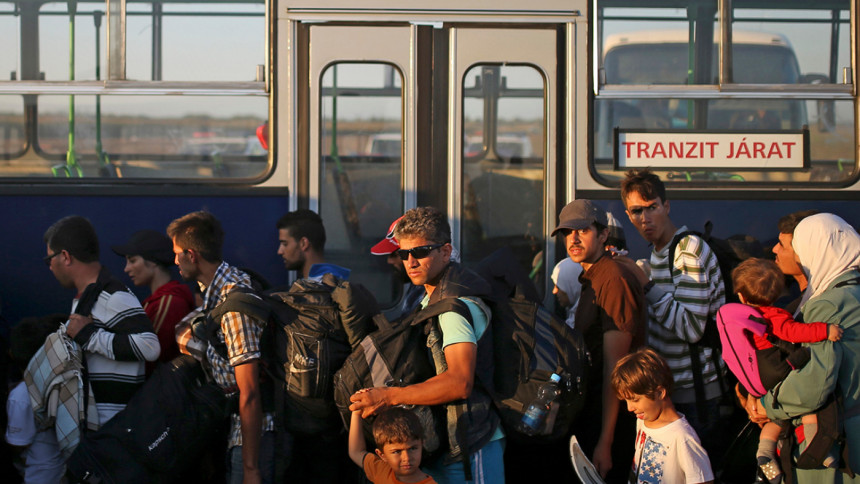 Hungary, along with Greece and Italy, has become a frontline state in Europe's migrant crisis, with many crossing from Greece into Macedonia before passing through Serbia to reach the Hungarian border.
Most want to travel on to western Europe by passing through neighbouring Austria, but before they do so the Hungarian authorities say that it is necessary to transport them to camps so that they can be registered.
In Germany, the favoured destination of many migrants, officials said more than 9,000 migrants arrived in Munich on Saturday. The country expects a total of 40,000 to arrive over the weekend.
Chancellor Angela Merkel defended the decision to let in large numbers of refugees, saying she was "convinced it was right".
The crisis has exposed deep divisions within the European Union.
The European Commission has announced plans for obligatory quotas to share out 120,000 additional asylum seekers among 25 member countries.
But the Czech Republic, Hungary, Poland and Slovakia oppose being forced to take in new arrivals.
Tens of thousands of people took part in a "day of action" on Saturday in several European cities - and in Australia - in support of refugees and migrants. Some cities also saw counter-demonstrations.