Migrant crisis: EU ministers attempt to resolve quota row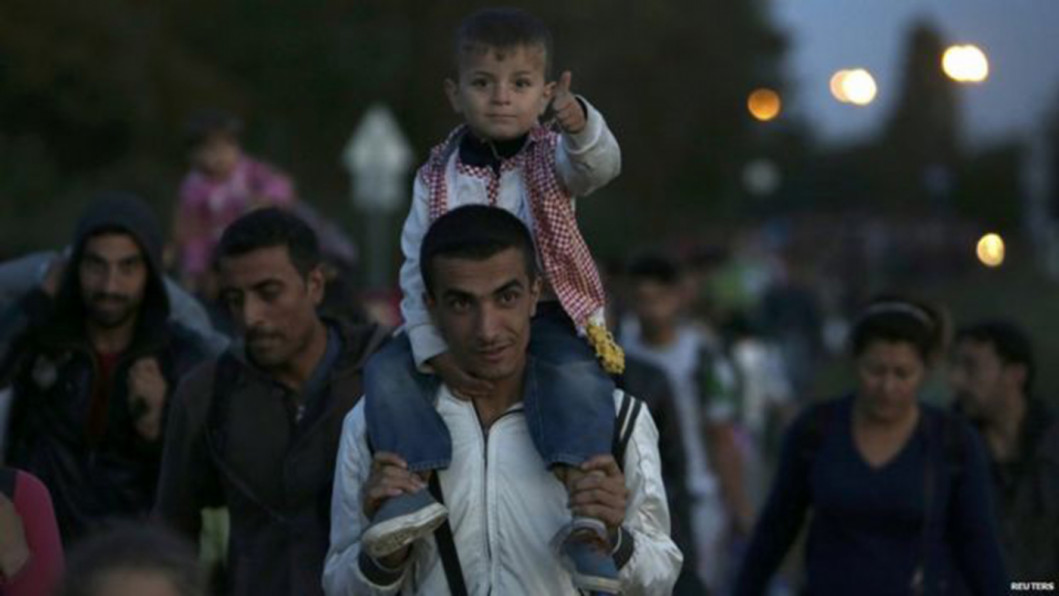 European Union ministers are to meet to try to resolve a dispute over how to relocate 120,000 asylum seekers who have recently arrived in Europe.
Some central European states have been resisting calls for EU members to accept mandatory quotas.
The migrants are part of more than a quarter of a million to have arrived in July and August alone. Germany says it expects up to a million this year.
Hungary has said European borders are under threat.
The arrival of hundreds of thousands of migrants has created deep divisions within the EU
Home affairs ministers meeting in Brussels on Tuesday will be hoping to forge a consensus ahead of an emergency meeting of EU leaders on Wednesday.
After talks on Monday between Hungary, Poland, Slovakia and the Czech Republic, all of whom oppose quotas, Czech Foreign Minister Lubomir Zaoralek insisted the four were still "absolutely dedicated" to finding a solution.
Hungary has granted its army extra powers to deal with migrants, allowing them to use rubber bullets, tear gas and guns which can deploy netting.
Migrants, said Hungarian Prime Minister Victor Orban, "are over-running us".
"They're not just banging on the door, they're breaking the doors down on top of us. Our borders are under threat. Hungary is under threat and so is the whole of Europe."
His tough stance has drawn sharp criticism from other European colleagues.
At a temporary camp in Opatovac, Croatia - another key transit country for migrants - there were scuffles early on Monday evening.
A BBC team there saw riot police entering the camp at one point and said at least one person was injured.
Most of those travelling in the Balkans are seeking a route north to Germany and Scandinavia.
UN Secretary General Ban Ki-moon called for EU leaders to show compassion, saying he was concerned for the situation facing refugees and migrants arriving in Europe.
Greek Prime Minister Alexis Tsipras, newly sworn in after his re-election, said unless responsibility was shared "there is no point in talking about a united Europe".
His country has seen thousands of arrivals, many of them fleeing Syria's civil war, although fewer boats were reported Monday due to an incoming storm.