Migrant crisis: EU to boost aid to agencies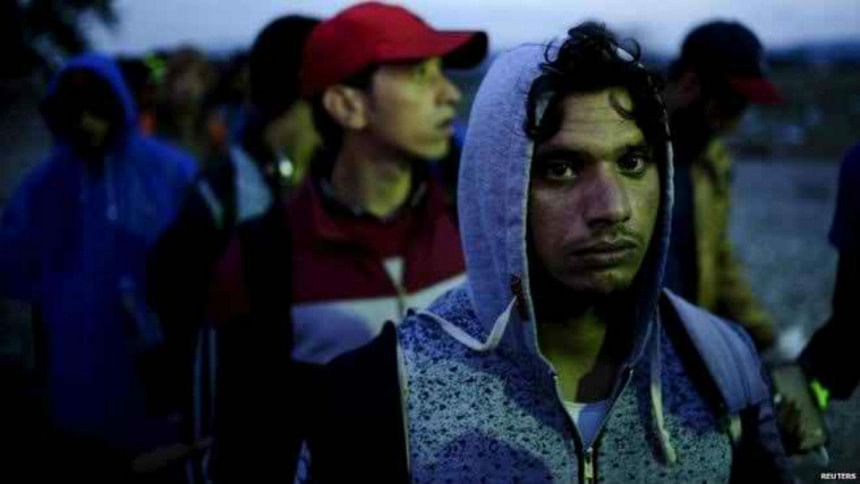 European Union leaders have pledged another €1bn (£700m, $1.1bn) to help UN agencies support Syrian refugees in the Middle East, as part of renewed efforts to tackle the EU's migrant crisis.
More help will be extended to Syria's neighbours, where millions have fled since the country's conflict began.
The leaders also agreed on strengthening EU external borders.
European Council President Donald Tusk warned that "greatest tide of refugees and migrants is yet to come".
About half a million migrants have arrived in Europe this year, exposing deep divisions with in the EU.
The emergency summit in Brussels got under way amid a bitter row over the relocation of 120,000 migrants.
Several countries oppose the scheme, which opposes mandatory quotas on EU members, with Slovakia launching a legal challenge.
Despite this, EU Commission President Jean-Claude Juncker described the talks as "excellent", taking place in a "better than expected atmosphere".
What the EU leaders agreed?
--At least €1bn (£700m, $1.1bn) extra will be donated to the UN refugee agency and the World Food programme
--More help for Lebanon, Jordan, Turkey and other countries
--Greater co-operation and dialogue with Turkey
--Assistance for Balkan states, who have become a major route for migrants travelling north
--Strengthened border controls, including more funding for border security forces
The officials statement from the meeting
Announcing the measures in Brussels, European Council President Donald Tusk, said the aim of the meeting had been to "end the public finger pointing" among members.
He said about four million Syrians had fled to neighbouring countries, meaning "we should be talking about millions of potential refugees trying to reach Europe from Syria alone, not to mention Iraq, Afghanistan, Eritrea and other places".
EU leaders agreed to set up "hotspots" - special processing centres on frontline countries to help screen the new arrivals.
"The measures we have agreed today will not end the crisis. But they are all necessary steps in the right direction,''  Tusk said at the end of the seven-hour meeting.
A further summit is scheduled for October, with  Tusk and  Juncker also due to hold talks with Turkish President Recep Tayyip Erdogan.
Germany is the main country migrants have been heading to, and Chancellor Merkel said she was "satisfied" with the summit, saying: "I got the feeling that we want to tackle this task together."
She also said Syrian President Bashar al-Assad should be involved in talks aimed at ending his country's civil war, amid fresh diplomatic activity over the conflict.