Netanyahu 'wins Israel election'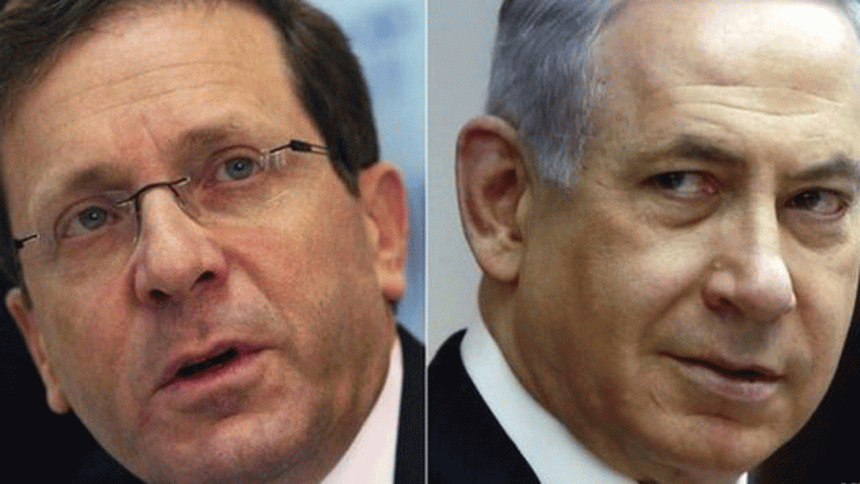 Prime Minister Benjamin Netanyahu's Likud party has claimed a surprise victory in Israel's election, Israeli media report.
Earlier exit polls had suggested a dead heat with centre-left Zionist Union.
With most votes counted, Likud is said to be on course to take 29 seats in the 120-seat parliament, the Knesset, with the Zionist Union on 24 seats.
If confirmed, this would indicate another governing right-wing coalition led by Netanyahu.
Speaking after the polls closed, Netanyahu said he had already spoken to the leaders of other right-of-centre parties about forming a new government.
In a speech to his jubilant supporters in Tel Aviv, Netanyahu described Tuesday's vote as a "great victory" for Likud, which had trailed the Zionist Union in opinion polls in the run-up to the election.
Netanyahu said the result was achieved "against all odds".
He urged the leaders of what he described as Israel's "national camp" to create "a government without delay".
Speaking after the exit polls were published, Herzog told his supporters he was confident of forming the next government.
"We have achieved an unbelievable achievement today.
"I will do all that I can in order to create a real socially minded government for Israel."
When final results are known, President Reuven Rivlin will give the task of forming a government to a party leader who he thinks has the strongest chance of assembling a coalition.
Israel's form of proportional representation always produces smaller parties and coalition government, the BBC's Middle East editor Jeremy Bowen in Tel Aviv reports.
Against all odds:a great victory for the Likud. A major victory for the people of Israel!

— בנימין נתניהו (@netanyahu) March 17, 2015
Divide
Netanyahu could become Israel's longest-serving leader if he secures a fourth term.
No party has ever won an outright majority under Israel's proportional representation voting system.
Almost 72% of those eligible voted in the election, which ended at 22:00 local time (20:00 GMT). The turnout was four points higher than the previous election in 2013.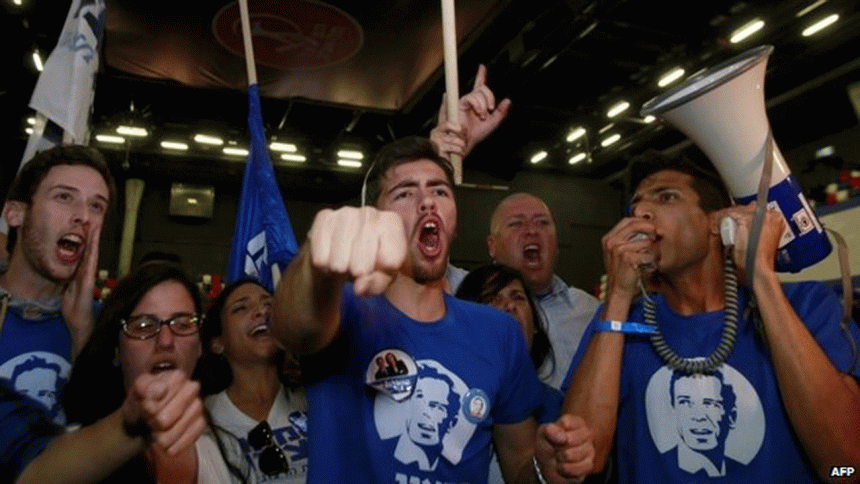 Israel's Channel 1 and Channel 10 both projected 27 seats each for Likud and Zionist Union, while Channel 2 gave Likud a one-seat lead, with 28 seats.
Sixty-one seats are needed in order to secure a majority.
The Joint Arab List, an alliance of Israeli Arab-dominated parties, has come third with about 13 seats, the exit polls suggested.
It has said, however, that it will not take any positions in government.
Netanyahu had vowed not to allow the creation of a Palestinian state if he wins a fourth term, while Zionist Union has expressed support for a two-state solution and promised to repair relations with Palestinians and the international community.
The main players
Benjamin Netanyahu: Victory for his Likud party could mean a fourth term for the veteran of Israeli politics. His hawkish stance on the Palestinians and Iran have made him popular with the right but a divisive figure.
Yitzhak Herzog: The co-leader of the centre-left Zionist Union electoral alliance, Mr Herzog has accused Likud of depressing Israeli living standards and campaigned against Mr Netanyahu's foreign policy. He has tried to counter Mr Netanyahu's accusations he is "soft" by pointing to his special forces background.
Tzipi Livni: Mr Herzog's co-leader in the Zionist Union, Ms Livni is a prominent advocate of seeking more co-operation with the Palestinian Authority.
Moshe Kahlon: A former Likud welfare and communications minister under Benjamin Netanyahu, Mr Kahlon's centre-right Kulanu party could play kingmaker in a coalition.