Nearly 100,000 fled in 3 weeks as fighting rages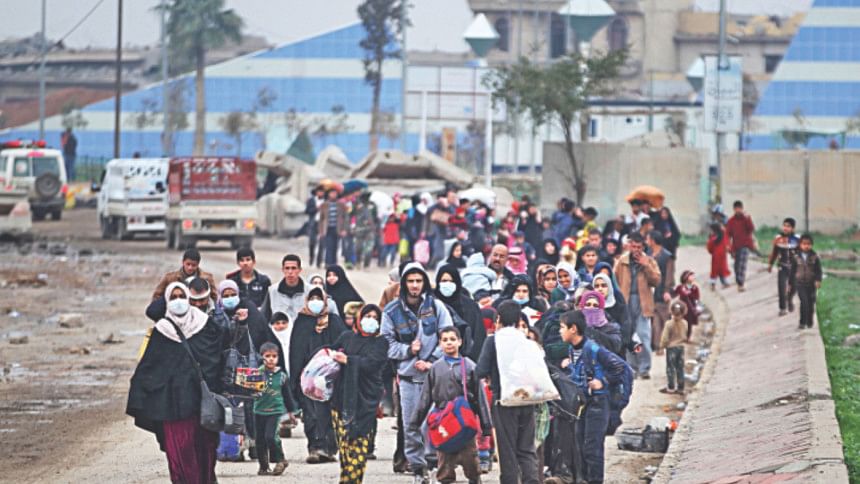 Nearly 100,000 people have poured out of west Mosul in less than three weeks as Iraqi forces fought to retake the area from jihadists, the International Organization for Migration said yesterday.
Iraqi security forces launched a major push last month to recapture west Mosul, which is the most populated urban area still held by the Islamic State group, with an estimated 750,000 residents when the battle began.
Iraqi special forces units and police have made steady progress in the area, forcing IS out of a series of neighbourhoods and retaking important sites such as the airport, Mosul museum, train station and provincial government headquarters.
But the battle for west Mosul -- which is smaller but more densely populated than the eastern side which Iraqi forces recaptured earlier this year -- has pushed a flood of people to flee their homes.
Between February 25 and March 15, more than 97,000 people have been displaced from west Mosul, the IOM said on its official Twitter account.
It marks an increase of around 17,000 from the displacement figure the IOM released the previous day, though this does not necessarily indicate that all of those additional people fled in the past 24 hours.
The IOM also said that Iraqi government figures indicated a total of more than 116,000 people from west Mosul had gone through a screening site south of the city.
IS overran large areas north and west of Baghdad in 2014, but Iraqi forces backed by US-led air strikes have since retaken most of the territory they lost, launching the operation to retake Mosul -- the country's last IS-held city -- in October.