Celebrity US clockmaker goes to KSA to perform Umrah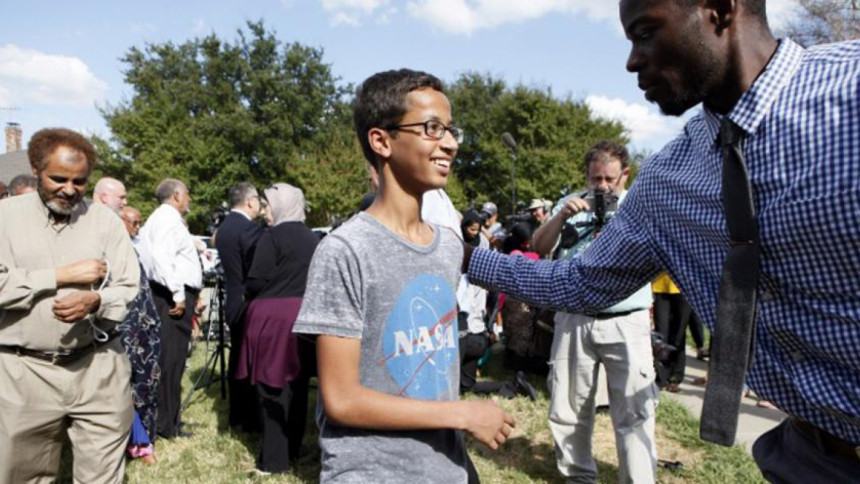 Talented American student of Sudanese origin Ahmed Mohammed Al-Hassan arrived in Jeddah on Friday morning to perform Umrah and visit his relatives, reports Arab News.
The Kingdom last week invited Al-Hassan to visit the country for Umrah, it said.
On his arrival at King Abdul Aziz International Airport in Jeddah, 14-year-old Al-Hassan thanked the Saudi government for its invitation to visit the Kingdom to perform Umrah and meet with his relatives.
Awad Qarshom, head of the Sudanese community in Jeddah, said that supervisors of the Sudanese community would contact Ahmed Al-Hassan's family for a celebration to honor the talented student.
Speaking to Arab News, he said: "Ahmed Al-Hassan will be honored by the creativity committee of the Sudanese community in Jeddah during a celebration which will be organized soon with prominent personalities of the community in the Kingdom and journalists of the Sudanese media including TV and newspapers."
Al-Hassan was a student at MacArthur High School in Irving, Texas, when he was arrested in September because his teacher suspected his clock was a bomb. The clock, which Al-Hassan built in 20 minutes using basic materials, led to his arrest by Texas police. Ahmed could not go to school for three days, and the incident sparked widespread anger that he was unfairly treated.
His arrest is loosely reminiscent of a similar experience his grandfather had, also at the age of 14, in the family's Sudanese village of Shatoy. "My father was passionate about science," his uncle Moussa Al-Hassan recalled. "Aware that the schools affiliated with the British occupation were the best, he ran away to study in the city of Omdurman, even though his father strongly opposed those schools."
But after he had walked several kilometers on foot, "one of the local residents caught him, held him for several hours, and sent him back to his family," Moussa said. "He returned to the Khalawie schools, which the Sudanese prefer to the British schools."