Malaysian cops find 139 suspected migrant graves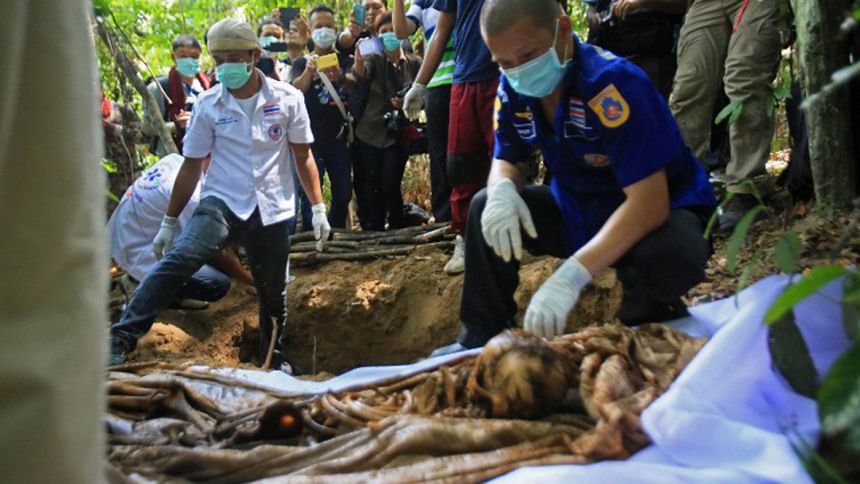 Malaysian authorities have found 139 graves, and signs of torture, in more than two dozen squalid human trafficking camps suspected to have been used by gangs smuggling migrants across the border with Thailand, the country's police chief said on Monday.
The dense jungles of southern Thailand and northern Malaysia have been a major route for smugglers bringing people to Southeast Asia by boat from Myanmar, most of them Rohingya Muslims who say they are fleeing persecution, and Bangladesh.
"It's a very sad scene... To us even one is serious and we have found 139," Malaysia's Inspector General of Police Khalid Abu Bakar told reporters at a news conference in the northern state of Perlis. "We are working closely with our counterparts in Thailand. We will find the people who did this."
The grisly find follows the discovery of similar shallow graves on the Thai side of the border earlier this month, which helped trigger a regional crisis. After a crackdown on the camps by Thai authorities, traffickers abandoned thousands of migrants in rickety boats in the Bay of Bengal and Andaman Sea, Reuters reports.
"We were shocked by the cruelty," said Khalid, describing conditions at the 28 abandoned camps, located within about 500 metres (550 yards) of the Thai border, where the graves were found in an operation that began on May 11.
Malaysian Prime Minister Datuk Seri Najib Tun Razak said the people responsible behind the mass graves found in Padang Besar in Perlis will not go unpunished and they will be tracked down.
"I am deeply concerned with graves found on Malaysian soil purportedly connected to people smuggling. We will find those responsible," reports Malaysian daily The Star quoting him.
Officials at Bangladesh High Commission in Kuala Lumpur said they would look into the discovery of mass graves of the migrants to be confirmed whether any Bangladeshi was among the victims or not.
Sayedul Islam, counselor (Labour Wing) at the high commission, however, told The Daily Star that they couldn't be confirmed of any Bangladeshi national until the Malaysian police completed the investigations of the incidents.
Thousands of Rohingya Muslims are ferried by traffickers through southern Thailand each year, and in recent years it has been common for them to be held in remote camps along the rugged border with Malaysia until a ransom is paid for their freedom.
Past Reuters investigations have shown ransoms demands ranging from $1,200 to $1,800, a fortune for impoverished migrants used to living on a dollar or two a day.
Pictures of the camps shown to journalists by Malaysian police showed basic wooden huts built in forest clearings.
Khalid said ammunition was found in the vicinity and added there were signs that torture had been used, without elaborating. Metal chains were found near some graves.
He said one of the grave sites was just 100 metres or so from the site where twenty-six bodies were exhumed from a grave in Thailand's Songkhla province in early May.
SMUGGLING CRACKDOWN
Thailand, under pressure from the United States to do more to combat people smuggling, launched a crackdown after finding that mass grave, since when more than 3,000 migrants have landed from boats in Malaysia and Indonesia.
Thai police said on Monday there were no human trafficking camps left in southern Thailand after a month-long crackdown.
But the crisis at sea is not over.
The United Nations refugee agency UNHCR estimated on Friday that some 3,500 migrants were still stranded on overloaded vessels with dwindling supplies, and repeated its appeal for the region's governments to rescue them.
On Sunday, Indonesia's National Disaster Mitigation Agency said that starting next week, it would begin the repatriation of 720 Bangladeshi migrants over the next month.
The cost of the repatriation would be met by the UNHCR and the International Organization for Migration, said Sutopo Purwo Nugroho, spokesman at Indonesia's disaster agency.
Malaysian Prime Minister Najib Razak pledged assistance on Thursday and ordered the navy to rescue people adrift at sea.
Indonesia's navy spokesman Manahan Simorangkir said it had deployed six ships and an aircraft last Wednesday to search for migrant boats.
"They came back on Saturday and did not find any Rohingyas," he said. "The ships and aircraft are back out again."
Most of Myanmar's 1.1 million Rohingya are stateless and live in apartheid-like conditions in northwestern Rakhine state.
Almost 140,000 were displaced in deadly clashes with majority Buddhists in Rakhine in 2012. They are denied citizenship and have long complained of state-sanctioned discrimination.
Private groups say about 100,000 have fled Myanmar by sea since 2012.
Myanmar denies discriminating against the group and has said it is not the source of the migrant problem.
While many Bangladeshis seeking a better life have been found among the thousands making the perilous journey across Southeast Asia's seas, the United States has said the majority of those landing in Malaysia and Indonesia this month have been Rohingyas from Myanmar.
The scale of the discoveries along the Thai-Malaysia border will raise questions about the extent of official complicity in the camps.
Malaysian police said in a statement that two police officers were among 10 people arrested so far this year in investigations into human trafficking, without giving details.
Thailand said earlier this month that more than 50 police officers had been transferred as a result of investigations into human trafficking networks in the south.
Malaysia's Najib said in a post on his official account that he was "deeply, deeply concerned with graves found on Malaysian soil purportedly connected to people smuggling.
"We will find those responsible," Najib posted in English.