Singapore holds Lee Kuan Yew funeral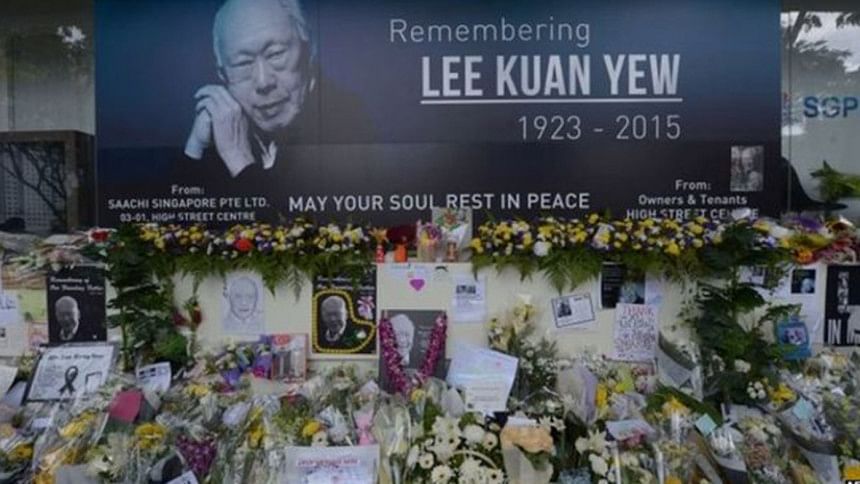 Singapore is bidding farewell to its founding Prime Minister Lee Kuan Yew, who died on Monday aged 91.
Despite torrential rain, thousands are lining the streets to view the funeral procession carrying Lee's coffin from parliament, where it has been lying in state, across the city.
Following a state funeral attended by world leaders, his body will be cremated in a private family ceremony.
One million people have visited tribute sites this week, say local media.
More than half a million people – 12 percent of Singaporean citizens - visited Parliament House to see Lee's coffin, while at least 850,000 others went to community sites to pay tribute.
The funeral procession began on Sunday at 12:30 (04:30 GMT) as Lee's body was taken from Parliament House on a gun carriage.
A 21-gun salute sounded, echoing across the city, as the procession moved on into the business district and Tanjong Pagar, the docklands constituency Lee represented for his whole political life.
Military jets flew overhead while two Singaporean navy vessels conducted a sail-past of the Marina Bay barrage - the massive water conservation project spearheaded by Lee.
Despite the pouring rain, crowds lined the route. They have been waiting almost silently but erupting in cheers and shouting Lee's name as the procession passes by.
The funeral service is expected to begin at 14:00 at a cultural centre in the west, with foreign leaders including former US President Bill Clinton, Indian Prime Minister Narendra Modi, Indonesian President Joko Widodo, Japanese Prime Minister Shinzo Abe, Australian Prime Minister Tony Abbott and UK House of Commons leader William Hague attending.
The country will also observe a minute's silence in the afternoon before singing the national anthem. The private cremation is taking place at the Mandai crematorium.
Current Prime Minister Lee Hsien Loong, who is Lee Kuan Yew's son, has described the past week as a "deeply moving experience"., saying Singaporeans had "expressed their grief overwhelmingly".
Many of the city-state's shopping and commercial centres are expected to be closed on Sunday as a mark of respect to Lee.
At the scene: Jonathan Head, BBC South East Asia correspondent
People are starting to gather at Tanjong Pagar, the constituency where Lee Kuan Yew was MP for 60 years, until shortly before his death. Large TV screens have been put up at the sides of an area where bouquets of flowers have been laid by local people and businesses.
The screens, like every other media outlet, are replaying over and over speeches and highlights of Lee's long career, and tributes not just to him, but also his family, some of whom occupy senior government positions.
This relentless publicity has the feel now of a sustained propaganda drive to ensure Singaporeans remember Lee's incomparable contribution to the nation - at times it comes close to a personality cult.
But the sense of loss many Singaporeans feel is genuine and heartfelt. This is a tightly choreographed funeral, with a huge organisational effort visible even in this neighbourhood to ensure the event passes off smoothly, and that as much of the city-state's population as possible can witness it.
Which direction will Singapore take now?
Lee was Singapore's prime minister for 31 years. He stepped down in 1990 but remained hugely influential in political life and was held in deep affection by Singaporeans.
He oversaw Singapore's independence from Britain and separation from Malaysia, and was widely respected as the architect of Singapore's prosperity - the city-state's GNP per capita increased 15-fold between 1960 and 1980.
However, Lee also introduced tight controls. Under him, freedom of speech and the press was tightly restricted and political opponents were targeted by the courts.
Speaking about his legacy to the New York Times in 2010, Lee said: "I'm not saying that everything I did was right, but everything I did was for an honourable purpose."