KSA handling stampede issue decisively: Saudi FM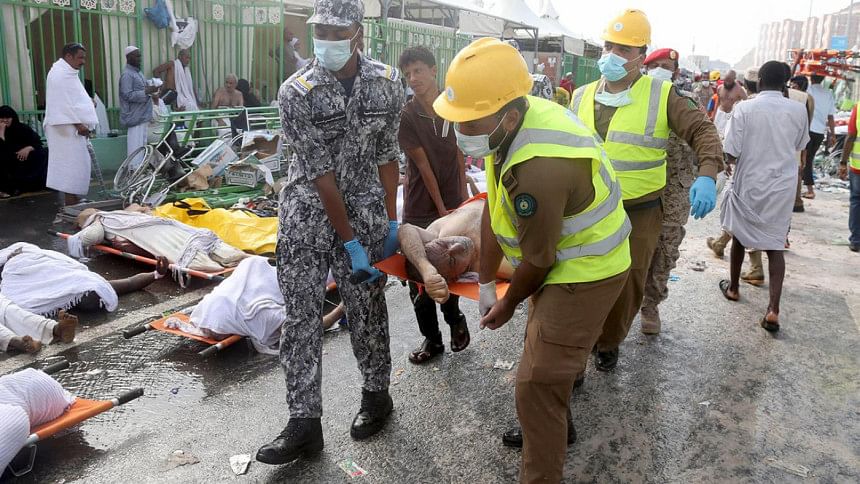 Saudi Arabian Foreign Minister Adel Al-Jubeir said the Kingdom is handling the aftermath of the Mina stampede in the most decisive and transparent manner in order to avoid such incidents in future, while thanking all Muslim countries for offering condolences on the tragedy.
He was addressing the annual coordination meeting of the foreign ministers of the member states of Organization of Islamic Cooperation (OIC) yesterday, on the sidelines of the 70th session of the UN General Assembly, the Saudi Press Agency reported.
Al-Jubeir slammed the unfair statements aimed at exploiting this tragedy for political gains, reports the Saudi Gazette.
"We consider such statements as irresponsible and aimed at creating schism and division in our Islamic world."
The foreign minister thanked the representatives of the Islamic countries for swiftly responding to the Kingdom's invitation to hold this meeting to discuss Israel's brutal attacks on Al-Aqsa Mosque, and the continued flagrant violation of the sanctity of Islamic holy sites in the occupied territories.
"Immediately after hearing about the latest Israeli aggression on the Al-Aqsa Mosque, Custodian of the Two Holy Mosques King Salman swung into action by making telephone calls to UN secretary general and heads of several states to express profound outrage and denunciation of the act. The King drew their attention to the importance of the UN Security Council's intervention to take necessary measures to stop the Israeli aggression on Al-Aqsa Mosque and protect the Palestinian people," he said.
"The major challenges facing our Arab and Islamic Ummah will not deter us from Palestine, the core issue of the Islamic world, and shall not divert our efforts to find a lasting and comprehensive solution to the problem by ending the Israeli occupation and establishing a viable and independent Palestinian state with Jerusalem as its capital," Al-Jubeir said while underlining the need for exerting joint efforts in this regard.