ISIS launches first Malay language newspaper in South-east Asia: Report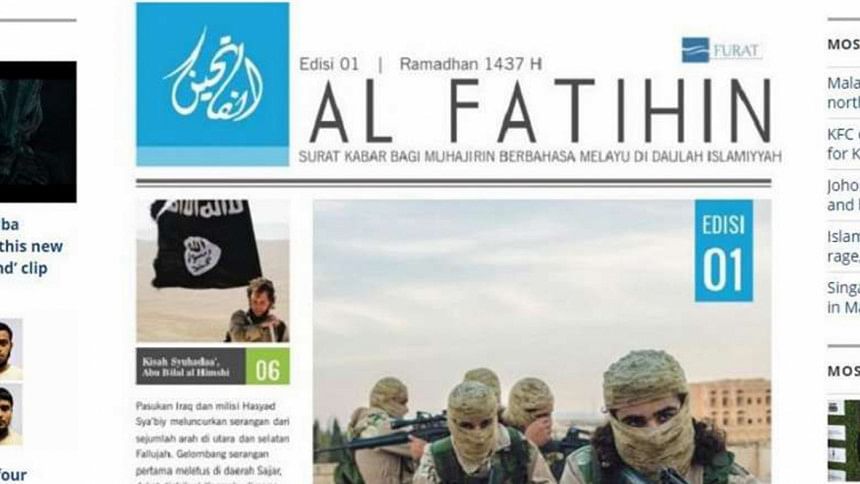 The Islamic State in Iraq and Syria (ISIS) has launched its first Malay language newspaper for its supporters in South-east Asia, as the terrorist group seeks to expand its reach in the region.
Malay daily Berita Harian reported on Monday (July 11) that the publication, called Al Fatihin, was launched in southern Philippines on June 20.
Al Fatihin means "The Conqueror" in Arabic.
It is also being distributed in Singapore, Malaysia, Brunei, southern Thailand, Indonesia and the Philippines.
According to the Malay Mail Online, which translated the Berita Harian report, an unnamed security expert was quoted as saying that the publication could signal that Malaysia was in ISIS' sights.
"This psychological campaign means that the terrorists have a big objective, which is to expand their influence among people who understand the Malay language," the expert said.
"Based on the way the language is used, we believe the writer or editor of the paper may be from this country."
A paper published on June 23 by Singapore's S. Rajaratnam School of International Studies, which is based within Nanyang Technological University, also confirmed the existence of the publication.
The paper's authors, senior analyst Jasminder Singh and research analyst Muhammad Haziq Jani, noted that Al Fatihin's tagline indicated that it would serve the existing South-east Asian "foreign fighters", who mostly hail from Indonesia and Malaysia.
"Al-Fatihin's tagline drives the point that, no matter the differences and nuances in language, identity and origins, South-east Asian jihadists have a common logos and as such, all Malay-speaking jihadists should act as one," the paper added.
The 20-page inaugural edition was also "well-timed" for the holy month of Ramadan, and focused heavily on its significance, as well as the rituals of fasting. There were also reports on the caliphate and features on religion.