India's top court bans Triple Talaq for Muslims
Victory for Muslim women, say Muslim personal law boards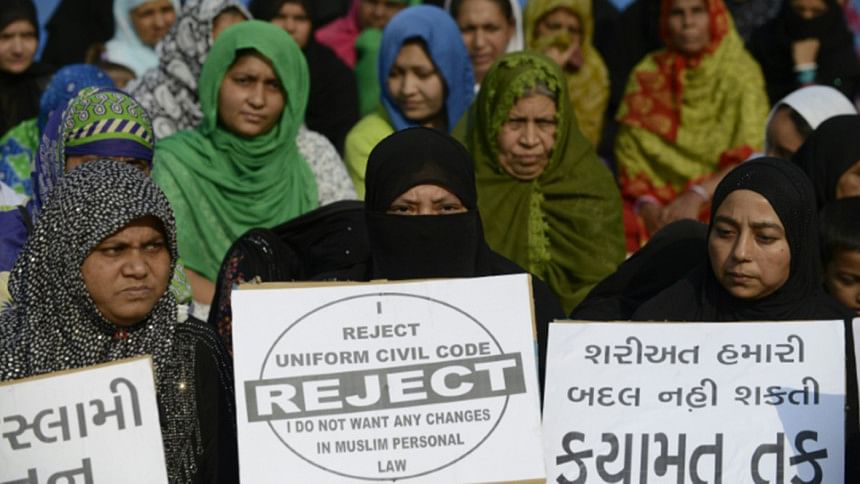 India's top court today banned a controversial Islamic practice that allows men to divorce their wives instantly, saying it was unconstitutional.
Victims of the practice known as "triple talaq", whereby Muslim men can divorce their wives by reciting the word talaq (divorce) three times, had approached the Supreme Court to ask for a ban.
Triple talaq "is not integral to religious practice and violates constitutional morality," a panel of Supreme Court judges said.
The five judges were from India's major faiths -- Hinduism, Christianity, Islam, Sikhism and Zoroastrianism.
In their ruling they said it was "manifestly arbitrary" to allow a man to "break down (a) marriage whimsically and capriciously".
"What is sinful under religion cannot be valid under law," they said.
The practice had been challenged in lower courts but it was the first time India's Supreme Court had considered whether triple talaq was legal.
India allows religious institutions to govern matters of marriage, divorce and property inheritance in the multi-faith nation, enshrining triple talaq as a legal avenue for its 180 million Muslims to end unions.
But the Hindu nationalist government of Prime Minister Narendra Modi had backed the petitioners in this landmark case, declaring triple talaq unconstitutional and discriminatory against women.
Modi's ruling Bharatiya Janata Party has long pushed for a uniform civil code, governing Indians of all religions, to be enforced.
But the issue remains highly sensitive in India, where religious tensions often lead to violence.
The All India Muslim Personal Law Board (AIMPLB), a grouping of Islamic organisations, had opposed any efforts to ban triple talaq.
Some Islamic scholars say there is no mention of triple talaq in the Koran, which instead details a different process for divorce based on mediation.
Key points of the Triple Talaq verdict
Indian news portal Times of India listed down the key points of the historic Indian Supreme Court judgment that declared the triple talaq unconstitutional and struck it down by 3:2 majority.
-After reading separate judgments, the 5-judge bench of the Indian Supreme Court ruled in 3:2 majority that triple talaq is void and illegal.
-CJI J S Khehar and Justice Nazeer said triple talaq is a fundamental right while 3 other judges - Justices Kurian Joseph, R F Nariman and U U Lalit - said it is not a fundamental right.
-Justice Nariman, Justice Lalit and Justice Kurien said triple talaq was unconstitutional.
-The SC put six-month stay on practice of Muslim men giving their wives instant divorce through triple talaq.
-The SC bench has asked Indian parliament to make a new law on triple talaq issue in six months.
-If law doesn't come in force in six months, then SC's injunction on triple talaq will continue.
-The SC bench referred to abolition of triple talaq in Islamic countries and asked why can't Independent India get rid of it.
-The SC said "triple talaq violates fundamental right of Muslim women as it irrevocably ends marriage".
-Justice Joseph said what cannot be true in theology cannot be protected by law.
-Justices Nariman and Lalit also said that triple talaq granting instant divorce is unconstitutional.
Victory for Muslim women, say Muslim personal law boards
Welcoming the Supreme Court judgement on triple talaq, the All India Muslim Women Personal Law Board and the All India Shia Personal Law Board today termed it as a victory of Islam and Muslim women in the country, reports NDTV.com.
The decision, they said, has given new hope to Muslim women.
"The Supreme Court decision is historic, it is the victory of women in the country. But more than that, it is the victory of Islam," NDTV reports quoting the president of the All India Muslim Women Personal Law Board Shaista Amber, who has been fighting for the rights of Muslim women.
"We hope that triple talaq will be banned once and for all in times to come," she said, adding it causes immense hardships to Muslim women even though "there is no provision of triple talaq in Islam".
"This discriminatory arrangement is made by so-called religious leaders and it has harmed the lives of lakhs of women...the decision has given new hope to Muslim women," she said.