Indian railways to get $137bn boost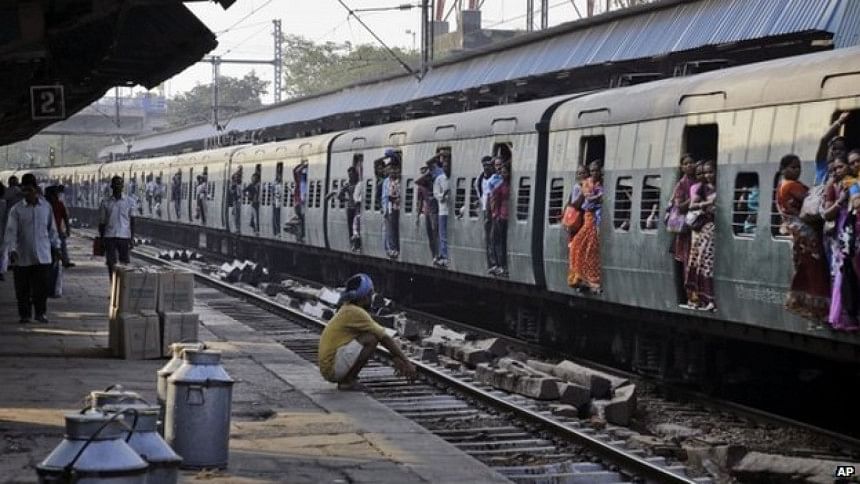 India's government has announced plans to invest $137bn (£88bn) in its ageing railway network over the next five years.
Unveiling the annual railway budget, Railway Minister Suresh Prabhu said the cash boost will help modernise existing tracks and introduce faster trains.
Prabhu left the heavily subsidised passenger fares unchanged.
The state-run railways operate more than 12,000 trains, carrying some 23 million passengers daily.
But decades of neglect, low investment and subsidised fares have left the network in a shambles.
The fall in the price of diesel that powers most Indian trains and a pick-up in freight earnings has made funds available for investment, officials say.
NO PRIVATISATION
Prabhu told parliament that funds would be also raised from multilateral lenders, infrastructure and pension funds, as well as from "monetisation" of railway assets. He said the railway would not be privatised.
"Over the next five years, the railways have to undergo a transformation," Prabhu said.
"We have to make Indian Railways a benchmark organisation in safety, security and infrastructure."
Prabhu promised to make India's railways safer, build more lines, increase the speed of journeys on nine major routes, and improve the experience of travelling with wi-fi in stations.
"Railways facilities have not improved substantially for the past few decades, which is the result of under-investment that affects capacity, leading to poor morale," he said.
"This fed into a vicious cycle of chronic under-investment for a long time."
Successive governments have backed away from modernising the network and instead used the system to provide cheap transport and jobs. The lack of investment has meant slower services and more accidents.
Prime Minister Narendra Modi has said that revamping the railways is a priority for his government and that he wants the "railway stations to have better facilities than airports".