Hundreds face off in Australia anti-Islam protest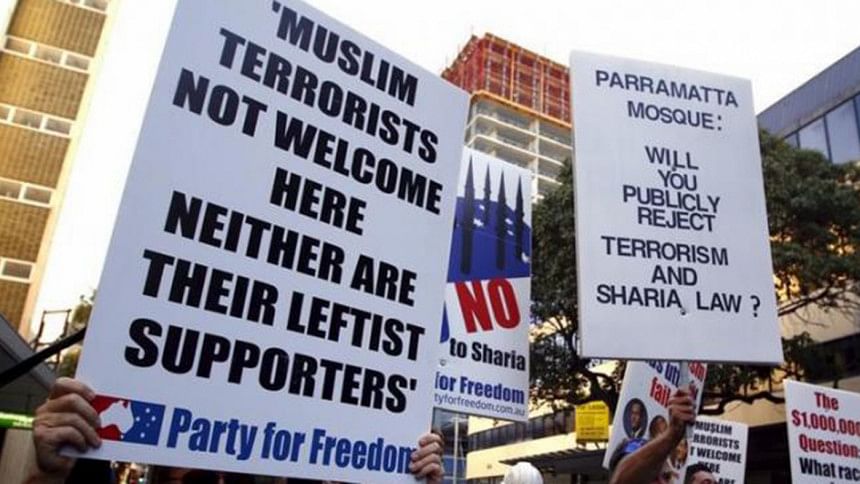 Hundreds of protesters faced off with left-wing opponents on Saturday in a standoff over plans to build a mosque in a rural Australian town, witnesses said, the latest anti-Islam protest since a Muslim teenager killed a police officer this month.
Farhad Khalil Mohammad Jabar, 15, was shot and killed by police after he opened fire on police accountant Curtis Cheng as Cheng left police headquarters in the Sydney suburb of Parramatta on Oct. 2.
Right-wing activists from the United Patriots Front, which says that its aim is opposing the spread of Islam, faced off with members of a left-wing coalition promoting tolerance in the town of Bendigo in Victoria state.
The dispute began over plans to build a mosque in the town and has been simmering for months.
Police said four arrests were made, but all were subsequently released. The two groups were generally well behaved, a police spokeswoman told Reuters.
Witnesses said the two groups between them numbered in the hundreds.
The right-wing protest was part of a coordinated worldwide series of anti-Islam protests organised by fringe extremist groups, with calls on social media for further protests in U.S. cities and elsewhere later in the day.
The Islamic Council of Victoria said it had met with police to ensure security of Muslims and had warned on its website that Saturday had been named "by certain fringe groups as a world anti-mosque protest day".
Australia's political leaders, including Prime Minister Malcolm Turnbull, have condemned threats against the Muslim community.